The hits just keep on coming for Sun Country Airlines. Last October, they announced a number of changes to their fee and fare structure, none of which are positive for consumers. Then in December, it was announced that the airline was sold to a New York Investment group which marked the beginning of the end of "Minnesota's Hometown Airline."
Last week, Sun Country announced they would be cutting 350 jobs from their ground service operations (20% of their workforce), and contracting these jobs out. Finally, per gomn.com, Sun Country has removed Surly Brewing, one of Minnesota's beloved breweries, from their in-flight beer list.
Sun Country confirmed this news to a Twitter user on February 18th. The airline indicated that Surly had been removed from the purchasable drinks menu as a result of having "streamlined" its food and beverage offerings. This is code for cutting more costs, as they replaced Surly with cheaper beer. Surly was introduced on Sun Country flights in 2014, with the airline offering the Hell, Furious, and Bender varieties for $7 each.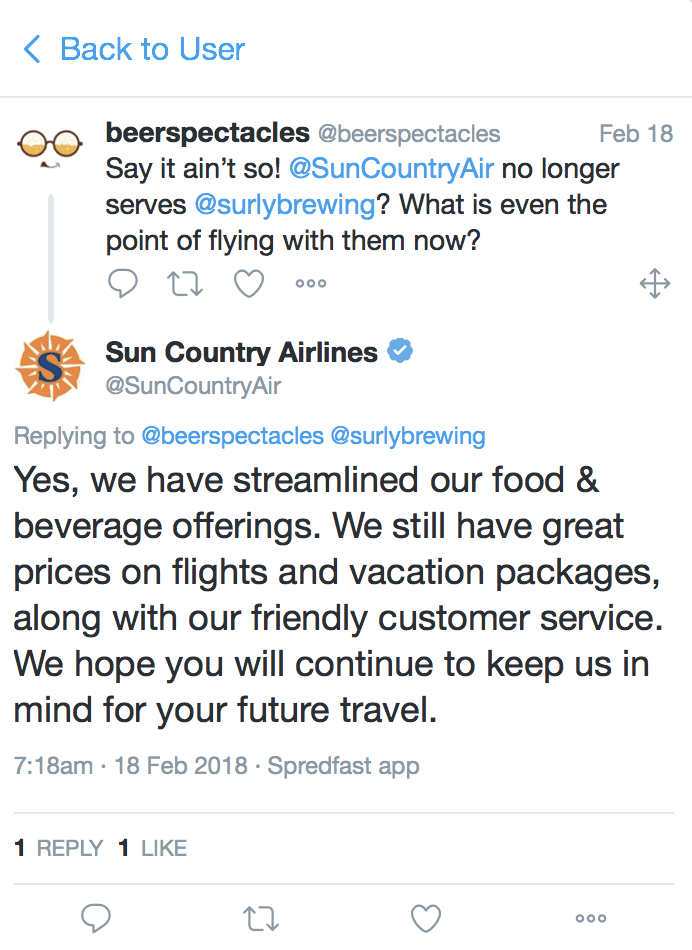 Bottom Line
With each passing day, Sun Country appears to be getting less and less Minnesotan in what appears to be a race to the bottom of the ultra low-cost carrier market. I wouldn't be surprised if we hear Sun Country has been acquired by a big name airline in the next couple of years. All of their recent behavior seems consistent of an organization preparing for acquisition.
Subscribe to our Newsletter, like us on Facebook, and follow us on Twitter & Instagram