Sun Country is changing its corporate structure, squeezing in more seats and charging more for bags and seats. So it was time for a new paint job too.
The Minnesota-based airline revealed its new paint job this week, selected by Sun Country employees over three other (shockingly similar) designs. It's not clear when this new livery will debut, but it will start on new airplane deliveries before the airline repaints its current fleet.
A new paint job won't win back the loyalty Sun Country has lost as it evolves into a low-cost carrier. And I'm guessing the passengers it stranded in Mexico this spring aren't impressed. But given the immense change underway at the airline, it makes sense to give the planes a facelift as well.
Sun Country's New Design
Sun Country put up its four livery options up for an employee vote and teased Twitter with the options for some public input. As you might expect, the airline got some less-than-enthused responses.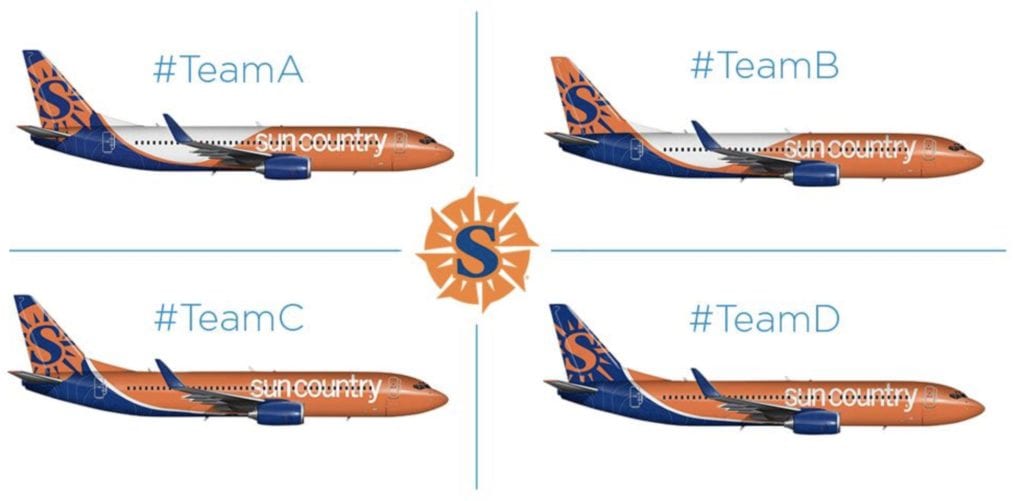 As you can see, the four options all looked pretty similar. There are just a few different tail options and splashes of white in an otherwise largely orange palette. The employees have spoken, and the airline announced Wednesday their choice on Wednesday. Team A it is. 
Just when this new paint job will hit the skies is up in the air. What we do know is that Sun Country will paint the two Boeing 737 planes on order with this new livery, and eventually repaint its current fleet. Seeing as Sun Country has just 21 planes, that shouldn't take too long.
Our Analysis
I've always loved Sun Country's current livery. It's classic, clean and distinctive. As most airlines go with a white base, Sun Country's blue palette stuck out.
And the thing is, this current livery (displayed in the lead photo isn't old or outdated. It tweaked this design just back in 2016, replacing a block typeface with a more modern text. I thought it was a winner, and I know I'm not alone.
Given the massive changes in process at Sun Country, it makes sense for them to make a change to the aircraft art as well. Minnesota's hometown airline was acquired by a New York hedge fund and has rapidly descended into the world of low-cost carriers like Spirit and Allegiant.
The airline began charging for seat selection, checked baggage and carry-on luggage last year, unbundling fares while not reducing ticket prices. Last month Sun Country revealed its plans to cram more seats onto each plane, spinning it as a win for travelers.
That includes eliminating first class altogether and replacing it with a premium economy product. They'll add as many as 60 more seats to each plane by installing new slimline seats, reducing legroom to as low as 29 inches – just like Spirit.
So there's no doubt it's time for a refresh on the outside of the plane as well. Sun Country will not be what Minnesota flyers had grown accustomed to. And while I like the new paint job, something about it does seem to convey "low-cost airline." But maybe that's just me.
Bottom Line
It's tough to appreciate a paint job when your shins are slammed against the seat in front of you and you've paid for the seat assignment and carry-on bag that you once got for free. But hey, at least this new livery doesn't stink.
Lead Photo and livery photos credit to Sun Country Airlines