Airlines across the globe have been shellacked by coronavirus, posting multi-billion dollar losses as travel demand has all but disappeared. Yet tiny Sun Country – Minnesota's hometown airline turned low-cost carrier focused on shuttling passengers to vacations across the U.S. – is cautiously upbeat about its fortunes.
That's bolstered by a brand new service carrying packages for Amazon set to take flight next week, and they're already talking expansion. Sun Country finally got approval for $60 million from the federal government's airline industry bailout and is pursuing more in loans – all without onerous requirements to fly empty planes across the country.
Meanwhile, the airline is focusing on flying passengers only when it makes sense to do so, surgically fine-tuning its flight schedules and ticket sales. So while airlines across the U.S. were flying planes between just 10% and 16% full throughout April, according to industry metrics, Sun Country executives said their planes were 25% full this month.
That's nowhere near enough for any airline to survive long-term. But it's a roadmap for the airline to get by as travel slowly recovers.
"We don't know where the hotspots are going to be. We just need to try to be as variable and responsive and nimble as we can be going into this," CEO Jude Bricker said in an interview. "We're daily making selling decisions."
The Downturn
Sun Country began its transition from a family-owned airline to a low-cost carrier a few years ago, adding fees for bags and seat selection and installing slimmer seats with new hedge fund ownership. Despite some growing pains – including blowback from Minnesota travelers and stranding travelers in Mexico last April – the airline seemed to be finding its footing.
Then coronavirus struck. Airlines started to feel the pain from coronavirus in late February as the outbreak spread from China to South Korea, Italy, and eventually the U.S.
For Sun Country, ticket sales didn't start to collapse until mid-March, Bricker said. But they quickly went south and eventually turned upside down, as the airline doled out more in refunds than it took in revenue.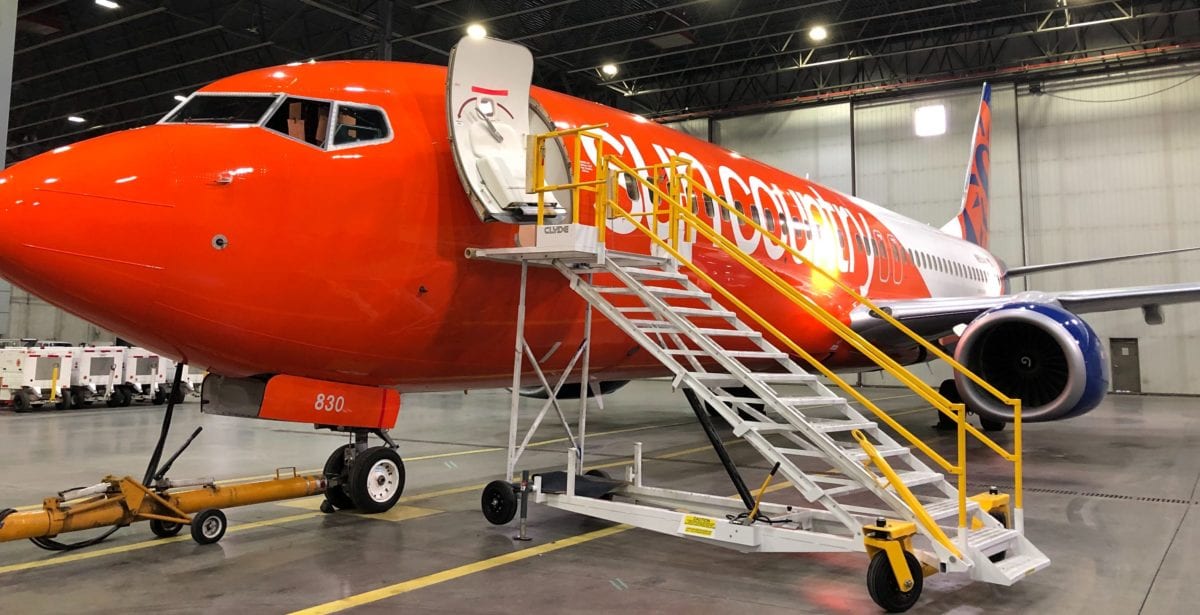 As the number of travelers in the U.S. has slowly rebounded, Bricker said sales started to pick up in mid-April – though they're still down 85% or 90%.
"We're seeing a modest recovery off of a trough a few weeks ago. Modest is the key word there," he said. 
With demand at an all-time low, Sun Country is operating just 80 or so flights a week, down from the norm of roughly 700. Yet Sun Country hasn't put any of its 31 passenger planes into long-term grounding.
Instead, it has about half of its 31-plane fleet parked in short-term storage at MSP – a sign the airline hopes to bring them back sooner rather than later, quickly activating more planes as demand to fly increases.
"I think we're sustainable for the foreseeable future," Sun Country's President and CFO Dave Davis said. "If demand doesn't start returning later in the year or early in next year, then things become more difficult."
A Break from the Feds
Like all major airlines, Sun Country was eager to get a slice of the $50 billion bailout for airlines in the CARES Act, meant to cover payroll through September.
But some of the strings attached to that pot of money caused heartburn: Federal regulators require airlines to maintain some flights to almost all the destinations they previously served.
Sun Country asked permission to drop flights to all but four destinations from Minneapolis-St. Paul (MSP): Orlando (MCO), Fort Myers (RSW), Phoenix (PHX), and Las Vegas (LAS). Other broad requests to drop flights from airlines like JetBlue and Spirit were roundly rejected.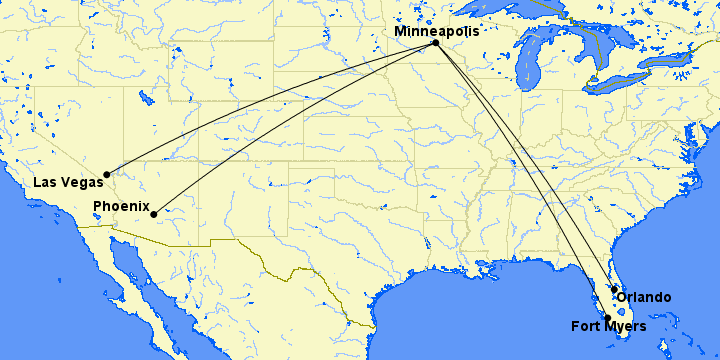 "It wasn't crisis mode," Bricker said of the possibility their request would get shot down. "We'd just have to fly empty airplanes."
Surprisingly, the Department of Transportation granted nearly every request. Sun Country is required to operate just six flights a week until at least mid-June: once a week to Orlando, Phoenix, and Las Vegas and three weekly trips to Fort Myers.
Still, Bricker says they'll likely fly much more than that bare minimum, focusing on weekend trips to major U.S. cities, where they're monitoring bookings and expect to see enough demand.
"I think many of our markets will be supported this summer," he said. 
Prime Air
The vacationers Sun Country relies upon are staying home. Even its charter business is way down, especially to now-shuttered casinos.
If there's one silver lining for Sun Country, it's Amazon.
The airline inked a deal late last year to carry cargo for the e-commerce giant, with plans to eventually fly 10 Amazon-branded planes. These cargo flights aren't as simple as throwing Prime packages on now-empty seats or in the luggage hold – converting a plane for cargo use is a multi-million dollar project.
But with fewer flights running and pilots out of commission, Bricker said Sun Country has been able to ramp up its cargo business faster. The airline now plans to get all 10 Amazon planes in the air by late July as cargo becomes an increasingly important part of its business.
The first Amazon flight is scheduled for May 7. Even before that service takes off, Bricker and Sun Country are thinking bigger.
"We're in discussions to try to expand that business," Bricker said.
Sun Country wouldn't elaborate on those discussions, saying they're focused on getting the Amazon service off the ground.
Brian Ryks, the executive director and CEO of Minneapolis, said he thinks it will play a big role in Sun Country's success.
"It's a key part of their business model moving forward," he said. "I'm confident that Sun Country will survive this."