Sun Country's new route connecting Minneapolis-St. Paul (MSP) with Eau Claire (EAU) just 85 miles east could cost you less than a bag of Dot's Pretzels and a Fulton beer – if you've even got time for that.
Just a month after making a splash – and raising some serious eyebrows – by announcing it would begin service out of Eau Claire later this year, the Minnesota-based low-cost carrier began putting those tickets on sale Thursday afternoon. The tally? A whopping $9.60 for the one-way flight to Wisconsin. Checking a bag or bringing a carry-on will cost you more than triple that!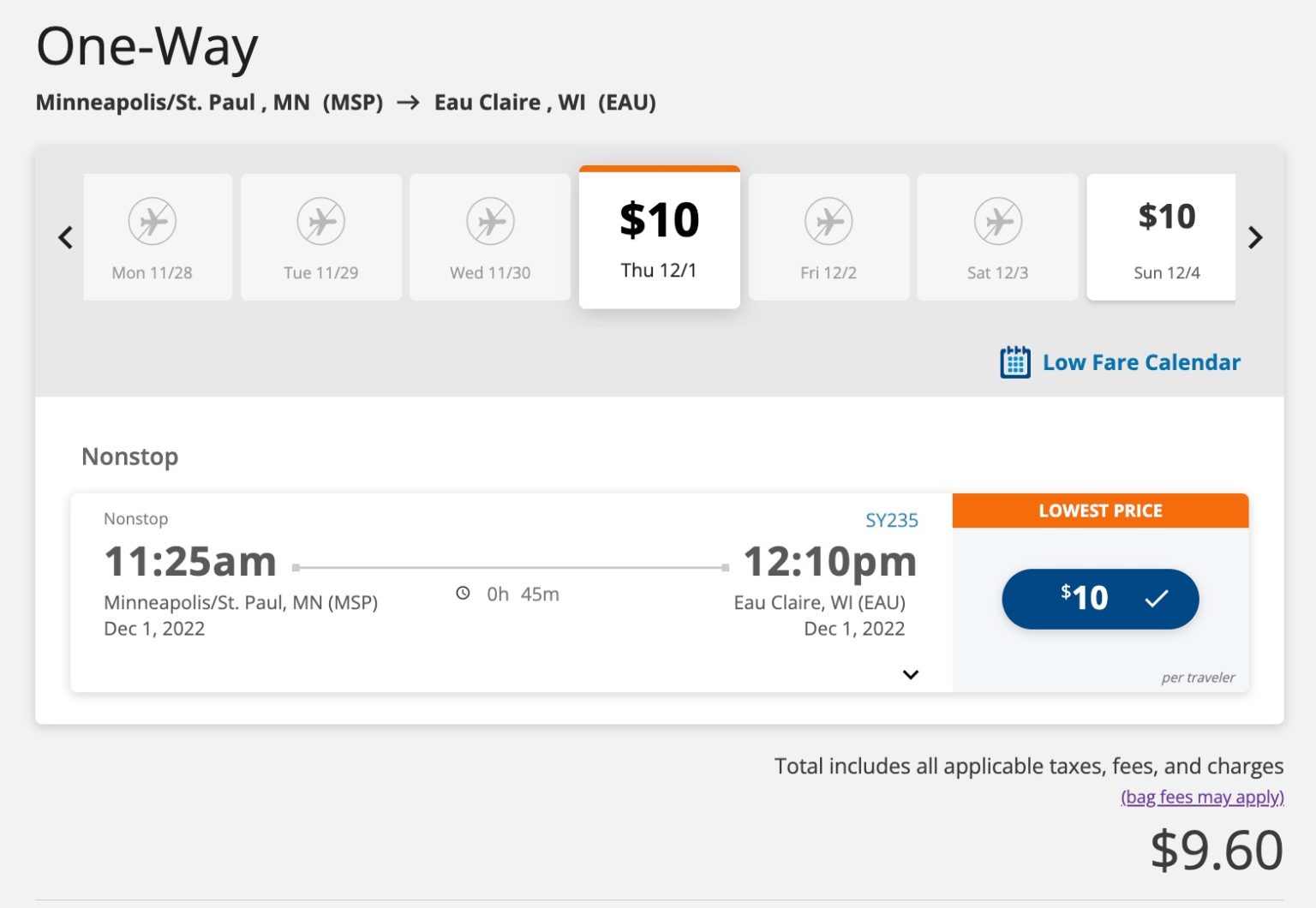 And Sun Country isn't even collecting that full $9.60. Of that tally, $6.58 goes to the federal government for taxes and fees. Sun Country is taking just $3 and a few pennies!
Need a round-trip? It'll cost you … less than $25.
Whether these ultra-low fares will be in place for good (thanks to some hefty subsidies from the federal government) or Sun Country is merely trying to generate some buzz ahead of the inaugural flight on Dec. 1 remains unclear. The airline's schedules show Sun Country initially plans to fly between the two cities four times a week.
At just 85 miles as the crow flies, the flight is blocked at 45 minutes. In reality, Sun Country's Boeing 737s running the route are likely to spend 20 minutes or less in the air. Taxiing to and from gates might take longer. Add in lines at security and boarding times, and you could almost certainly make the 90-minute drive faster. And it should go without saying that from an environmental standpoint, it's beyond wasteful.
But the point of this new service isn't to connect Minneapolis and Eau Claire. It's to keep air service for residents around Eau Claire intact.
Sun Country also plans to fly nonstop seasonal routes from Eau Claire to Las Vegas (LAS), Fort Myers (RSW), and Orlando (MCO). By Friday morning, some of those fares had also been put on sale, with nonstop flights to Fort Myers available as low as $75 each way. Wisconsinites could also book a connecting flight through Minneapolis onward to dozens of destinations nationwide and beyond.

It's all because the airline won its bid to provide Essential Air Service (EAS), federally subsidized routes to communities that otherwise couldn't support regular flights, to the Eau Claire area's Chippewa Valley Regional Airport. That airport was due to lose all its flights later this year when regional carrier SkyWest drops flights on behalf of United Airlines to Chicago. That opened the door for Sun Country to swoop in with a … well, let's just call it an unusual setup.
"We hope that it's a model for replacing some of the Essential Air Service that's going to be lost over the next couple of years," Sun Country CEO Jude Bricker told Thrifty Traveler in an interview last month.
Beyond the subsidies, new customers, and dirt-cheap fares, Sun Country plans to use the Eau Claire airport as an overflow for its Minneapolis home base, storing some planes overnight and also performing maintenance there.
Lead photo courtesy of Sun Country