Sun Country spent months drumming up anticipation for its brand-new route between Minneapolis-St. Paul (MSP) and Vancouver (YVR), advertising one-way fares as low as $39 before launching its first-ever flight into Canada last week. But a series of flight cancellations on the return flights have marred that inaugural service – and left several passengers stuck across the border for days.
Sun Country kicked off its new Vancouver route on June 15, offering two flights a week through August. The Minnesota-based airline first plotted its foray into Canada all the way back in 2019, though the pandemic put that route on ice. The airline announced it would put Vancouver back on the map last fall, commencing service just last Wednesday. Less than a week later, there are issues.
KSTP reports that Saturday's return flight from Canada back to Minneapolis – one of the first since ferrying Minnesotans to British Columbia – was canceled. So was a subsequent flight rescheduled for Sunday due to mechanical issues. That left several travelers stuck in Vancouver for days, awaiting the next flight home.
"This return flight has just been a nightmare," said Annie Bender, who told the news station that she and her husband paid an extra $3,000 for food and lodging for themselves and three kids for their extended stay in Vancouver. Flight records show a Sun Country flight back to Minneapolis touched down late Monday night, nearly an hour late.
In a statement, Sun Country said the airline was short on crew over the weekend and canceled Saturday's flight back from Vancouver because it "was not a full flight, so that cancellation impacted the least number of customers in our system."
"We sincerely apologize to our customers for the disruption," the airline said. "Our Sun Country crews and all our teams are working very hard to meet the unprecedented demand for travel from the public."
While less severe, the Vancouver cancellations harken back to a PR nightmare in 2018 when Sun Country stranded hundreds of Minnesotans in Mexico. In that case, bad storms led the airline to cancel its final flights of the winter season home from Mazatlan (MZT) and Cabo (SJD). But rather than rebook passengers on another airline or charter a plane to bring them home, Sun Country simply refunded flyers and told them to find their own way home.
That episode permanently damaged Sun Country's reputation in some Minnesotans' eyes.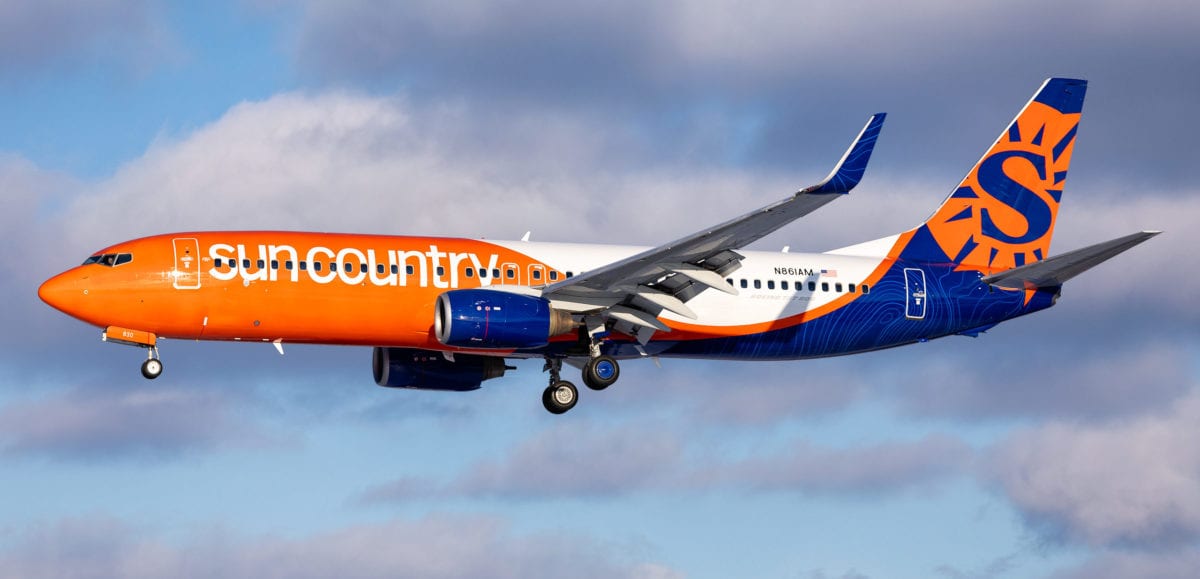 Airlines big and small are struggling with flight delays and cancellations as summer travel demand tests their strained capacity, and budget carriers like Sun Country are no exception.
After downsizing during the worst of the pandemic, airlines are stretching themselves thin to carry as many passengers as possible. Add in a storm, staff out sick, air traffic control issues, or any other problem, and airlines have been unable to cope without severe disruptions. All told, U.S. airlines canceled more than 5,000 flights over last weekend and delayed many thousands more.
Read more on flight cancellations – and how you can avoid trouble this summer!
That's an acute problem for Sun Country, which took the airline public last year with plans to rapidly grow by adding more planes and even more new routes like Vancouver. Fast forward to 2022, and employees have been raising red flags about being overworked and slip-ups on the job. KSTP reported in February that a group of Sun Country employees had submitted a letter outlining their concerns to a Federal Aviation Administration program. The FAA said at the time it was aware of the letter and looking into the issues.
"Don't expand if you don't have the manpower," said Bender, the stranded Sun Country passenger. "If you don't have the manpower, don't do it. We're really suffering as a result of those decisions."
Sun Country is not the only airline where employees have complained about fatigue. Amid its latest meltdown, Delta's pilots union penned an open letter last weekend raising similar concerns – including the fact that Delta pilots are on track to work more overtime by this fall than they had in 2018 and 2019 combined.
But the problems for passengers flying Sun Country can be worse due to the budget airline's approach to scheduling flights. Unlike Delta, which operates a flight every day of the week between Minneapolis and Vancouver, Sun Country is scheduled to operate the route just twice a week. With flights running only on Wednesdays and Saturdays, a cancellation could leave passengers stuck for another four nights.
There's no legal requirement for airlines to compensate travelers for these disruptions or even to feed customers or put them up in a hotel when they get stranded overnight. Sun Country said they offered stranded passengers free lodging, but Bender said the hotel was located 45 minutes away from the airport – and said passengers were expected to foot the bill for the costs to get there.
In its statement, Sun Country said they provided lodging and also covered food and ground transportation costs.