Southwest Airlines is making it slightly harder to earn its insanely lucrative Southwest Companion Pass starting in 2023, requiring flyers to earn more points to get this buy one, get one pass.
The airline currently requires travelers to earn 125,000 Southwest Rapid Rewards points within a year – or fly 100 segments – to get the pass. On Friday, the airline announced in an email to customers that will increase to 135,000 points as of Jan. 1, 2023.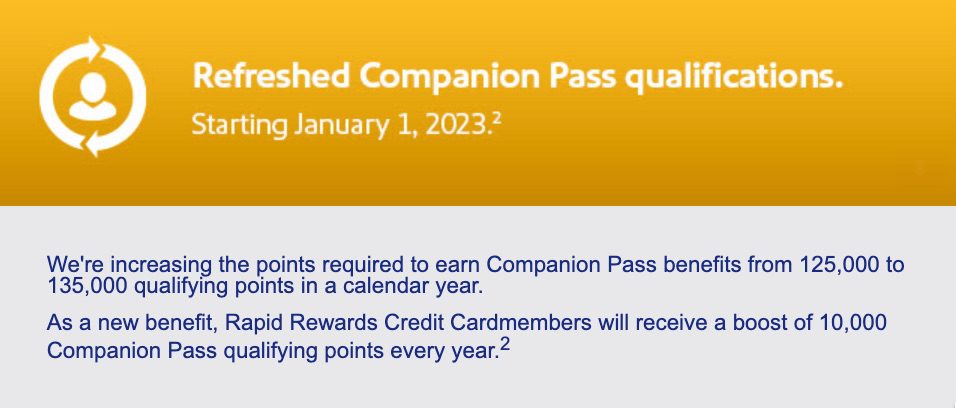 While a 10,000-point bump to the requirement may seem marginal, it's still a bummer … at least on paper. But the airline is throwing loyal flyers with a Southwest Rapid Rewards credit card a bone: Current cardholders will get a 10,000-point boost toward earning the Companion Pass at the start of each calendar year. Travelers who open any Southwest card should get that bonus within 30 days.
That completely offsets this increase while making those credit cards more valuable. And considering Southwest credit cards are the primary avenue to earn a Companion pass, it means this increase shouldn't hurt many travelers chasing a pass for 2023 and 2024.
Southwest last bumped up the points threshold in 2019, raising the bar from 110,000 points to 125,000 points.
In another small plus, Southwest also says that companions can now board at the same time with the Companion Pass holder, not including more-expensive fares or A-List status holders that automatically receive earlier boarding positions.

The Companion Pass is one of the best deals in miles and points, as there's no limit to how many times you can use it. Buy a ticket, and get a second ticket for free – you just pay the taxes and fees. Once you earn it, it's good for the rest of that year plus the entire following calendar year.
Unfortunately, this is just the latest development that makes it harder to earn the Companion Pass. While earning points via Southwest's co-branded Chase credit cards is still the easiest route by far, Chase made that much harder over the years by adding restrictions to who can open those cards. You can't open a new personal Southwest credit card if you already have another personal card – or have earned the bonus on one within the last 24 months.
That means the only feasible way to earn the Southwest Companion Pass is to open both a personal and a business version of their credit cards. And Chase's 5/24 rule complicates that even further.
More Changes Coming to Southwest Rapid Rewards Points
Southwest hinted at some minor tweaks coming to using Rapid Rewards points … and perhaps some major changes, too.
Long before other airlines ditched change and cancellation fees, Southwest was a pioneer in giving travelers flexibility using cash or points. You can cancel an award ticket booked using points up until the moment of departure and get all your points back.
Starting in summer 2023, travelers who booked a Wanna Get Away or Wanna Get Away Plus award to ticket need to cancel at least 10 minutes prior to a flight's scheduled departure time in order to get their points back. Cancel too late,
Oh, and then there's this cryptic warning…


Does that mean Southwest cardholders will be able to cash out their points for gift cards next year? Maybe buy drinks onboard using points? Who knows!
Bottom Line
For the second time in the last three years, Southwest is raising the requirements to earn its vaunted Companion pass … at least on paper.
Starting next year, you'll need to earn another 10,000 points to get the Companion pass, for a total of 135,000. But in practice, this change shouldn't affect many flyers chasing BOGO flights since a new perk of holding Southwest credit cards will offset the 10,000-point hike.