For months, Southwest Airlines dropped hints and drummed up anticipation about a brand new kind of ticket in the works. By late March, the Texas-based airline finally unveiled its new Wanna Get Away Plus fares, a step above the cheapest (and fan-favorite) Wanna Get Away fares, adding a few extra perks. Now, the new Southwest Wanna Get Away Plus fares are finally on sale.
On Tuesday, Southwest officially began selling this new kind of fare – but don't worry, it isn't taking anything away from the traditional base Southwest fares … and it's not basic economy, either. The additions are mostly minor – you can earn more Southwest Rapid Rewards points and be eligible for same-day flight changes or flying standby. But one addition stands out: Southwest will now allow travelers with a Wanna Get Away Plus fare or higher to transfer a travel credit to a fellow traveler. 
Is that worth another $30 each way to you? To start, Southwest is selling these Wanna Get Away Plus fares for a flat $30 upcharge each way over the base price, or $60 roundtrip. That upgrade cost holds true no matter whether you're flying a quick domestic nonstop, heading out to Hawaii, or making several connections on your way to Mexico or the Caribbean.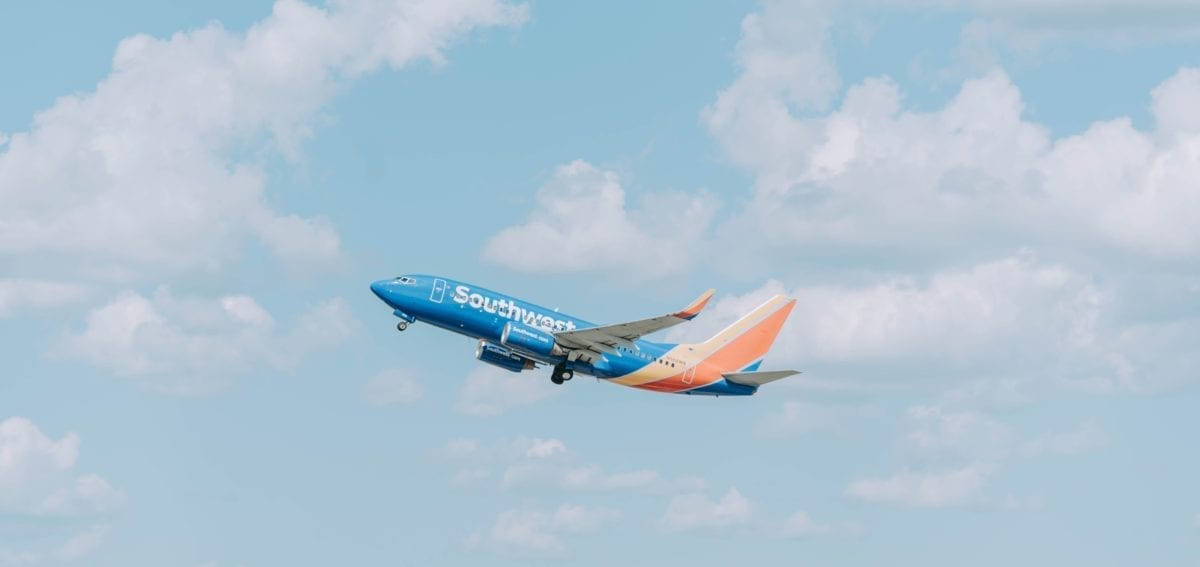 The additional cost was the biggest question mark surrounding these new Southwest fares. After years in which Wanna Get Away fares were always the cheapest on Southwest – often by a wide margin – will travelers really go for it?
Let's take a deeper look at what's on tap with this new option flying Southwest.

Wanna Get Away? Plus
Let's get the big stuff out of the way first: Southwest's beloved Wanna Get Away fares have not changed.
Even with these cheapest fares, you can still change or cancel a Southwest flight and get a credit good for up to a year. You still get two free bags on every flight. As always with every Southwest flight, you'll pick your seat during boarding – not ahead of time. Back when these new fares were first unveiled, a Southwest executive said they expect Wanna Get Away fares to continue to be "the majority of our purchases."
Instead of unbundling fares and raising prices like other major carriers have done with basic economy fares, Southwest executives have said they sought to build on the popular Wanna Get Away Fare with a few sweeteners, billing it as Wanna Get Away Plus. And that's what they've done.

So what will you get if you buy one of these Wanna Get Away Plus fares?
Earn 8x Rapid Reward points per dollar – up from 6x on Wanna Get Away fares
Make a same-day confirmed flight change without paying a fare difference, as you would with a Wanna Get Away fare
Same-day standby flights without a fare difference like you'd pay with a Wanna Get Away fare
Transfer a flight credit one-time to a fellow Rapid Rewards member – not an option with cheaper Wanna Get Away fares
These are all nice additions, though clearly the ability to transfer a Southwest travel credit is the biggest potential selling point.
Southwest was years ahead of the curve with the ability to change or cancel any ticket long before the pandemic forced every airline to offer travelers more flexibility. But now there's a new problem: Canceling most trips throughout the pandemic left each traveler with their own individual vouchers – not with the person who paid for the tickets. Some travelers racked up more travel credits and vouchers than they could ever hope to use before expiration.
That's what this new ability to transfer Southwest travel credits can solve. There are some strings attached: You can only transfer a travel credit once; both parties must have a Southwest Rapid Rewards account; and these travel credits still expire 12 months from the date the original ticket was booked. Still, it's a nice touch.
That's something no other major airline offers on an ongoing basis. It solves a major painpoint for travelers with credits set to expire before they can use them or family trips that got scrapped, leaving each and every traveler with a credit they may not be able to use.
"As travelers increasingly return to the sky, we know that added flexibility and greater choice is more important to our Customers than ever before," Jonathan Clarkson, Southwest's vice president of marketing, loyalty, and products, said in a statement. "With Wanna Get Away Plus, we're thrilled to offer a new low-fare product that enhances Southwest's fare lineup and provides more options for our Customers, while maintaining all of the benefits our Customers know and love about our existing fares, and even adding some new ones."
Southwest's higher-priced Anytime and Business Select fares are also getting that transferability along with a few other additional perks in this shakeup.
What Southwest is Up To
Are those new perks enough to convince Southwest flyers to pay more for a Wanna Get Away Plus Fare?
Prior to going on sale on Tuesday, Southwest didn't say much beyond hinting it would be a "modest increase" over the cheapest Wanna Get Away Fare. Southwest officials had also said they expect "a modest percentage" of flyers to opt up for the more-expensive fare.
Of course, in the airline industry, even modest amounts of money typically start with seven or eight figures. Southwest's EarlyBird fee – a $15 to $25 add-on that guarantees flyers an earlier boarding spot to get a better seat onboard – made the airline more than $400 million alone in 2019, according to USA Today.
So the return from the $30 upsell to Wanna Get Away Plus each way is easy to see. While it may change over time, that's what you'll pay whether you're booking a simple nonstop domestic flight on Southwest, like this flight from Minneapolis-St. Paul (MSP) to Austin (AUS)…

… or a one- or even two-stop journey down to Cancun (CUN) and back.

No matter where you're looking, you'll see this new option tucked between Wanna Get Away fares and Southwest's Anytime fares. If you pick a Wanna Get Away fare to start with, you'll quickly see the option to upgrade to Wanna Get Away Plus.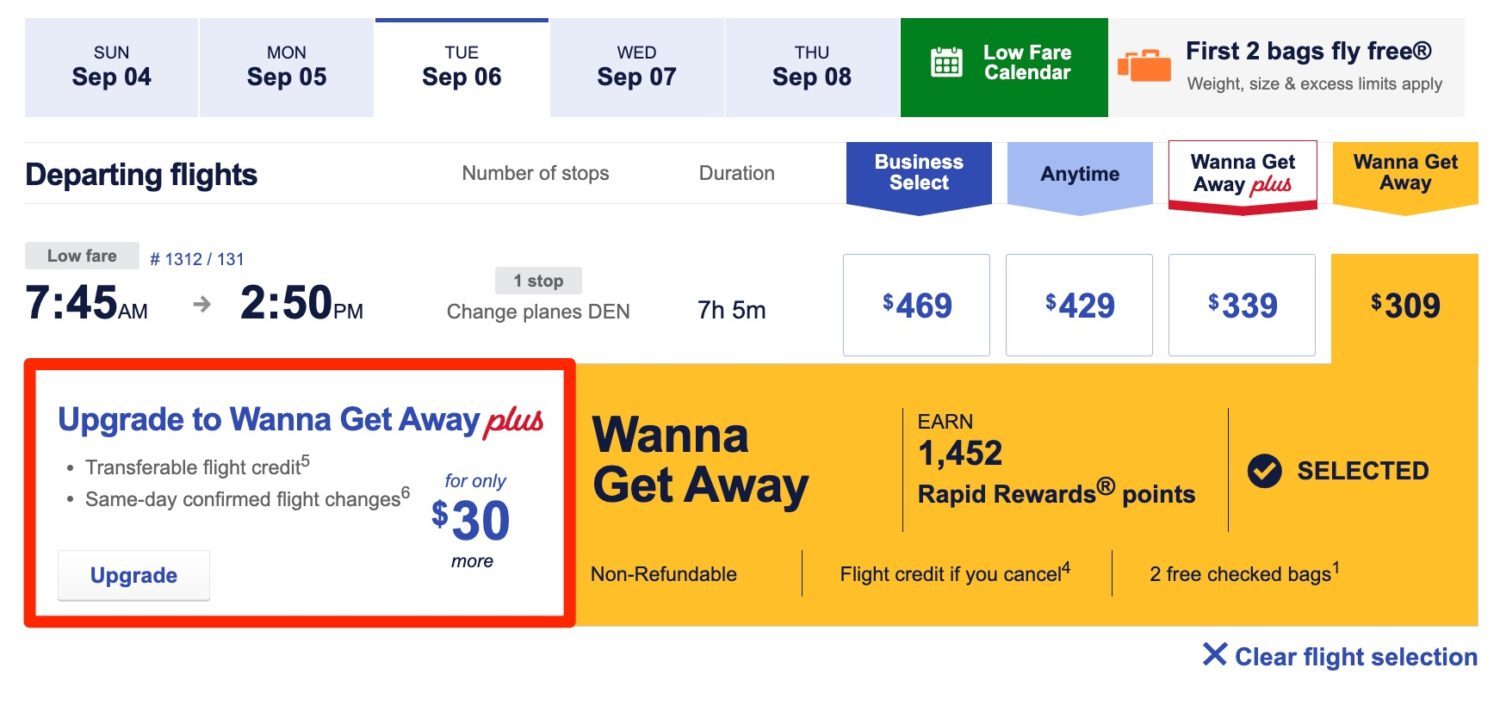 That's nowhere near as heavy-handed as what airlines like Delta, United, and American do, practically begging flyers not to book basic economy at checkout and forcing you to opt-in to their cheapest fares.

Bottom Line
A whole new type of ticket is officially available flying Southwest.
The ability to transfer a travel credit to a fellow flyer is a nice addition for these new Wanna Get Away Plus fares. But will that be enough to convince flyers to pay another $60 roundtrip for their flights? Time will tell.
We're just grateful it's not basic economy.