One of the absolute truths in the ever-changing world of travel is that airlines will raise their prices. It's true with cash fares, and it's true with points and miles.
Singapore Airlines is following the trend with a series of price hikes on awards effective Jan. 24. And while flights in economy are unchanged, business and first class tickets will see some substantial – though not major – increases. Most flights in Singapore's outstanding business class are going up 7,000 miles each way. So, for example, the business class flight I booked from Singapore (SIN) to Los Angeles (LAX) for 88,000 miles will jump to 95,000 miles.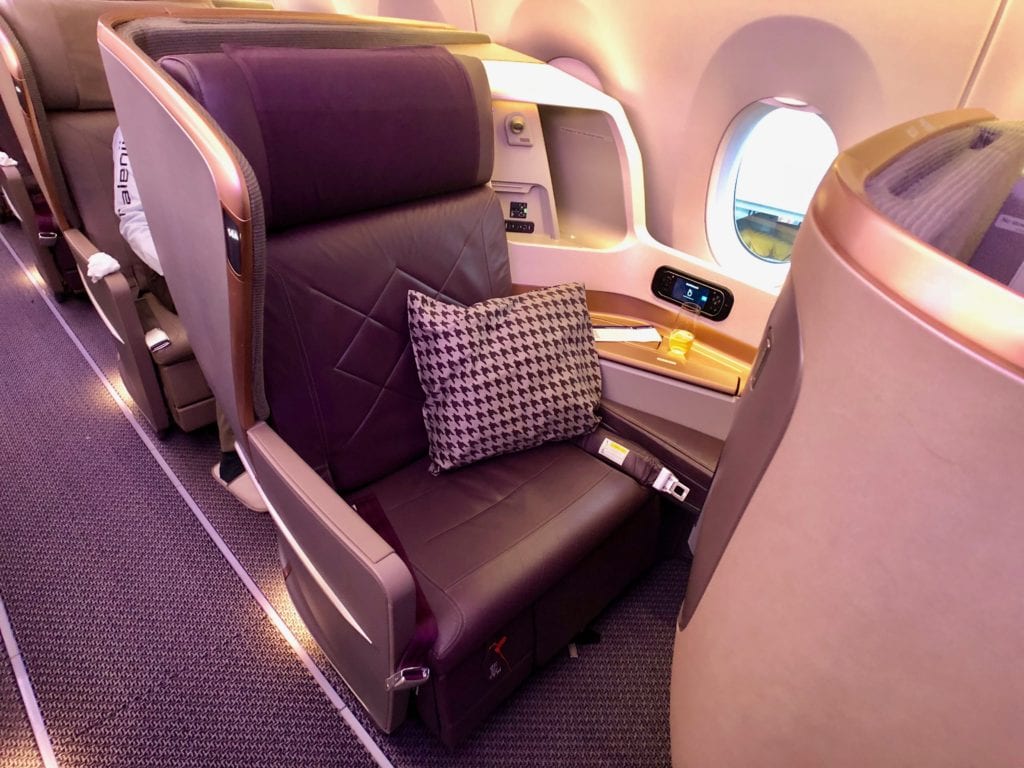 First class awards, meanwhile, are increasing by about 12,000 miles each way.
Flights in premium economy are also going up, but by a negligible amount. For example, a Premium Economy seat on the longest flight in the world from Newark (EWR) to Singapore (SIN) will soon cost 73,000 miles each way – up from their current 70,000- mile price.
Meanwhile, economy pricing is staying stable. The 38,000 miles you need to fly from LAX or San Francisco (SFO) to SIN isn't changing.
These changes apply to Singapore's flights in and out of its hub – including those ultra-long haul flights from Los Angeles and Newark direct to Singapore. But it also includes some of the airline's fun, one-off routes like the flight Mr. TT and co-founder Nick took from Houston-Intercontinental (IAH) to Manchester (MAN). 
Here's a brief look at how some of Singapore's most popular routes from the U.S. are changing later this month. All pricing is one-way for saver-level awards.
| Route | Old / New Business Class Rate | Old / New First Class Rate |
| --- | --- | --- |
| Los Angeles - Singapore | 88,000 / 95,000 | 118,000 / 130,000 |
| San Francisco - Singapore | 88,000 / 95,000 | 118,000 / 130,000 |
| Los Angeles - Tokyo-Narita | 85,000 / 92,000 | 95,000 / 107,000 |
| San Francisco - Hong Kong | 82,000 / 89,000 | 92,000 / 104,000 |
| Newark - Singapore | 92,000 / 99,000 | N/A |
| New York City-JFK - Frankfurt | 65,000 / 72,000 | 76,000 / 86,000 |
| Houston - Manchester | 65,000 / 72,000 | N/A |
Our Analysis
Any price increase is a bummer. However small, it sucks to use more miles for one of the world's best business and first class seats out there. Especially because using Singapore miles is the only way to book premium seats on Singapore.
But this one stings a little bit less for a few reasons. First, Singapore has given flyers plenty of notice. In the world of overnight award increases, the three-week period before these price hikes take effect is a lifetime. That gives you plenty of time to make your reservations at the current pricing before it goes up. Singapore releases award seats 355 days in advance, so you could still book at the current prices as far out as mid-January of 2020. 
And second, Singapore KrisFlyer miles are some of the easiest in the world to collect. It doesn't matter if you don't fly Singapore to collect them, because you can transfer points from all of the major banks directly to your Singapore account. Chase, American Express, Citi, and Capital One all transfer to Singapore Airlines. So while the prices are going up, it stings a bit less than it would with other airlines because these miles are so easy to earn and use.
Bottom Line
Points and miles experts call these "devaluations" for a reason – they make your points and miles less valuable, and that's a shame. But the advanced notice Singapore is giving for this pricing increase means there's plenty of time for you to book the flight of a lifetime before the hike.
H/T to One Mile at a Time