Singapore Airlines is at it again, expanding its U.S. presence with an announcement Thursday that it will start nonstop flights from its Singapore (SIN) hub to Seattle (SEA) next September.
Service is set to begin Sept. 3, starting with three weekly flights each way: Tuesdays, Thursdays, and Saturdays. Come October 2019, Singapore will add a fourth weekly flight on Sundays. Tickets go on sale Nov. 7.
And unlike the world's longest flight from Newark (EWR), this new route will have an economy cabin. At just 8,070 miles, it's considerably shorter – the ultra fuel-efficient Airbus A350-900ULR that Singapore uses on longer flights isn't necessary. Those birds have just business class and premium economy seating.
Instead, Singapore will use a standard Airbus A350-900 for flights between SIN and SEA. It offers 42 business class seats, 24 premium economy seats, and 187 economy seats.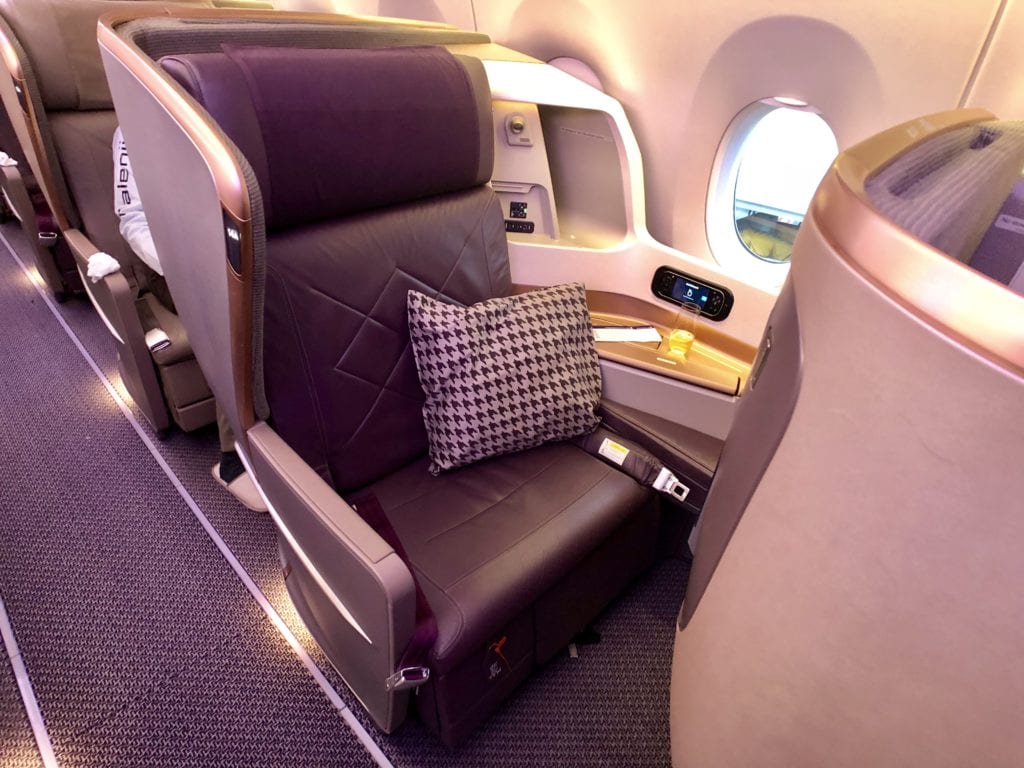 When it launches, this new flight will bring the number of Singapore Airlines' U.S. gateways to six: Seattle (SEA), Los Angeles (LAX), San Francisco (SFO), Houston-Intercontinental (IAH), Newark (EWR) and New York City-JFK (JFK).
Only SEA, LAX, SFO, and EWR will have nonstop service to Singapore's Changi Airport. The JFK route swings through Frankfurt (FRA), while IAH passengers can head to Manchester (MAN) – one of the coolest so-called "fifth freedom" routes out there.
The writing for this latest addition has been on the wall for months. Singapore indicated it would add a fourth nonstop U.S. destination after announcing it would restart service from EWR and LAX earlier this year.
At the time, we bet on Chicago-O'Hare (ORD) or Vancouver (YVR) – oops. But SEA is a sound addition, putting a shorter flight in the mix. Passengers can connect in the U.S. on Alaska Airlines, a close Singapore Airlines partner.
Our Analysis
Singapore Airlines is on a tear in the U.S., and that's a win for frequent flyers. After all, it's one of the best airlines in the world. Several Thrifty Traveler staff members recently flew its incredible business class and can attest that it's up there with the best business class offerings out there. The food is incredible and the cabin is sleek and gorgeous. Read our review of Singapore's 777 business class, which is nearly identical to the A350 that will be used on this new route.
Though we felt that in some ways it didn't live up to the hype, that might be a result of Singapore's otherworldly reputation rather than any serious faults. It's undoubtedly one of the best ways to fly.
But Singapore also does premium economy and economy flying right, too. Their premium economy seats put others to shame, and the service even in economy is legendary.
If you're looking to book a seat on this new route with points and miles, expect to pay 88,000 Singapore KrisFlyer miles for one way in business class once tickets open up. A premium economy seat should go for 65,000 miles one-way, while economy will be 38,000 miles.
As a reminder, Singapore KrisFlyer miles are among the easiest to accumulate in the miles and points world. That's because you can transfer all three major bank points and Marriott Rewards points directly to your Singapore account.
Bottom Line
Singapore's presence in the U.S. is growing, and that's exciting. While their choice to fly to SEA was a bit of a surprise, it's a welcome one.
Lead photo credit of Singapore Airlines