From the moment Qatar Qsuites hit the skies back in 2017, they set the standard for business class. These business class suites with fully-closing doors made first class largely irrelevant, piling up accolades as one of the best ways to fly.
But then the pandemic struck, forcing airlines to scale back … and not just their flights, but many of the hallmarks of business class. Planes with airlines' latest-and-greatest seats were retired. In-flight service was scaled back to the bare minimum in the name of safety. Supposed five-star catering was replaced with cold, boxed meals on even some of the best airlines.
More than two years into the pandemic, I flew Qsuites again from Dallas-Fort Worth (DFW) to Doha (DOH) – the same route I flew nearly three years ago. We've already got a full Qatar Qsuites review, so this post won't go into that same level of painstaking detail. But as international travel takes off in 2022 and it's gotten easier to book these suites with miles if you've got transferrable credit card points from cards like the Chase Sapphire Preferred® Card or the The Platinum Card® from American Express, we wanted to give travelers a sense of what to expect – and what has changed in what we once called the world's best business class. Does it still live up to that title?
Read our guide on all the best ways to book Qsuites using points and miles!
The Suites are Still Sweet
Up in business class, it's the seat that matter most. And on that front, nothing has changed with Qsuites. They're as glorious as ever.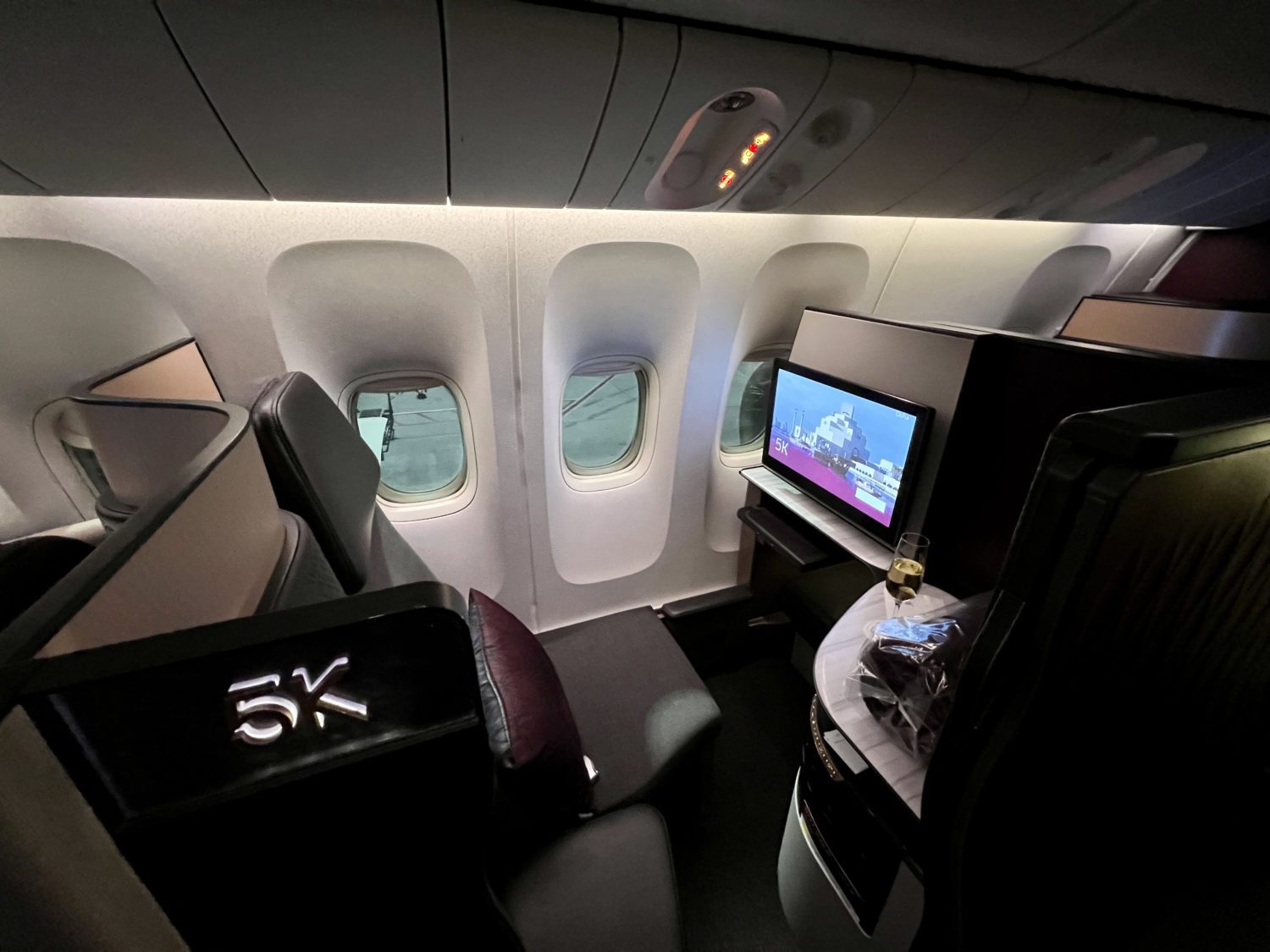 ANA's new business class suites might give Qsuites a run for their money, but I cannot imagine a better business class seat. It's everything you want: A comfortable seat that reclines into an even more comfortable lie-flat bed. Fully closing doors – and tall ones, at that – that give you unrivaled privacy. Plenty of space to stretch out, lots of storage, a crisp entertainment screen, and even air nozzles up above you in case things get too warm.
Slapping a door on a business class seat to rebrand it a suite is all the rage these days: You get it with Delta One Suites, British Airways has introduced Club Suites, and Etihad has gone with doors, too. Even Air France business class and American Airlines will reportedly soon follow suit. But few do it better than Qatar Airways. The doors are tall enough to actually make a difference, letting you shut out the rest of the cabin without sacrificing precious space.

All that privacy is great if you're solo, but what about traveling with someone special? I can't imagine a better setup than Qatar's honeymoon suites, one of the few business class options that allow you to form a genuine double bed in the air. Just drop that privacy wall and you've easily got one of the largest, most private ways to fly outside of splurging for Singapore's new first class suites … or flying private.

Some business class seats nail the fashion but struggle with function, sacrificing comfort for the sake of a sharp-looking seat. Others do the reverse: Provide a comfortable spot to sit and sleep in an uninspiring setting. In Qsuites, Qatar Airways has done both … arguably better than any other airline on the planet.
Even the smaller finishes like the pattern and stitching on the back of each suite look phenomenal.

Qatar's flights from the U.S. to Doha (DOH) clock in at a whopping 13-plus hours, so a good place to sleep is paramount. You can't do much better than this.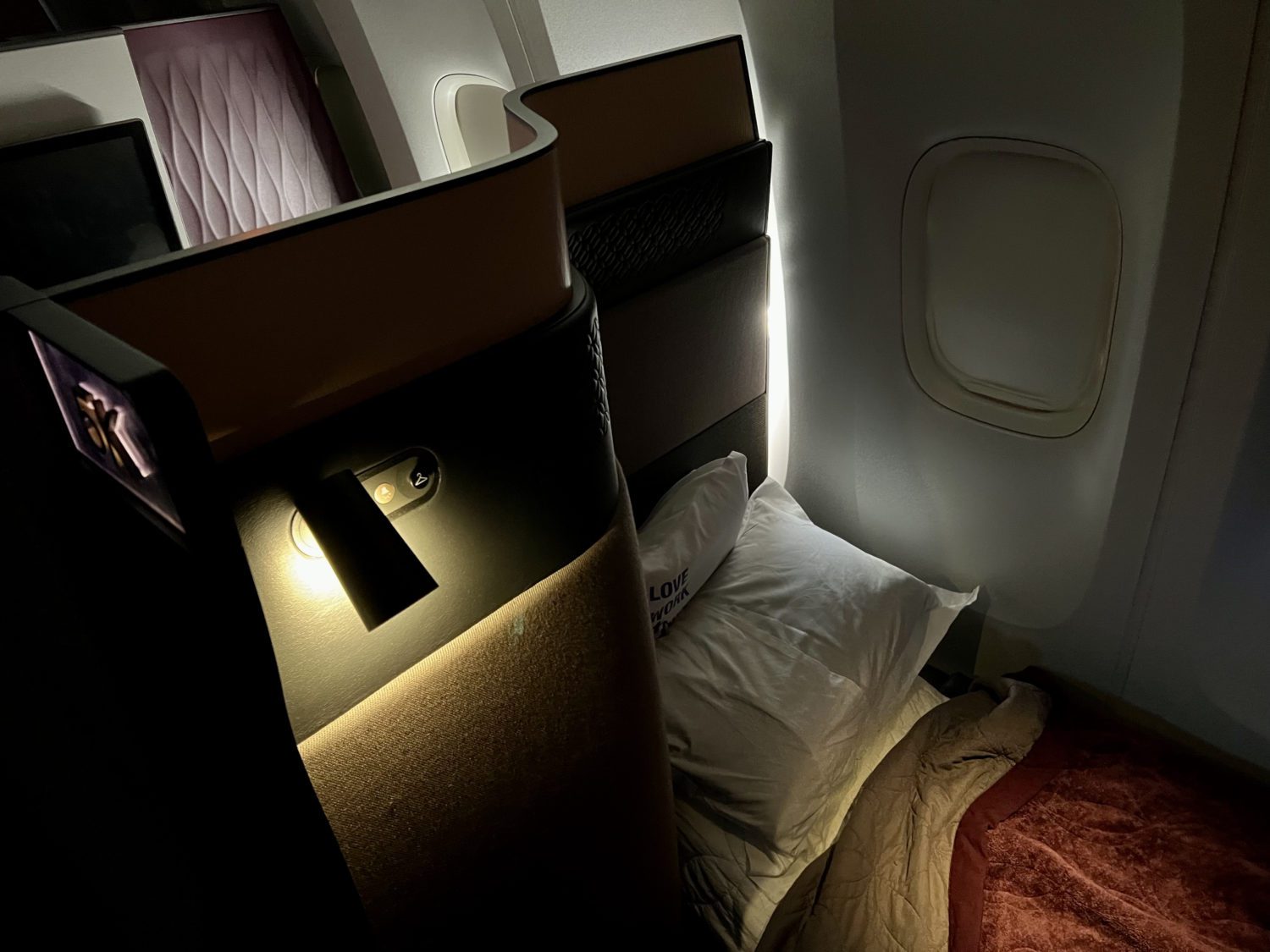 It's cozy, comfortable, and, yes, private – I sound like a broken record, I know. Flight attendants hustled through the cabin after dinner to volunteer turndown service, outfitting my seat with a mattress cover, reclining the seat all the way back, and setting it up with a few plush pillows and an excellent duvet. Sleeping at 35,000 feet doesn't get much better than this – I slept like a baby for almost six hours.
The federal mask mandate in the U.S. may be over, but Qatar still requires masks onboard … just not in Qsuites. It seems there's an unofficial policy that business class flyers are allowed to ditch their masks so long as they're in their own suites. It's just another reminder that in Qsuites, nearly everything is back to normal.
Dining, Drinks & Service: Excellent As Ever
On other airlines, dining still has a ways to go to get back to pre-pandemic standards.
They've cut costs on meals, halted pre-departure drinks, and … well, just made business class feel a little less special. Even Turkish Airlines business class, renowned for its inflight catering, has clearly lost a step. In my experience, Qatar Airways hasn't missed a beat in Qsuites.
Every flight starts off with an offer for something to drink during boarding, be it a refreshing lime-mint juice or a glass of some excellent champagne. Flight attendants also passed out warm towels, a small touch that has disappeared from almost every airline in favor of cleaning wipes.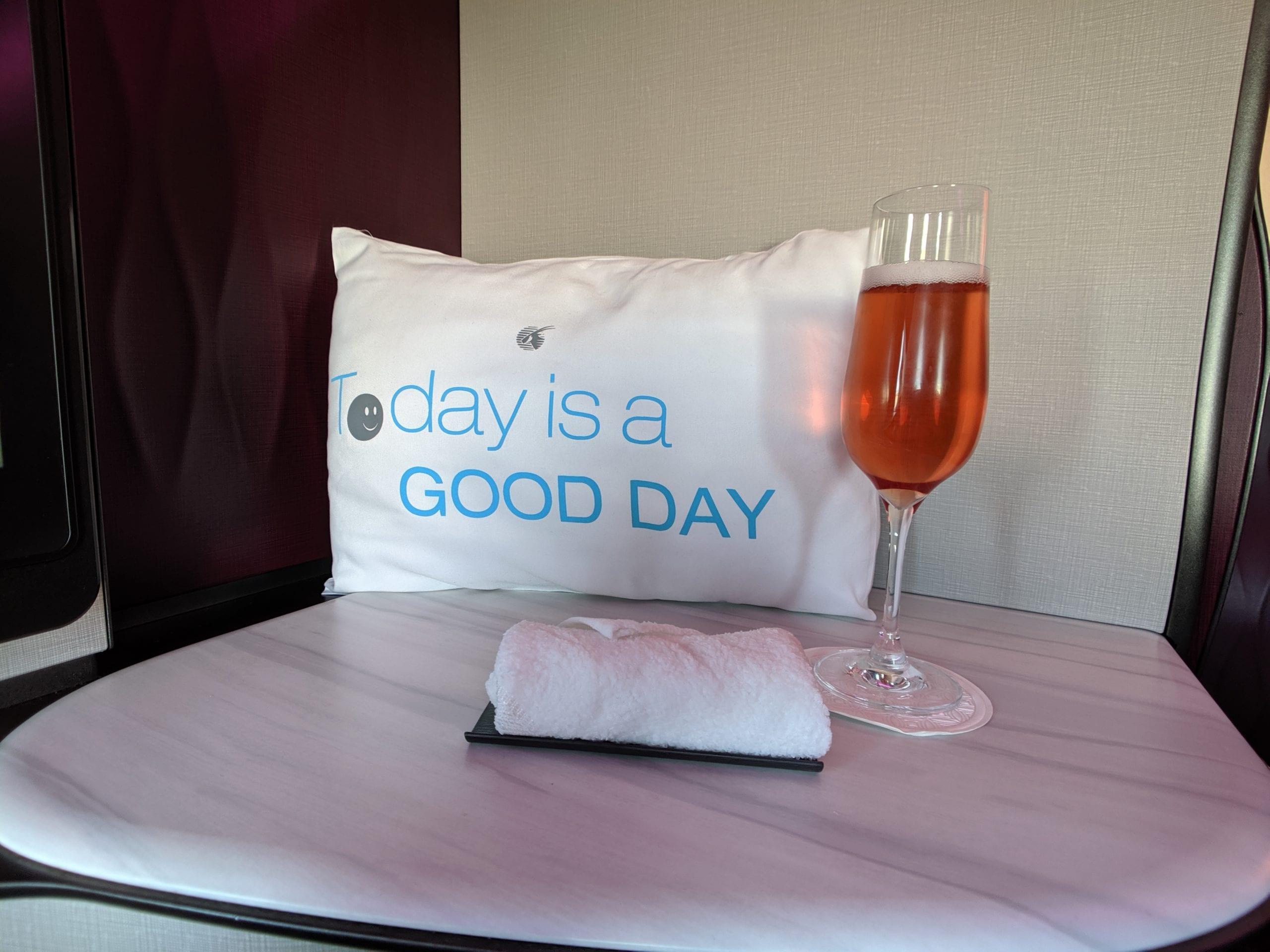 Qatar Airways still does dining a bit differently than most airlines in business class. Rather than serving meals at set times after departure and before landing, Qatar offers dine on demand. You can order anything you want from the menu at any time throughout the course of your flight.
After a late night departure, dinner started with an excellent cauliflower soup in a gorgeous setting. With high-quality cutlery and a cute, flickering (LED) candle, it almost doesn't feel like you're on a plane. And other than dishes being served on a tray rather than placed individually at your seat, nothing has changed.

Check out this lovely rack of lamb, which was perfectly cooked and accompanied by roasted potatoes and peppers and a nice rosemary jus sauce. From the presentation to the quality of the food itself, it doesn't get much better than this in business class.

After a few hours of sleep, I decided it was time for breakfast. Ordering eggs on a plane can feel like a gamble, but this omelette stuffed with tomatoes and cheese was light, springy, and absolutely delicious. I've had (far) worse omelettes on the ground. One of the few things I had that wasn't truly excellent was the iced latte, which was still fine.

About two hours before landing, a flight attendant came through and asked if I'd like anything else. I ordered the English afternoon tea set with a few finger sandwiches and sweet bites, including a delicious warm scone with clotted cream. Yes, you really can eat this much food on a single flight.

Even flying first class on some longer domestic flights within the U.S., you're lucky if you get a pack of pretzels and a bottle of water. Yet flying Qatar business class, flight attendants hustle to get everyone in business class a tremendous platter of light bites … even on short, 40-minute flights within the Middle East. It's truly impressive.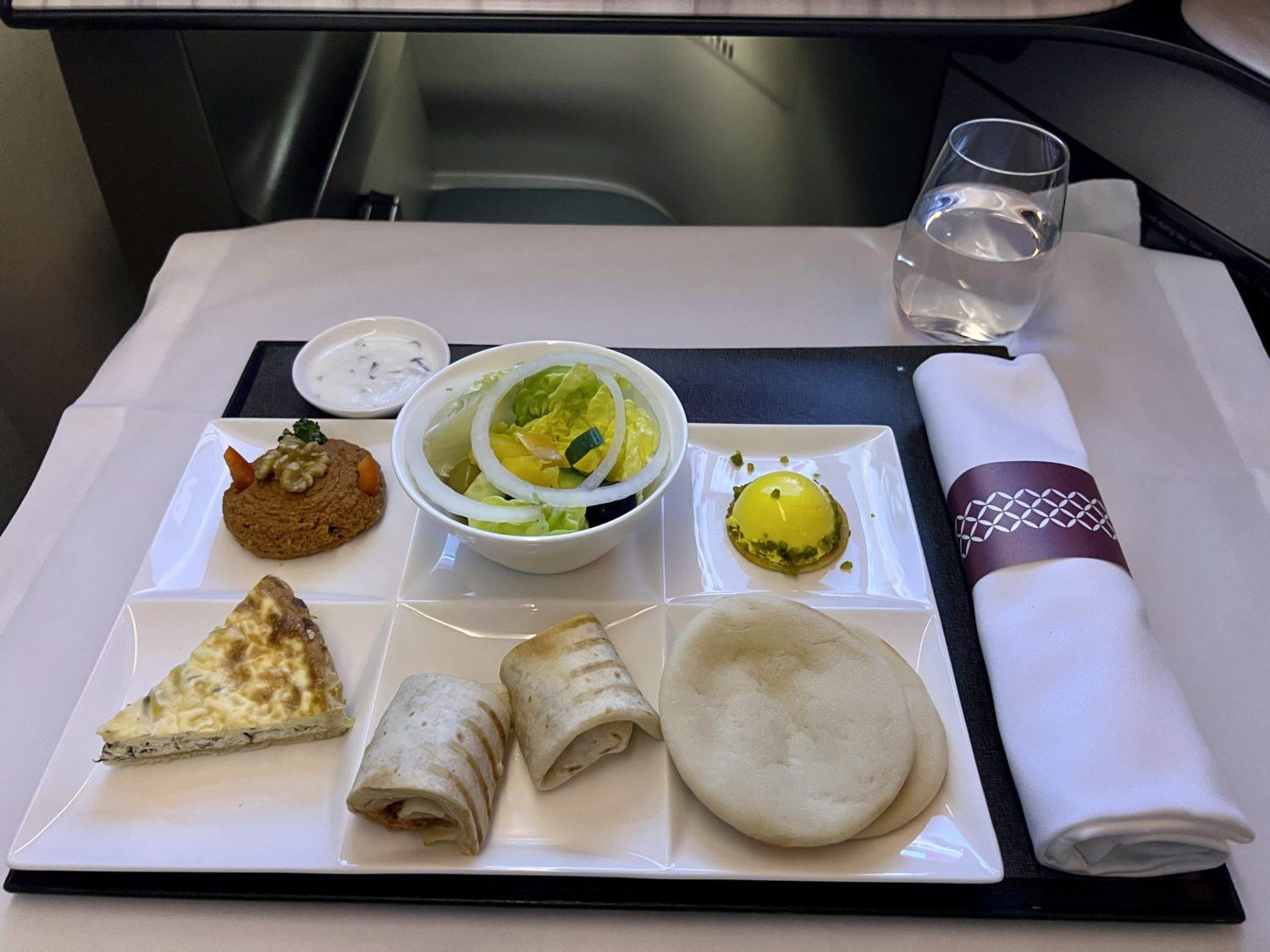 Lounges Are Top-Tier, Too
You think you've been in a big airport lounge? Just wait until you see Qatar Airways' Al Mourjan Lounge for business class passengers at its hub in Doha. It's on an entirely different scale.

Massive is an understatement. The Al Mourjan Lounge is more than 100,000 square feet, with clusters of comfortable seating scattered throughout. You can easily get lost winding your way through the different seating area, rest quarters, restaurants (yes, plural), office centers, sleeping pods, restrooms, shower suites … need I go on?

It's functional but also beautiful, with high ceilings, artwork, and even water features like this tranquil reflecting pool just past the entrance.

But just because this place is enormous doesn't mean it's not busy – just the opposite. If you make your way to the Al Mourjan lounge between 10 p.m. and 1 a.m. or from roughly 5 a.m. to 7 a.m. – when the vast majority of Qatar Airways' passengers are making connections, thanks to how tightly Qatar schedules its flights for efficiency – this lounge can feel packed.
So trust me: If you're making a connection within the Middle East or flying Qatar Airways First Class, you want to head for the Qatar Airways Al Safwa Lounge instead. It's an oasis.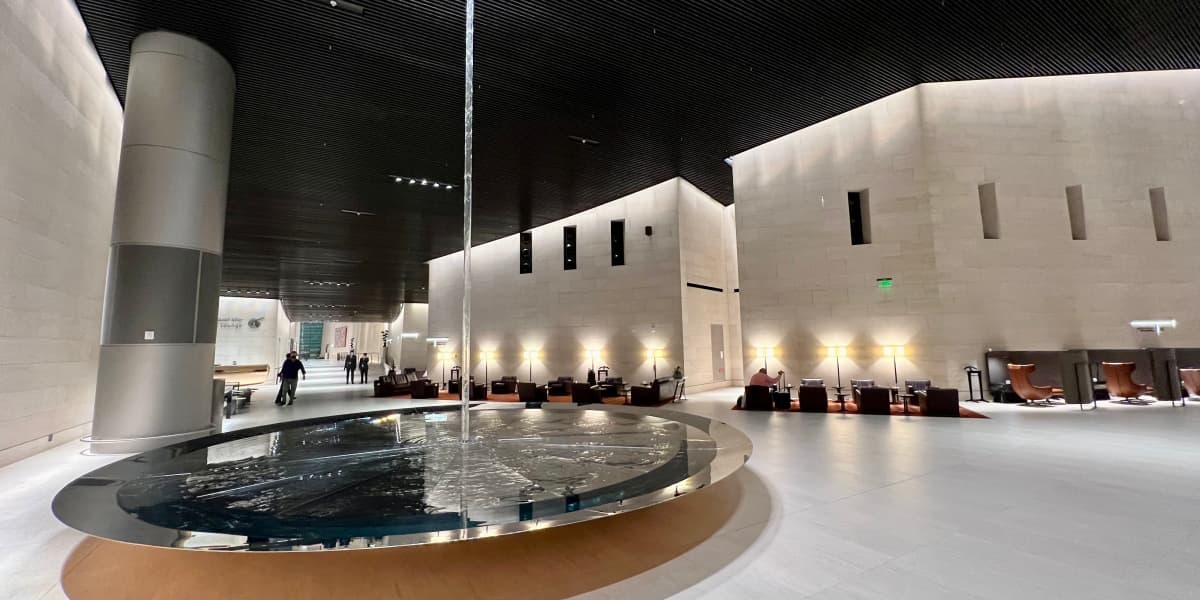 Check out our full review of the Al Safwa Lounge!
This place is otherworldly – there's really no other space like it inside of an airport on the planet. With soaring ceilings, beautiful finishes, stately seating, and art installations throughout, it feels more like a museum than an airport lounge.
Thanks to a quirk in access, you might be able to get into Al Safwa. A normal Qsuite ticket from Doha (DOH) to the U.S. won't get you in – at least not unless if you're willing to pay an extra $165 USD or so for a pass. You need a Qatar Airways first class ticket … kind of.
If you book a business class flight that connects in Doha and continues onward in the Middle East (think Dubai, Abu Dhabi, Muscat, Oman or Amman, Jordan) your short regional flight will be ticket in Qatar Airways first class. And that ticket will get you into Al Safwa during your layover. Prior to the pandemic, Qatar would only let you into the Al Safwa lounge before departure on one of these Middle Eastern connections – not upon arrival from another city before continuing onto the U.S. But that has changed, too: You can now get into Al Safwa after arriving to Doha on a first class fare.
This lounge still gets busy during peak times, but nowhere near as packed as the Al Mourjan business class lounge. And during off-peak times, it feels like you have the entire lounge to yourself.

Get a sleeping room to recharge for six hours for free, hit the spa, or just walk around with your mouth agape. When you're hungry, head to the a la carte restaurant. The wine list is superb. And while I wouldn't say the food is restaurant-quality, there are still some good dishes – especially during breakfast.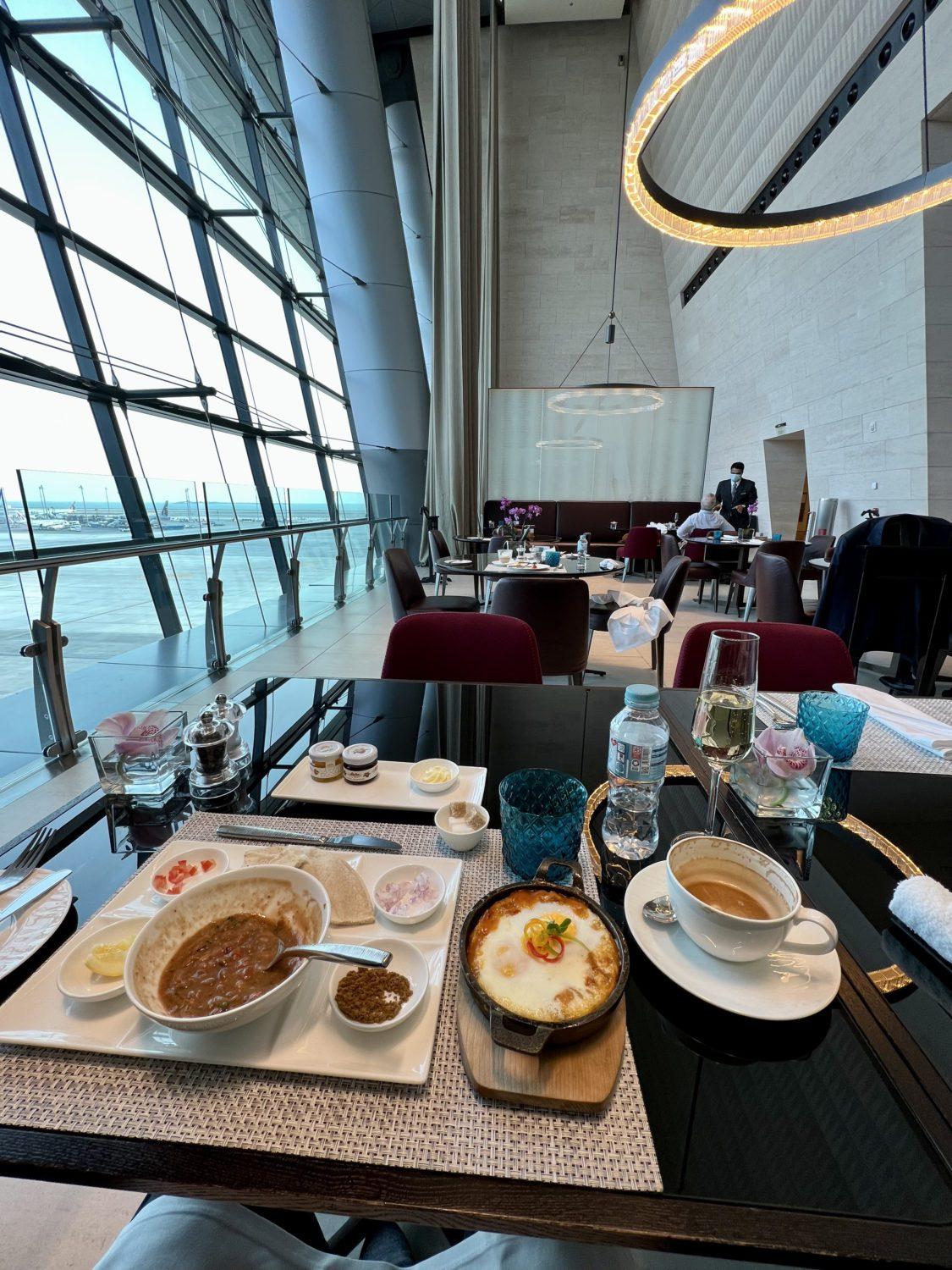 Bottom Line
From economy to first class, not every airline has come out of the pandemic the same way it entered. But flying Qatar Qsuites feels much the same as it did nearly three years ago.
The suites themselves are unchanged, and that's great news. And even the dining and service seems to have mostly gotten back to pre-pandemic levels, with some great dishes available on demand.
This is still the world's best business class, if you ask me.