Norwegian Air is back in action, launching new summer seasonal routes from Denver (DEN) and Chicago-O'Hare (ORD) to Rome (FCO). The budget airline is also adding a nonstop flight from Chicago to Paris-Charles de Gaulle (CDG).
The new nonstop flight from Denver to Italy's capital city is set to begin March 31, with three flights a week through late October, according to Travel and Leisure. Flights from Chicago to Paris will commence May 1, offering five flights each week through late October. And Chicago to Rome flights will begin June 2, with four flights a week through Oct. 19.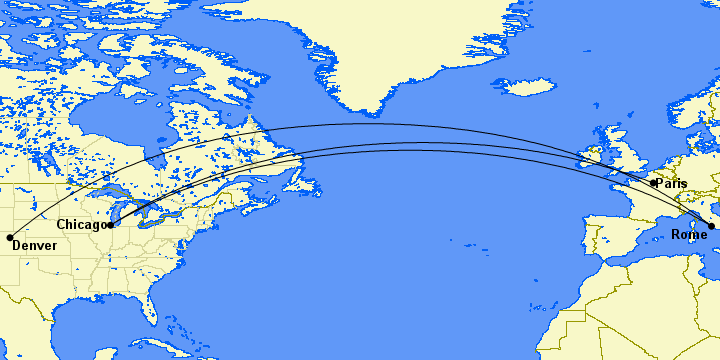 All three new flights will run only over the summer season on a Boeing 787 Dreamliner. Read our review of flying Norwegian across the Atlantic Ocean. 
"Rome and Paris are great additions to our growing presence in Chicago and Denver and we look forward to welcoming new and existing travelers onboard next summer," Norwegian Senior Vice President of Commercial Matthew Wood said in a statement.
What These New Norwegian Routes Mean
New ways to get to Europe are always exciting. And while Norwegian is undoubtedly a budget airline, it's among the best. You can typically count on a comfortable ride to Europe at a good price.
Travelers in Denver and Chicago already know Norwegian. The airline already flies from Denver to London-Heathrow (LHR) and Paris, and between Chicago and London and Barcelona (BCN).
But there's bigger news behind these new routes. It's a sign of life at a time when Norwegian has struggled financially. 
It's been a rough year and change for ultra-low cost carriers like Norwegian. WOW air failed spectacularly, and Primera Air collapsed overnight. The list of bankruptcies goes on and on.
Norwegian has halted some of its flights between the U.S. and Europe while trying to get its finances in order. And whether you fly Norwegian or not, you should root for its success.
These low-cost carriers have helped drive airfare to Europe down to record lows. Once unthinkable, round-trip fares from many cities around the U.S. under $300 are now the norm.
Major airlines like American, Delta, British Airways and Iberia aren't selling cheap flights out of the goodness of their hearts. They're responding to the competition from pesky low-cost airlines.
And if Norwegian disappears, the cheap flights deals almost certainly will, too.
Bottom Line
New ways to get to Rome and Paris are always exciting. But Norwegian doubling back down on flights from the U.S. to Europe after months of problems is an encouraging sign.