Norwegian Air will cut all its long-haul flights from North America to several Irish cities as of Sept. 15, the latest sign of trouble for the struggling airline.
Norwegian executives largely blamed the grounding of the Boeing 737 MAX for the cancellations. Though the airline has just six of those planes in its fleet, the company said Tuesday that leasing planes to backfill those routes has become "unsustainable" given the uncertainty of when the jets may be cleared to return.
The decision will put an end to the following routes:
Providence (PVD) to Dublin (DUB)
Providence (PVD) to Cork (ORK)
Providence (PVD) to Shannon (SNN)
New York City-Stewart (SWF) to Dublin (DUB)
New York City-Stewart (SWF) to Shannon (SNN)
Hamilton, Ontario (YHM) to Dublin (DUB)
"We have conducted a comprehensive review of our transatlantic operations between Ireland and North America and considering the grounding of the Boeing 737 MAX aircraft, we have concluded that these routes are no longer commercially viable," said Matthew Wood, Norwegian's senior vice president of long-haul commercial flights.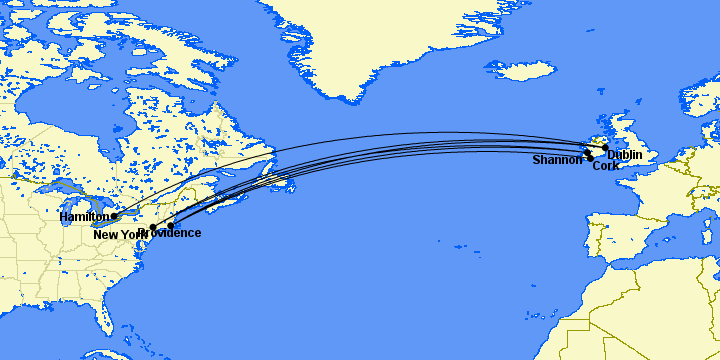 The ultra-low-cost carrier has been hammered from all angles lately. Already in a precarious situation financially, it's clearly been compounded by the grounding of the 737 MAX.
These cuts come just weeks after the airline halted or cut 12 of its flights between the U.S. and Europe. Combined with these cuts to Ireland, it marks a drastic cut to the carrier's U.S. operations.
Norwegian says it will offer to reroute passengers on affected flights. The airline still flies to Dublin from Oslo (OSL), Copenhagen (CPH), and Stockholm (ARN).
Bottom Line
It's a tough time to be a budget airline, especially if you've got the Boeing 737 MAX in your fleet. We hope this is the last of the cuts to Norwegian's U.S. flights. Sadly, that might be wishful thinking.