Norwegian Air is pausing 10 routes between the U.S. and Europe over the winter and canceling two others outright, the latest sign of the low-cost carrier's financial issues that could spell trouble for travelers hunting for cheap transatlantic fares.
It's a drastic change to Norwegian's operations in the U.S. at a time when it can't seem to stop losing money. Back in April, Norwegian reported that it lost nearly $172 million in the first three months of 2019. These financial troubles didn't begin this year, and they don't seem to be getting any better.
Many of the route changes will put flights on hold over the winter, which are expected to return in summer 2020.
Boston (BOS) – Paris (CDG)
Chicago (ORD) – London (LGW)
Denver (DEN) – London (LGW)
Fort Lauderdale (FLL) – Copenhagen (CPH)
Los Angeles (LAX) – Copenhagen (CPH)
Los Angeles (LAX) – Oslo (OSL)
Los Angeles (LAX) – Rome (FCO)
New York (JFK) – Copenhagen (CPH)
New York (JFK) – Stockholm (ARN)
Orlando (MCO) – Oslo (OSL)
But two routes will be canceled indefinitely as of October:
Las Vegas (LAS) – London Gatwick (LGW)
Orlando (MCO) – Stockholm (ARN)
Budget airlines flying to and from Europe are having a tough time lately. WOW air and Primera Air have collapsed, as have others. And though Norwegian is perhaps the most successful and best-known budget carrier of the bunch, it can't seem to shake its financial troubles.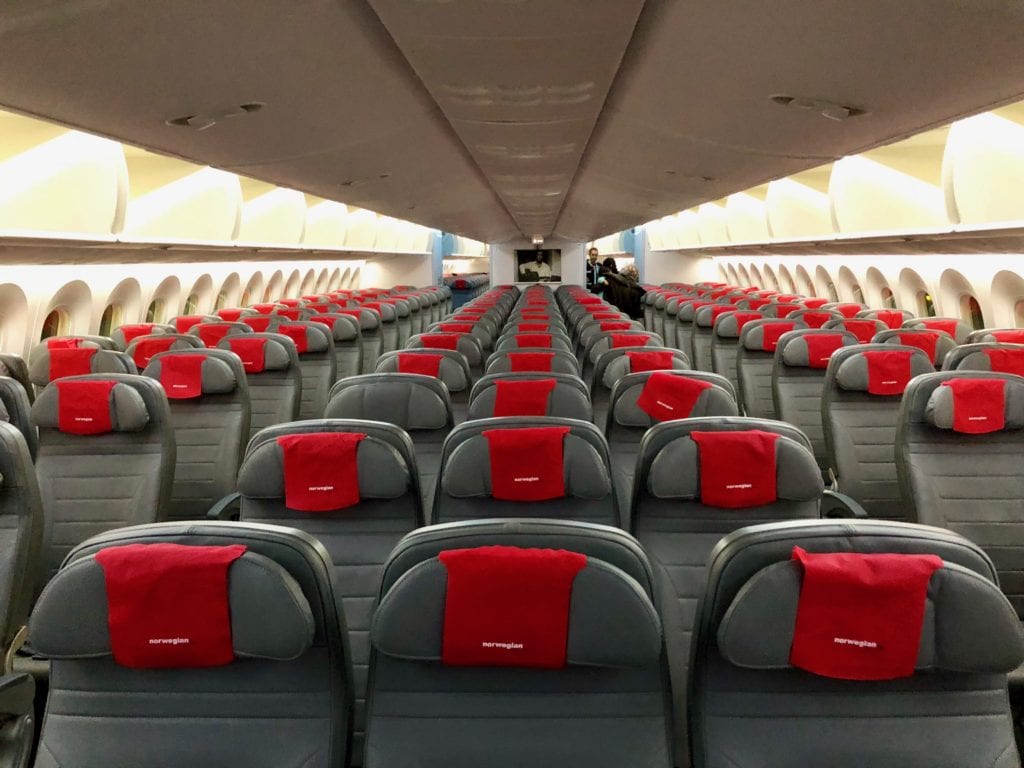 Norwegian doesn't pretend to be anything other than a budget airline, but we still found it to be a great way to fly to Europe for cheap. Together with other budget carriers, Norwegian is largely responsible for the dirt-cheap fares we've seen to Europe and back even on major airlines.
What To Do If You're Booked on a Canceled Flight
If you've got an upcoming flight on one of these canceled routes, it may be time to look for another way to get to Europe. European transportation rules demand that if your departure flight is more than 14 days away, the airline must refund you in full.
And since all these cancellations are for fall 2019 and beyond, that should be the case.
If you are booked on a Norwegian flight for fall 2019 and beyond, you'll receive a full refund for your flight cost. Hopefully, Norwegian has already been in touch with you about your canceled flight if that is the case.
Our Analysis
When you're selling flights for this cheap, it's hard to make money.
That's why WOW and Primera quickly fizzled out. And that's why Norwegian is making these moves, too.
Cutting or pausing several routes definitely sounds some alarm bells about Norwegian's longevity and its fight to survive as a budget carrier. The news of mass cancelations may make travelers looking to get to Europe wary of flying Norwegian for fear of being canceled as well.
These huge cuts to their network cut costs for now, but only time will tell whether this is part of a continued downward spiral we've seen before with low-cost carriers.
Bottom Line
The loss of several Norwegian routes between the U.S. and Europe is sad news for budget travelers.
If you're flying Norwegian this fall and beyond on one of these routes, know that you are entitled to a full refund for your flight. And if you aren't, take this as a sign that further changes to the low-cost European carrier landscape may be on the horizon.
Lead photo courtesy of Norwegian Air