There's yet another new player offering cheap flights between the United States and Europe this summer: Norse Atlantic Airways. And while they're starting with nonstop flights from major U.S. cities to Oslo (OSL), the airline has plans to expand with flights straight into cities like London and Paris, too.
More than a year in the making, Norse Atlantic this week finally confirmed the start dates for its first transatlantic routes between Oslo and the U.S. and put tickets on sale starting at just $129 for a one-way fare. The first transatlantic Norse Airways flight will depart June 14 between New York City (JFK) and Oslo, ramping up to daily flights by July 4. But from there, the airline plans to expand fairly rapidly:
The airline will launch three flights a week flights between Fort Lauderdale (FLL) and Oslo on June 18
Service from Orlando (MCO) to Oslo will commence July 5, with three flights a week each way
Come Aug. 9, Norse Atlantic will fly from Oslo to Los Angeles (LAX) three flights a week
The airline will fly Boeing 787 Dreamliners on all of its U.S. routes, equipped with both standard economy seats as well as a premium economy offering with wider seats and more legroom. While many of these flights are already on sale straight on the Norse Atlantic site, you won't yet find Norse Atlantic fares on other sites including Google Flights.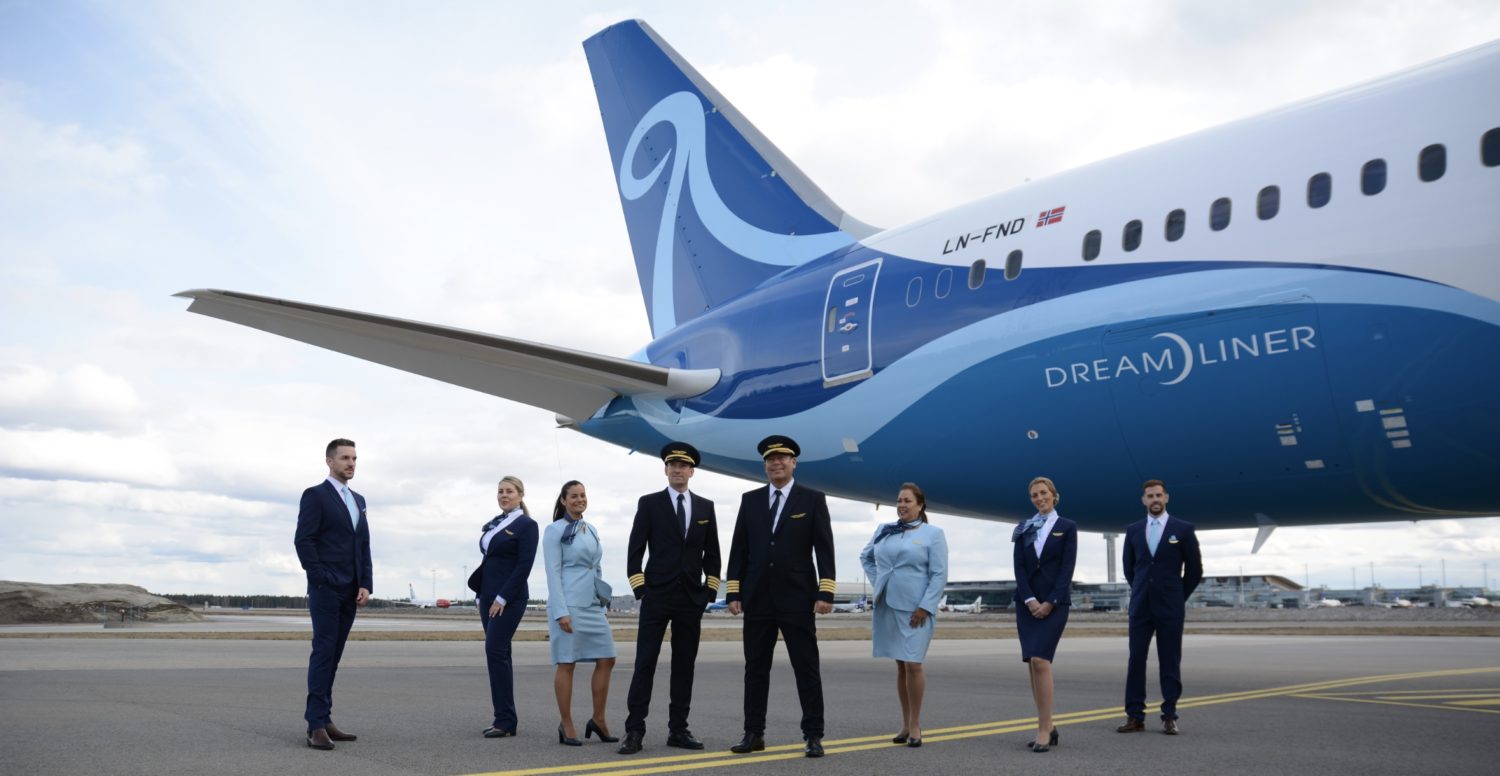 Sound familiar? It is: Norse Atlantic is essentially an offshoot of Norwegian Airlines, the popular ultra-low cost carrier that ran many flights between the U.S. and Europe for years until the pandemic put a stop to them.
And according to a news release from Norse Atlantic, the airline will expand its transatlantic service beyond these initial four routes. The airline said routes and fares straight to London and Paris are going to be announced soon – though the airline didn't specify which airports it would fly to on either side of the pond. Plus, the airline has other U.S. destinations in mind, too.
Norse will join fellow newcomer PLAY Airlines as a new budget option for U.S. flyers to get to Europe. PLAY's inaugural transatlantic flight was this month, starting service from Baltimore (BWI) to Reykjavik (KEF). PLAY will also offer flights from New York (Stewart-SWF) and Orlando (MCO).
What to Expect from Norse Atlantic
As we've come to expect from these transatlantic budget carriers, the lowest fares, advertised at $129 one-way, are pretty bare bones. For the inaugural flight June 18, the $129 "Light" fares only include a personal item. All changes to those fares cost $200 plus any fare difference.
The next tier of pricing is Economy Classic, which includes a carry-on, a checked bag, a meal, and changes for a $100 fee. That fare is up-charged $90 at $219.

Norse's "Premium" cabin offers a few more features, including seats with 43″ of legroom and 12″ of recline. All Premium fares also include a premium check-in lane, premium boarding, a carry-on, two meals, and a $200 change fee. Premium Classic ($90 more), includes a checked bag and $100 change fees.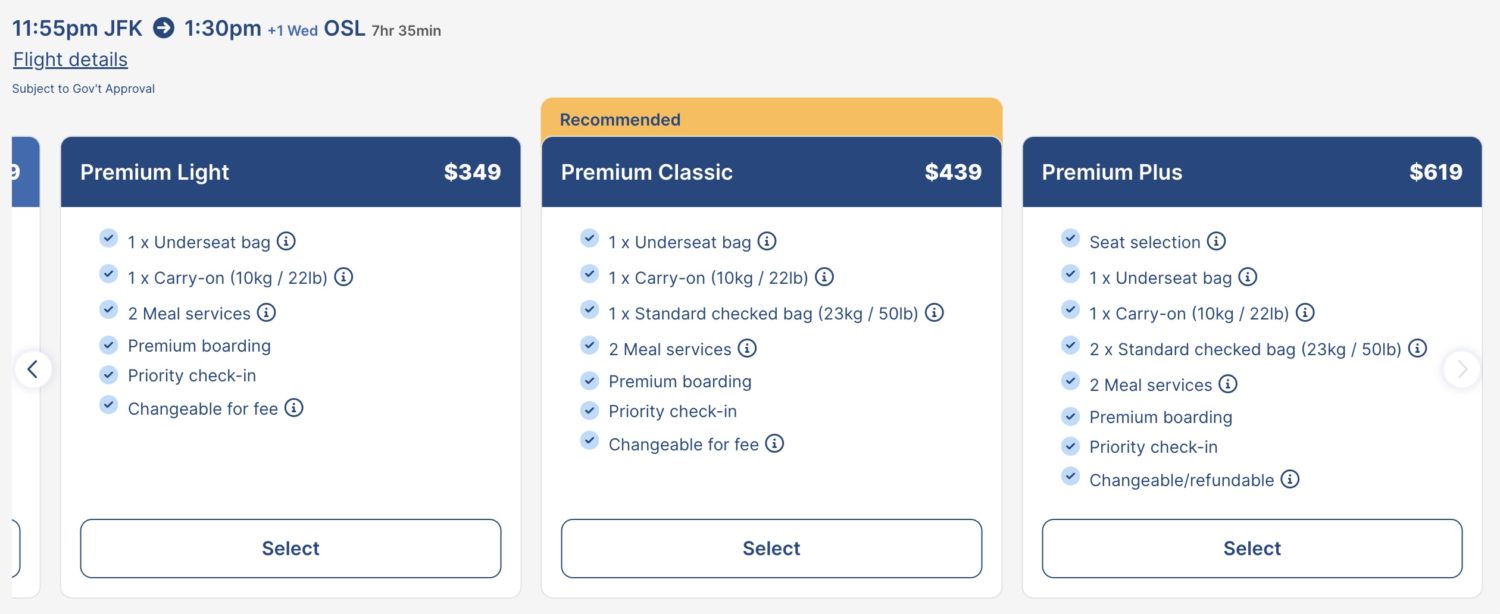 For Light fares, carry-on bags will run customers $25 one-way and can only weight 22 pounds. Checked bags under 33 pounds are $60, bags 34-50 pounds are $70, and bags 51-70 pounds are $170 one-way.
Then comes the seat selection. For economy fares, middle seats in the rear of the plane start at $25. Aisle or window seats in the back of the plane are either $35 or $45. "Preferred" seats in rows 10-20 are $75 and extra legroom seats are $175.
On each flight, there are two possible meals for purchase on economy fares: A main meal and a light meal. Main meals can be purchased for $30 and the second, light meal can be purchased for $20.

In the end, after selecting just the one main meal per each flight and one carry-on bag for each flight, the grand total for the flight was just over $401.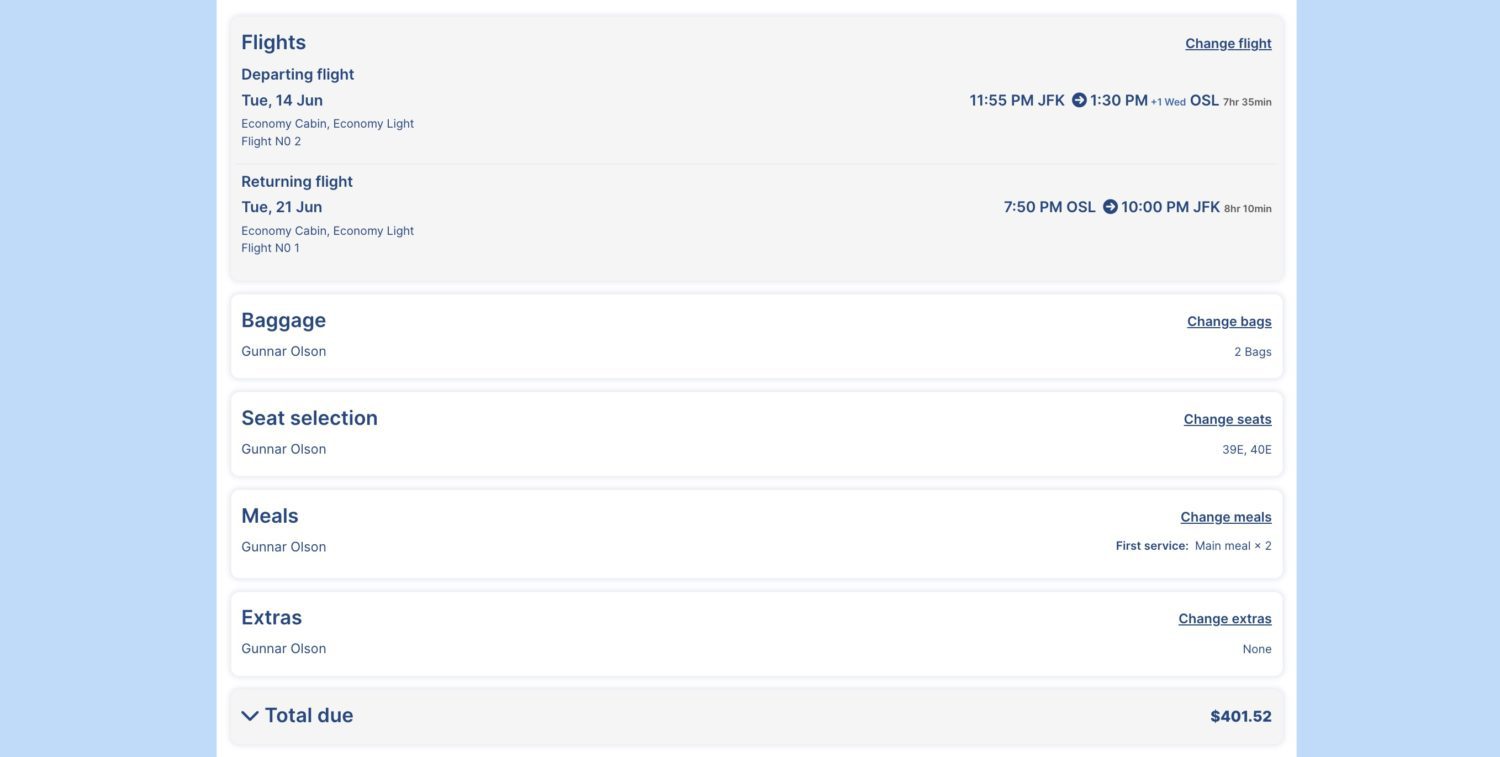 For a roundtrip from the U.S. to Norway, $400 is a pretty great deal. You aren't going to have all of the comforts of a normal transatlantic carrier, but those rates might be low enough to justify it.
But here's the most important thing: Even if you never plan to fly Norse Atlantic or PLAY Airlines, their presence in the U.S. is a win for travelers. As we saw in the years leading up to the pandemic, these low-cost carriers put pressure on major carriers to lower fares. 
With Paris and London service expected to be announced soon, Norse Atlantic will play an important role in driving down fares for American travelers as they return to the skies this summer.
Bottom Line
Norse Atlantic will begin flying between the U.S. and Europe with a New York (JFK) to Oslo (OSL) flight June 14, with more U.S. cities and European destinations coming soon.
Flyers can expect pretty stripped down fares with extra fees to buy bags, meals, and seat assignments. Norse will offer a "Premium" cabin with wider seats, more legroom, and meals. But most importantly, Norse Atlantic is ratcheting up the competition in the transatlantic market, helping drive down fares no matter which airline you're flying.
Lead photo courtesy of Norse Atlantic