Like throwing spaghetti at a wall to see what sticks, United Airlines is planning to launch 10 new routes next spring to exciting and unforeseen destinations in Europe and beyond, betting that transatlantic travel is back in full swing for 2022.
United's new routes for summer 2022 announced on Thursday almost look like the airline spun a globe and stopped it with its finger – and that's not a bad thing. There are new routes from Newark (EWR) to straight to the Spanish islands of Mallorca (PMI) and Tenerife (TFS), making United the first and only U.S. airline with nonstop service to either island. Oh, and United's even adding flights from its Newark hub to Bergen, Norway (BGO) and Ponta Delgada (PDL) in the Azores.
Then there's a brand new route from Washington, D.C.-Dulles (IAD) to Amman, Jordan (AMM), direct flights from Chicago-O'Hare (ORD) to Milan (MXP), and nonstop service between Denver (DEN) and Munich (MUC). Meanwhile, the airline is also adding additional routes to cities like Rome (FCO) and Dublin (DUB) while finally starting a slew of routes that it put on pause during the pandemic.
It all adds up to an audacious expansion for United at a time when airlines are still healing. It's a bet that while transatlantic travel will be coming back strong, it will look different than just a few years ago.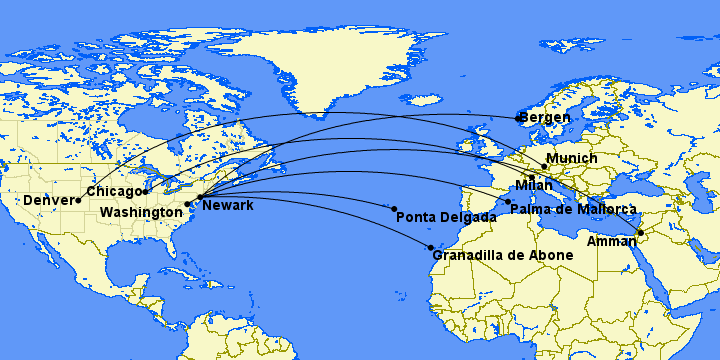 "Given our big expectations for a rebound in travel to Europe for summer, this is the right time to leverage our leading global network in new, exciting ways," Patrick Quayle, United's senior vice president of international network and alliances, said in a statement. "Our expansion offers the widest range of destinations to discover – introducing new, trendy locales that our customers will love, as well as adding more flights to iconic, popular cities."
The pandemic has forced airlines to shake things up, get creative, and try new routes – especially internationally. While most airlines scaled back their transatlantic routes and focused on flying to major hubs like Frankfurt (FRA) or London-Heathrow (LHR), United is planning to skip right over them and flight straight into vacation-oriented destinations.
There's no guarantee it works or that these new routes stick around for the long term, but it's exciting nonetheless. Here's a look at each route in detail.
Dulles to Amman, Jordan
United will be the only U.S. carrier with nonstop service to Jordan, though Royal Jordanian operates flights between its Amman (AMM) hub and several U.S. cities.
United will fly from the nation's capital to Amman three times a week starting May 5, 2022. Flights will be on United's Boeing 787-8 Dreamliner.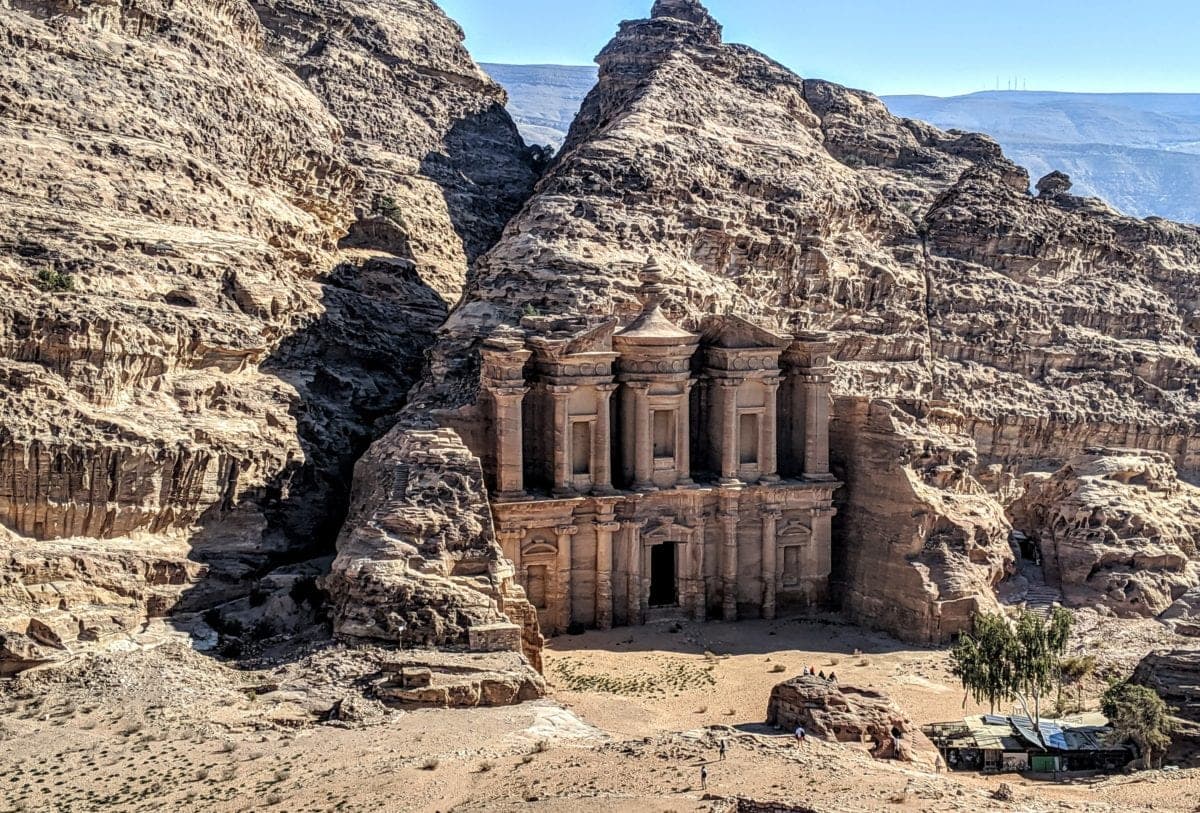 Read more: Planning the Perfect Trip to Petra, the Ancient City of Jordan
Newark to the Spanish Isles
Move over, Madrid. United is really shaking things up by flying straight to two Spanish islands and tourist havens.
Come June 2, 2022, United will launch three flights a week into Palma de Mallorca (PMI) from Newark. Those flights will be on a Boeing 767-300ER.
The following week on June 9, United will commence service from Newark to Tenerife (TFS) in Spain's Canary Islands, just off the coast of western Africa. Flights will run three times a week on a Boeing 757-200.
Newark to Norway
While most airlines head for Oslo, United is making a beeline straight for the mountains, fjords, and northern lights of Norway.
That's what's behind United's new route from Newark to Bergen (BGO), another first for a U.S. airline. Three weekly flights begin May 20 on a Boeing 757-200.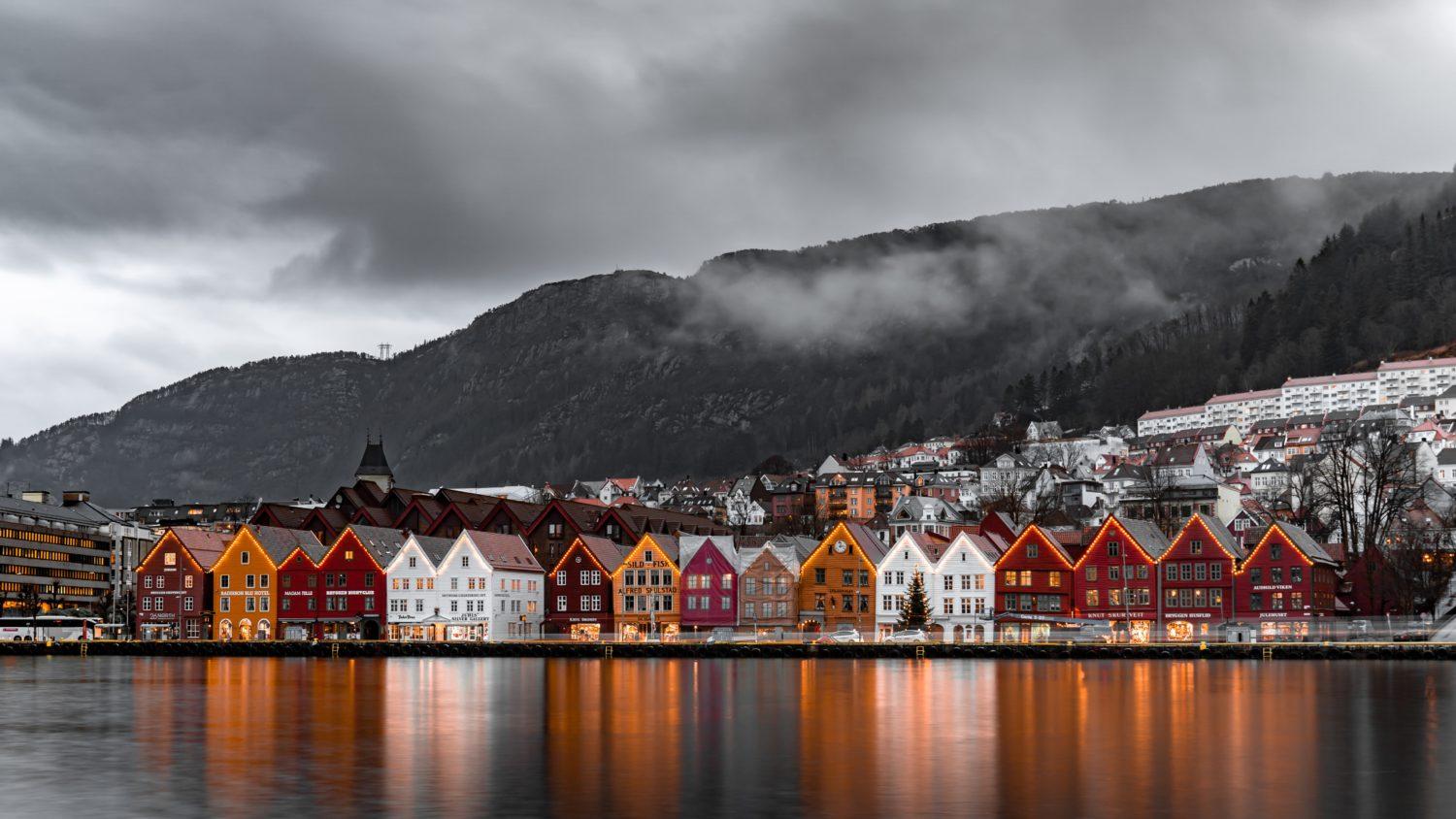 Newark to the Azores
Before the pandemic upended travel, Portugal's Azores islands were emerging as a popular destination in the Atlantic. United is heading there.
Starting May 20, United begin flights to Ponta Delgada (PDL), the Azores capital city, on a brand new Boeing 737-Max outfitted with screens at every seat. Flights will run three times a week – but they'll be flying daily from June through August 2022.
United will be the only U.S. airline with nonstop flights to the Azores after Delta ended its yearlong experiment with nonstop flights to Ponta Delgada in early 2020.

Read more: Why You Need to Visit the Azores in 2022
Chicago to Milan
It may not be a new city for United, but it's a new way to get there.
United is launching its first-ever flights from Chicago-O'Hare (ORD) to Milan (MXP), with daily service to the northern Italian hub beginning May 6 on a Boeing 787-8. It's one of the few new United routes that may be built around the return of business travel, not everyday vacations.
More Flights to Germany
United is also adding two brand new routes into Germany next spring.
The airline is planning service between Washington, D.C.-Dulles (IAD) and Berlin (BER) come May 6, with daily flights operated on a Boeing 767-400ER. But it's also adding flights from Denver (DEN) over to Munich on April 23, running daily flights on a Boeing 787-9.
Bottom Line
United had been teasing a handful of new routes earlier this week, but we didn't see this coming.
Flying nonstop to destinations like the Azores, Mallorca, Tenerife, and Bergen is a bold move. While most airlines have doubled down on their core routes between megahubs, United is thinking differently heading into 2022. And that presents some exciting opportunities to get somewhere in Europe (or the Middle East) faster.