Yes, even ultra-low-cost carriers like Spirit Airlines have frequent flyer programs. And Spirit's program just got a massive overhaul.
Months after laying out their plans, the new Free Spirit program took finally took flight this week. And there are some major changes for the budget airline's loyalty program, including how you earn points, how you can redeem them, how long you have to use points before they expire, and more. Oh, and Spirit has introduced bonafide airline status.
On the whole, these are fairly good changes for frequent (and even infrequent) Spirit flyers. But it's not without some potential problems, so keep reading as we break them down.

Earning Points with the New Free Spirit Loyalty Program
Miles are out, and points are in.
For years, you'd earn Spirit miles based upon how far you fly. Today, it's a new revenue-based program, in which you'll start earning points based on how much you pay. It works like this:
Everyday travelers earn 6x points per dollar on airfare, while travelers with Silver status (more on status later) earn 8x points and Gold status holders earn 10x points.
Critically, you'll also now earn points on the extra fees you pay flying Spirit – a major windfall. Normal flyers will earn 12x points on these fees, while Silver members will earn 16x and Gold members will earn 20x.
Here's an example. If I booked a $75 round-trip flight last month from Minneapolis-St. Paul (MSP) to Las Vegas (LAS). Because I'd earn 50% of the miles flown, I would have earned about 1,300 Free Spirit miles.
After this changeover, I'd earn just 450 points on the same base fare. That's a downgrade, to say the least.
But let's say I add a carry-on bag (another $35 each way), decide to splurge for the Big Front Seat on the way to Vegas (a $67 upgrade, in this case), then pick a window seat for the flight home (an $11 fee). With the 12x multiplier on fees like these, that adds up to another 1,776 points – compared to the 0 extra points I'd earn on those exact same purchases previously.

This gets to the heart of Spirit's change. Spirit's business model – along with pretty much every low-cost carrier – is built around low fares, using bags and seat selections as optional add-ons to pull in more money.
"The program that we're moving into really is reflective of our model. We're proud of our brand and we're proud of our company," Spirit Executive Vice President and Chief Commercial Officer Matt Klein previously said. 
Free Spirit is also introducing Points Pooling, which allows up to eight friends and family members to combine their points balances together. Any Free Spirit member can join a pool, but you'll need Spirit status or a Spirit credit card in order to start one.
Had Spirit miles in the bank before? Don't worry: Those changed over to Free Spirit points on a 1:1 basis on Jan. 21.

Points Won't Expire So Soon
If there's one massive win behind this change, it's this.
For years, Spirit miles would expire in just 90 days with no account activity – if you don't earn more miles or put a charge on a Spirit credit card. That's one of the most punitive policies among any frequent flyer program, period.
As of  Jan. 21, that has changed to a year-long expiration period. Taking any Spirit flight to earn more points or redeeming points for an award will reset that clock.

And holding a Spirit Airlines Mastercard means your points will never expire so long as you keep the card open.
What Will Awards Cost?
Earning points is one thing, but what about using them? Spirit isn't spilling all its secrets, but it's clear that redeeming your Spirit points can be quite cheap.
Spirit will use dynamic award pricing, where the price of an award can change based on the cash price, demand, time of year, and other factors. Officials at Spirit aren't saying exactly what a Free Spirit point will be worth towards airfare, as that will change over time. They made clear that they will offer occasional sales and deals, just as we see with other dynamic programs like Delta and its frequent SkyMiles flash sales.
Redemptions with Spirit start at 2,500 points each way. And looking at some redemptions available today, it's clear that while a low cash fare is your best bet for getting a better deal using Free Spirit points, it's not an exact science.
Here's a look at one-way flights from Detroit (DTW) to Denver (DEN) next month, for example.

Those 2,5000-point redemptions in cash would cost you somewhere between $33 and $50 if paying cash instead. On the high end, that 14,000-point flight is the most expensive cash flight, at $178 one way.
"We have a lot more 2500-level redemptions because of the low fare environment we are in right now," said Sid Krishna, Spirit's head of loyalty.
Unfortunately, you won't be able to redeem Free Spirit points for extras like upgrading to a Big Front Seat or paying for bags. On the bright side, Spirit has introduced a Points + Cash option, where you can use as few as 1,000 points to reduce the cost of your airfare.
One last change to be aware of? Depending on how far in advance you book, you may get hit with a redemption fee when using your points. There's no fee if you book 90-plus days in advance, but you'll pay an extra $10 for flights 22 to 90 days before departure. Booking within 21 days? That redemption fee increases to $50 per ticket.
You can avoid those fees by holding one of Spirit's co-branded credit cards or earning Spirit status. And speaking of status…
Now Flying with Spirit? Status
Earning airline status is a tricky world. For most travelers, it's rarely worth it – but that's not always the case. And even Spirit is getting into the game.
On paper, Spirit has actually had something like status for years. There were three tiers, from your everyday "Somebody" members to "Elite" flyers to "VIP" members. But no matter how far you climbed, the benefits beyond earning more miles flying Spirit were, in the words of Spirit itself, "pretty much nonexistent."
"It was seldom used and not particularly well-known," said Rana Ghosh, Spirit's vice president of Omnichannel, previously explained. 
But Spirit has replaced it with two tiers of bonafide status that are far easier to reach than your average airline status. You can attain Spirit status from spending money with Spirit as well as putting charges on a Spirit Mastercard from Bank of America.
Every dollar you spend on Spirit flights or fees gets you 1 Status Qualifying Point (SQP), while you'll earn 1 SQP for every $10 you put on a Spirit Mastercard. Here's a quick look at the two new tiers of Spirit status, and what you get with each.

Spirit Silver Status
Attain Silver Status by earning 2,000 SQPs in a year
Earn 8x points on airfare and 16x points on extras like seat fees and baggage
Free seat selection during check-in, with access to available exit row seats starting three hours pre-departure
Get free Shortcut Boarding and Shortcut Security
No redemptions fees when you book an award
No extra fees for overweight bags
Fly same-day standby free
Dedicated service line through the Spirit Yellow Glove Concierge
Spirit Gold Status
Attain Gold Status by earning 5,000 SQPs in a year
Earn 10x points on airfare and 20x points on extras like seat fees and baggage
Free seat selection during when you book, including exit row seats
Free checked bag and free carry-on
Free snack and drink on your flight
Get free Shortcut Boarding and Shortcut Security
No redemptions fees when you book an award
Fly same-day standby free
One-time free change to any flight up to 24 hours before departure
Dedicated service line through the Spirit Yellow Glove Concierge
Status with Spirit will last for the rest of the year in which you earn it and the next full calendar year. So if you earn Spirit Status in February 2021, you'll have it for the rest of 2021 and all of 2022.
Brand New Co-Branded Credit Cards
As part of its new program, Spirit has launched two brand-new co-branded credit cards from Bank of America. And one comes with no annual fee.
For starters, there's the new Free Spirit Travel Mastercard, which currently offers 10,000 Spirit points after spending $500 in the first three months. That card has no annual fee, but unlocks plenty of other benefits when flying Spirit.
And then there's the Free Spirit Travel More Mastercard, Spirit's premium card with a bonus of 40,000 Spirit points after spending $1,000 within three months – plus you'll earn a $100 companion fare to use on a traveling partner, too. That card carries a $79 annual fee – but that's waived for the first year.
With both cards, you'll get access to points pooling, Spirit's new Yellow Glove Concierge Service line, Shortcut boarding, a 25% rebate on all inflight purchases, and your points will never expire.
Here's a look at how these cards match up.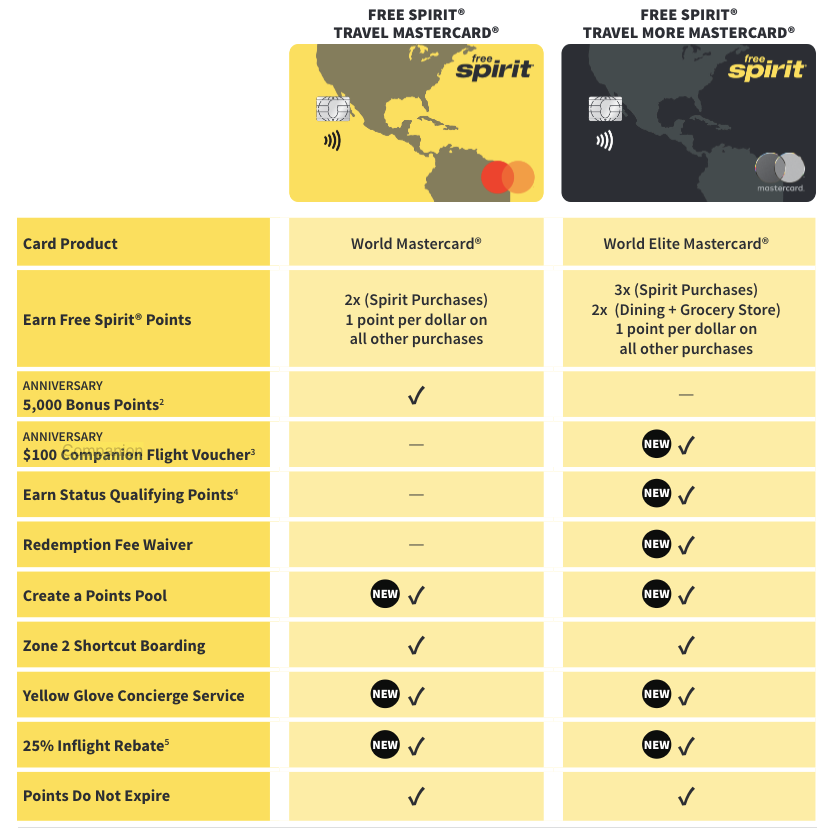 Say Goodbye to the $9 Fare Club
Au revoir, $9 Fare Club. Say hello to its replacement: The Spirit Saver$ Club. 
This is Spirit's annual membership program, where you pay about $60 a year and get discounted fares, better deals on bags, and more. The new Spirit Saver$ Club will get even more benefits.
But mostly, the change is about clearing up confusion about the name … since it's not really unlocking $9 fares.
"It made a lot of sense for us when we had $9 fares…" Ghosh previously said. "It's making less sense for us nowadays."
Spirit Saver$ club members will still get discounts on fares and bags, but they'll also now get access to discounted seat fees – including exit rows and the Big Front Seat. You'll also get discounts on Shortcut Security, Shortcut Boarding, and Spirit's Flight Flex packages that allow free changes. And Spirit Saver$ Club members will also get access to the new dedicated Yellow Glove Concierge Service support line.
Bottom Line
As with almost any change to an airline mileage program, this is a win-some, lose-some scenario.
Most flyers should come out ahead with changes to how you earn Spirit points. And the new 12-month expiration period is a massive change for the better.
Spirit executives have celebrated this Free Spirit overhaul as "the fastest way to earn rewards and status." For the most part, that seems to hold up.