Four months after announcing it would put Paris on the map, JetBlue on Tuesday began selling its new nonstop route from New York City (JFK) to Paris-Charles de Gaulle (CDG).
The airline's latest transatlantic venture is set to take off Thursday, June 29, with daily service running between New York and Paris. Flights will run on an Airbus A321LR, the carrier's marquee single-aisle plane with at least 32 inches of legroom in economy and their latest-and-greatest Mint business class suites, each with direct access to the aisle and a privacy door.
Flights went on sale early Tuesday morning at JetBlue.com, with JetBlue basic economy fares (dubbed Blue Basic) starting at $474 roundtrip (though you won't find prices that low until the fall) and hovering around $1,900 roundtrip in JetBlue Mint – fairly cheap for transatlantic business class. You can even mix and match, flying economy one way and business class the other, for about $1,300 total. Fares weren't immediately available through other platforms like Google Flights, though you can already book them with points through the Chase travel portal or Amex Travel.

It's the New York-based carrier's second destination overseas. JetBlue finally launched its long-awaited nonstop service to London in summer 2021 after years of hype and pandemic setbacks, eventually expanding to five flights a day with service from both New York and Boston (BOS) straight into London-Heathrow (LHR) and London-Gatwick (LGW).
"Our successful London service proves customers can book low fares without compromising great service," JetBlue CEO Robin Hayes said in a statement. "We are excited to continue disrupting the transatlantic market and offer business and leisure customers traveling to and from Paris an opportunity to experience our highly acclaimed Mint and core products in a market that has suffered from high fares by legacy carriers for far too long."
Back when it first announced its plans for Paris, JetBlue indicated it would eventually add a nonstop route from Boston, too. But there was no mention of a possible Boston flight in Tuesday's news release.

Come June 29, daily flights from New York are scheduled to depart around 5 p.m. and land in Paris at 6:55 a.m. the following day. Flights home from Paris will depart at 8:55 a.m. daily, landing in New York at roughly 11:30 a.m.
Each of JetBlue's Airbus A321LR's is equipped with 93 standard economy seats, with 32 inches of legroom. There are also 24 "Even More Space" seats with extra legroom, which offer up to 37 inches of pitch at each seat. JetBlue has even introduced a novel dining format for these transatlantic flight, with a "build-your-own" model allowing travelers to pick and choose from a list of appetizers and entrees.
But the front of the plane sports some of the best business class suites you'll find flying across the Atlantic. It's not just JetBlue Mint but JetBlue Mint Suites, with 24 seats laid out in a 1-1 configuration and each equipped with a closing door for privacy. That includes two "Mint Studios" at the nose available for an extra fee that have even more space than standard Mint suites, with additional storage and even space for a friend to belt in and enjoy a meal or movie during the flight. Plus, JetBlue Mint passengers get some of the best meals you'll find in the sky on any airline.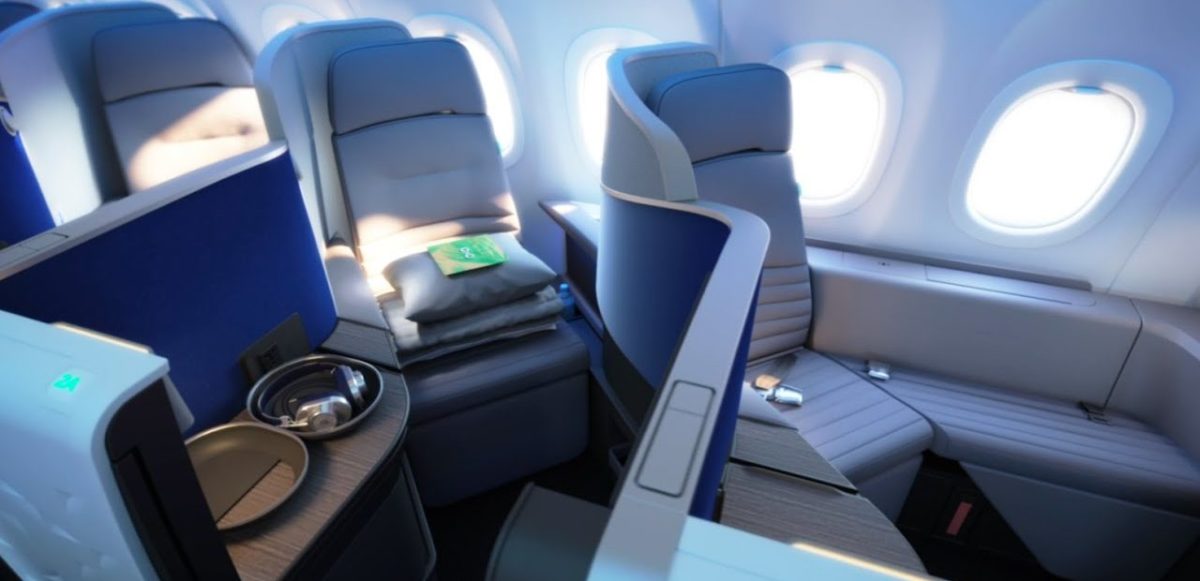 From the very start, JetBlue made clear it was going to follow up on its nonstop flights to London with another European destination. Paris was a natural fit: The City of Light is a tourist magnet and the second-largest transatlantic market after London.
But JetBlue may not stop with Paris. The airline has reportedly been trying for months to secure slots to fly in and out of Amsterdam (AMS), too.
Bottom Line
At long last, JetBlue flights to Paris are officially on sale. Daily flights are set to begin on June 29.
While you won't find the cheapest fares until at least September, there are bargains to be had whether you're flying economy or splurging for a cozy JetBlue Mint suite.