JetBlue announced Wednesday that it will begin flights to London sometime in 2021 from both Boston (BOS) and New York City (JFK), marking the airline's first flights to Europe.
This was perhaps the worst-kept secret in the travel world, as JetBlue had been hinting and teasing about the prospect of flying across the pond for several years. The airline made it official at an employee event on Wednesday afternoon – the flier for which was designed to look like the seating patterns onboard the London tube.
Though unsurprising, it's still welcome news. While not exactly a budget carrier, JetBlue itself is well-known for offering reasonably low fares along with fairly spacious economy seats. And if there's one thing that helps bring airfare prices down, it's competition.
"London is the largest metro area JetBlue doesn't yet serve from both Boston and New York, and we could not be more thrilled to be changing that in the years ahead,"  Joanna Geraghty, president and chief operating officer, said in a news release. "Given a chance to compete, JetBlue can have a tremendous effect on lowering fares and stimulating traffic."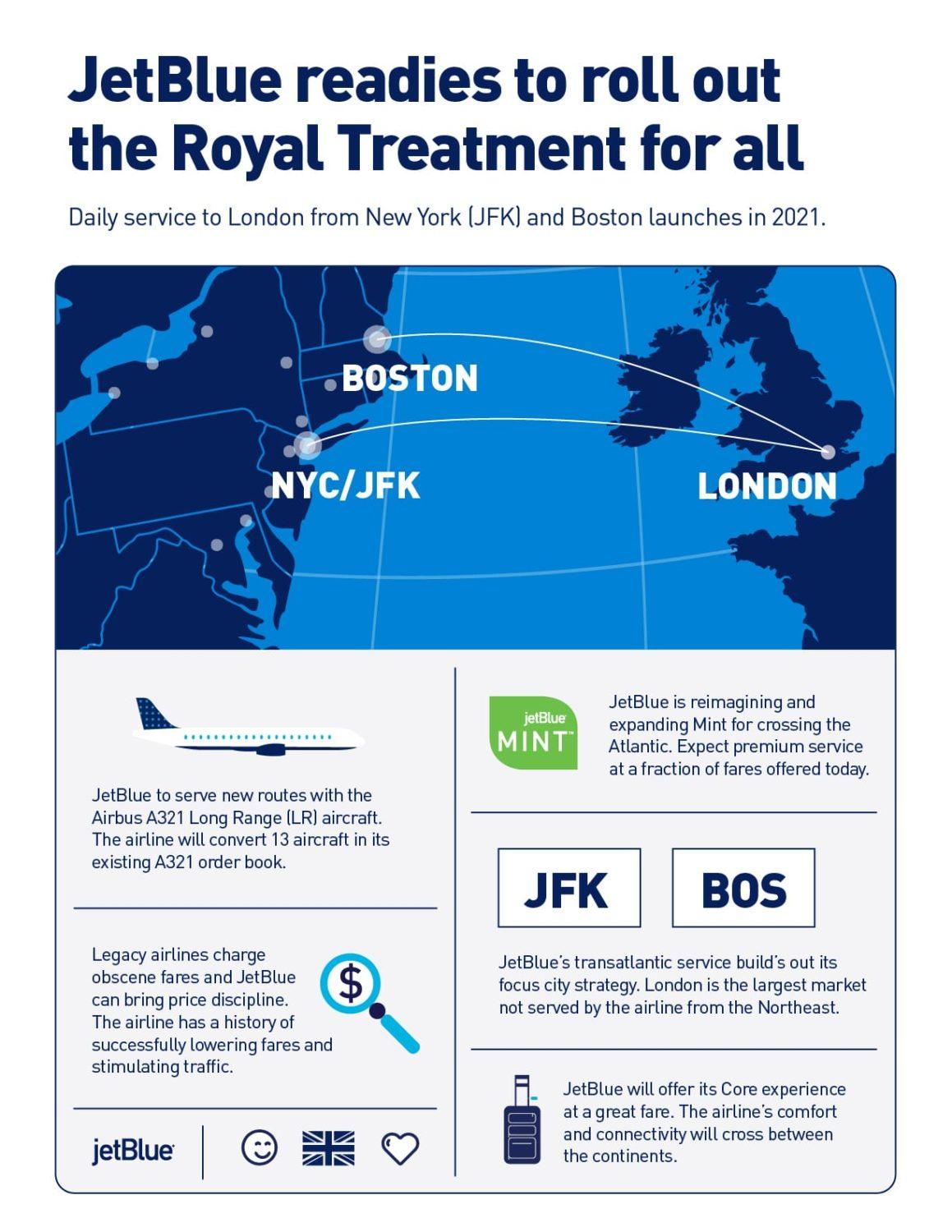 JetBlue isn't tipping its hand as to when in 2021 it will begin these flights – and even that timeline is contingent on getting regulatory signoffs. Nor is it saying whether it will launch flights from both New York and Boston simultaneously. But departing from both airports should give travelers across the U.S. a chance to snag a potentially cheap fare to London – both are JetBlue hubs with plenty of flights connecting the rest of the country.
As to which of the many airports in London it will fly in and out of, JetBlue says it is "evaluating which London airports it will serve." Smart money is on London-Gatwick (LGW), the city's second-largest airport. It's still relatively close to London, but it doesn't have the enormous costs of London-Heathrow (LHR).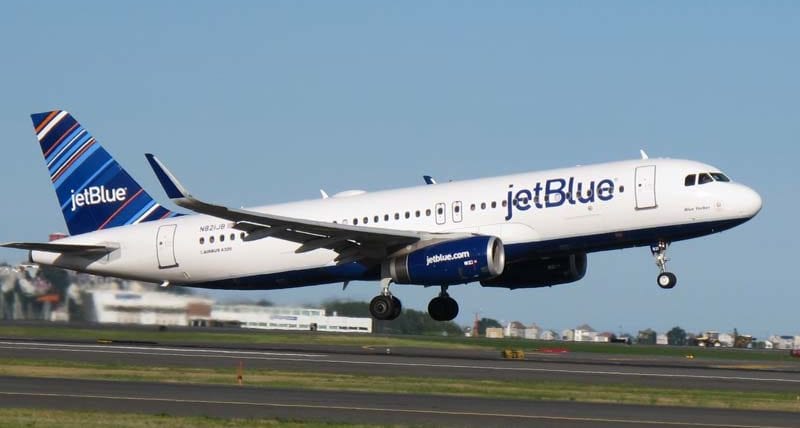 JetBlue will fly the Airbus A321LR (Long Range) planes on these routes. The A321LR is a new single-aisle plane specifically designed to make longer flights across the ocean. And while JetBlue figures out which London airport it will fly to, the airline also needs to get regulatory approval to make that flight – a process called Extended-range Twin-engine Operational Performance Standards (ETOPS). JetBlue says it's starting that now.
Though the airline is best known for its spacious economy seating – with up to 34 inches of legroom, that's six inches more than you get with Spirit! – it also has a tremendous first class seat called Mint. And the airline said it will equip these new planes with  "a reimagined, transatlantic version of its premium Mint product."
"The fares being charged today by airlines on these routes, specifically on the premium end, are enough to make you blush," Geraghty said.
Bottom Line
While there are still plenty of details to iron out, this is exciting news. Keep watching for news on exactly when and where JetBlue will fly to London. But until then, let's hope that it means some cheaper fares to fly across the pond.
Lead photo courtesy of Tomas del Coro via Flickr