Two weeks after announcing its plans to bring yet another transatlantic destination into the fold this summer, JetBlue made it official on Tuesday by putting brand-new flights to Amsterdam (AMS) on sale. And yes, that's flights plural: Two nonstop routes to the Dutch capital.
The New York-based airline will begin flying from New York City (JFK) to Amsterdam and back on Aug. 29, offering daily flights between the two cities. Just a month later, JetBlue plans to add a second daily nonstop flight to Amsterdam from its other hub in Boston (BOS), with flights scheduled to begin Sept. 20. Both flights will run on the airline's marquee Airbus A321LR jets, with at least 32 inches of legroom in economy and their latest-and-greatest Mint business class suites – each with direct access to the aisle and a privacy door.
Both routes went on sale early Tuesday morning at JetBlue.com, with JetBlue basic economy fares (dubbed Blue Basic) starting at $477 roundtrip (though you won't find prices that low until the fall) and hovering as low as roughly $1,900 roundtrip in JetBlue Mint – fairly cheap for transatlantic business class. You can even mix and match, flying economy one way and business class the other, for under $1,300 total. Fares weren't immediately available through other platforms like Google Flights.
"We look forward to continue expanding JetBlue's transatlantic footprint and introduce customers traveling to and from Amsterdam to our award-winning service and to our highly-acclaimed Mint and core products at affordable fares," JetBlue CEO Robin Hayes said in a statement.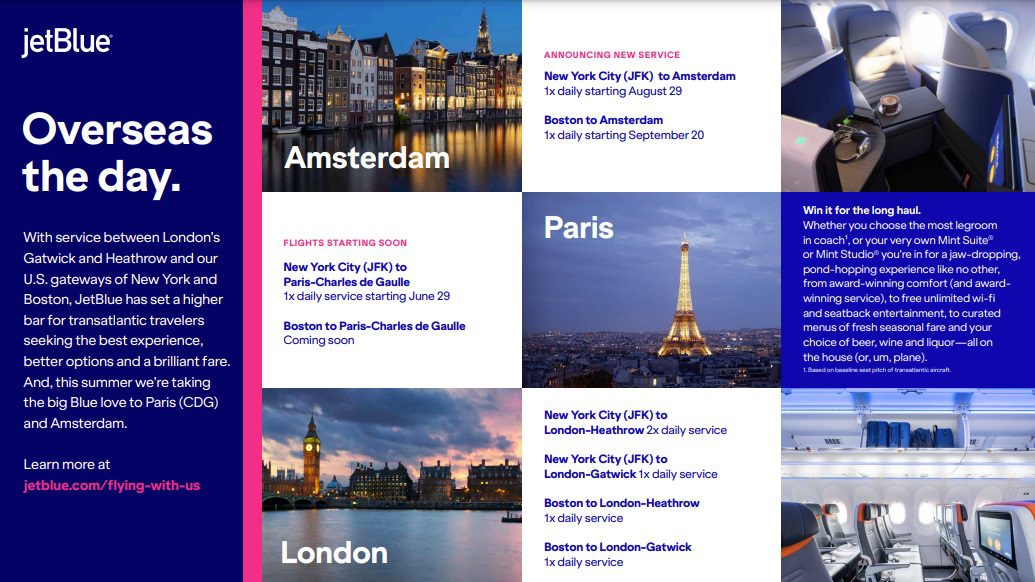 The addition of direct flights to Amsterdam is another major expansion for an airline that has big (and growing) transatlantic ambitions after launching flights to London in 2021 and nonstop flights to Paris, which are set to begin in June. Yet until now, Amsterdam wasn't a slam dunk.
JetBlue had been targeting Amsterdam for many months. But the airline struggled to secure the slots required to actually take off and land in Amsterdam, caught up in legal proceedings and the Dutch government's ongoing efforts to cap flights in the name of curbing carbon emissions.
When JetBlue first unveiled its Amsterdam plans earlier this month, the airline couldn't put a date on when it would begin service to Amsterdam beyond sometime "late this summer" – and there was no guarantee the airline would be allowed to continue flying to the Netherlands beyond October 2023.
But with not one but two nonstop flights now officially on the calendar and flights on both bookable as far out as mid-March 2024, it's a sure thing. JetBlue has its third European destination on the map.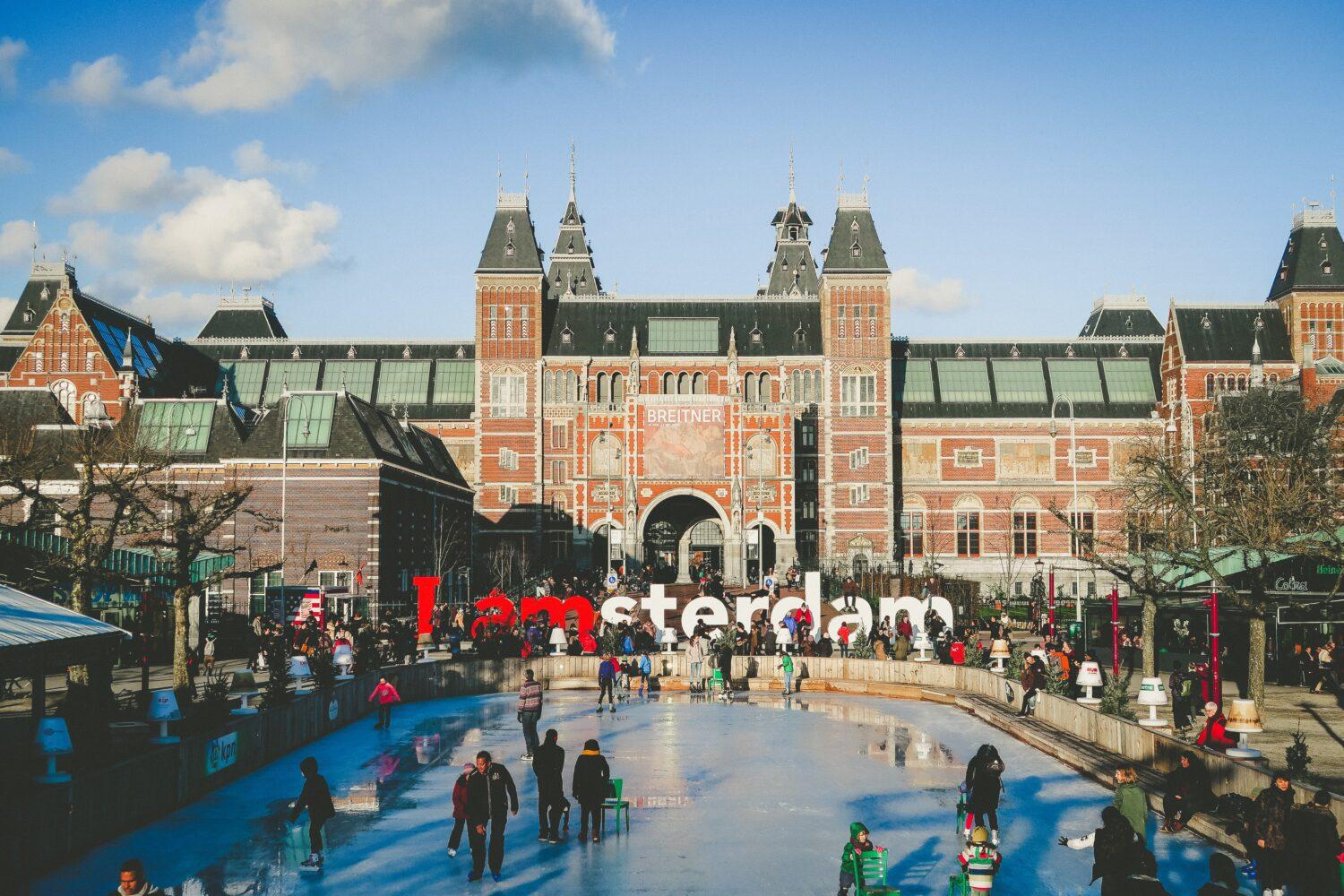 JetBlue finally launched its long-awaited nonstop service to London in 2021 after years of hype and pandemic setbacks, eventually expanding to five flights a day with service from both New York and Boston (BOS) straight into London-Heathrow (LHR) and London-Gatwick (LGW). The airline will follow that up this year with nonstop flights to Paris from New York starting June 29, with plans to eventually add a route connecting Boston and Paris.
Surprisingly, Amsterdam will beat Paris to the punch in having nonstop service to and from two U.S. cities. Here's a look at the schedule.

Like all its transatlantic routes, JetBlue plans to fly over to Amsterdam on an Airbus A321LR, a single-aisle jet that can make the longer hops across the Atlantic. But this isn't your standard Airbus plane that you see flying within the States.
Each of JetBlue's Airbus A321LR's is equipped with 93 standard economy seats, with 32 inches of legroom. There are also 24 "Even More Space" seats with extra legroom, which offer up to 37 inches of seat pitch (the distance between two rows of seats). JetBlue has even introduced a novel dining format for these transatlantic flights, with a "build-your-own" model allowing travelers to pick and choose from a list of appetizers and entrees.
But the front of the plane sports some snazzy business class suites that you typically only see on far larger planes. It's not just JetBlue Mint but JetBlue Mint Suites, with 24 seats laid out in a 1-1 configuration and each equipped with a closing door for privacy.
That includes two "Mint Studios" at the nose available for an extra fee that have even more space than standard Mint suites, with additional storage and even space for a friend to belt in and enjoy a meal or movie during the flight. Plus, JetBlue Mint passengers get some of the best meals you'll find in the sky on any airline.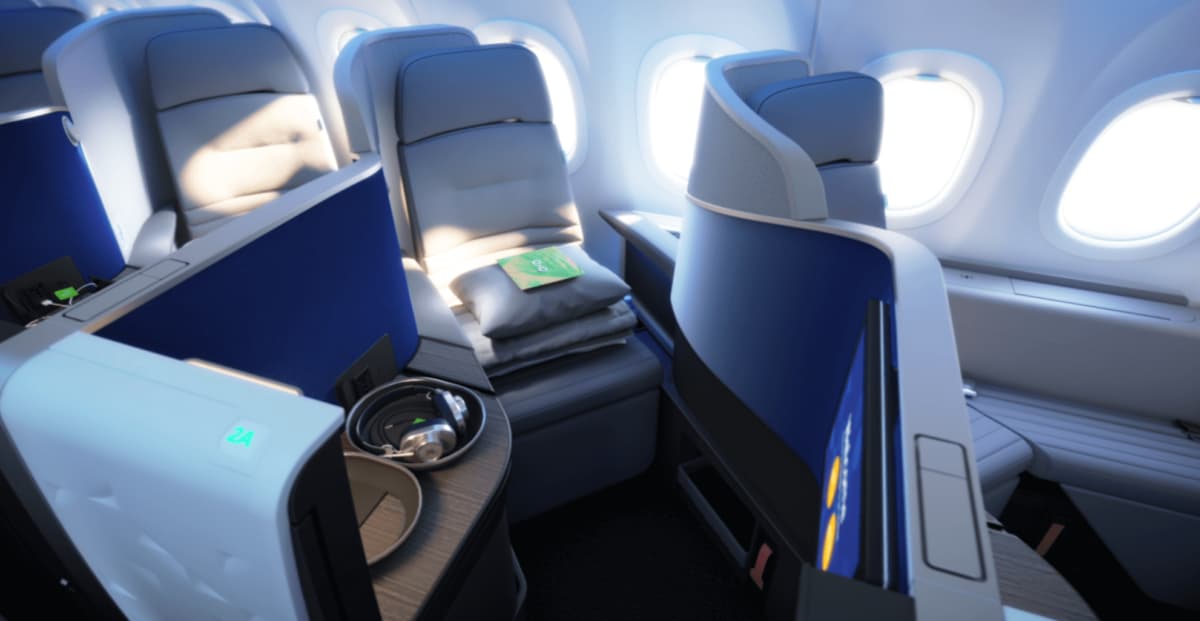 Bottom Line
JetBlue is launching nonstop flights to Amsterdam this summer. And unlike its announcement earlier this month, this time you can bank on it.
Amsterdam will be the airline's third European destination when flights from New York City begin in late August – followed up by flights connecting Boston and Amsterdam less than a month later.