The future is here. Well, at least at your boarding gate for international Delta flights.
Delta is moving ahead with its new facial recognition technology for its boarding process in select hubs around the country. After rolling out curb-to-gate biometrics at its international Terminal F late last year, the airline recently expanded with facial recognition check-in at Salt Lake City (SLC) and Minneapolis-St. Paul (MSP).
So what's it like? And how does it work? Mr. TT and I gave it a test run on a recent flight from MSP to Paris-Charles de Gaulle (CDG).
How it Works
The whole purpose of facial recognition is to speed up the boarding process and eliminate the need for gate agents to manually check your boarding pass – and eliminate some human error.
Delta's facial recognition equipment takes a picture of your face, then compares it against the passport photo on file. This is why it's only available for international flights – at least for now.
The technology confirms a match and allows you to board without getting out your boarding pass.

What You Need to Know
You'll notice the new scanners when you arrive at your gate for an international flight at ATL, SLC, or MSP.
But everything else about Delta's boarding process remains the same. So simply line up like normal when your boarding group is called.
When it's your turn, get in line and wait for the agent to direct you to face the scanner for a photo.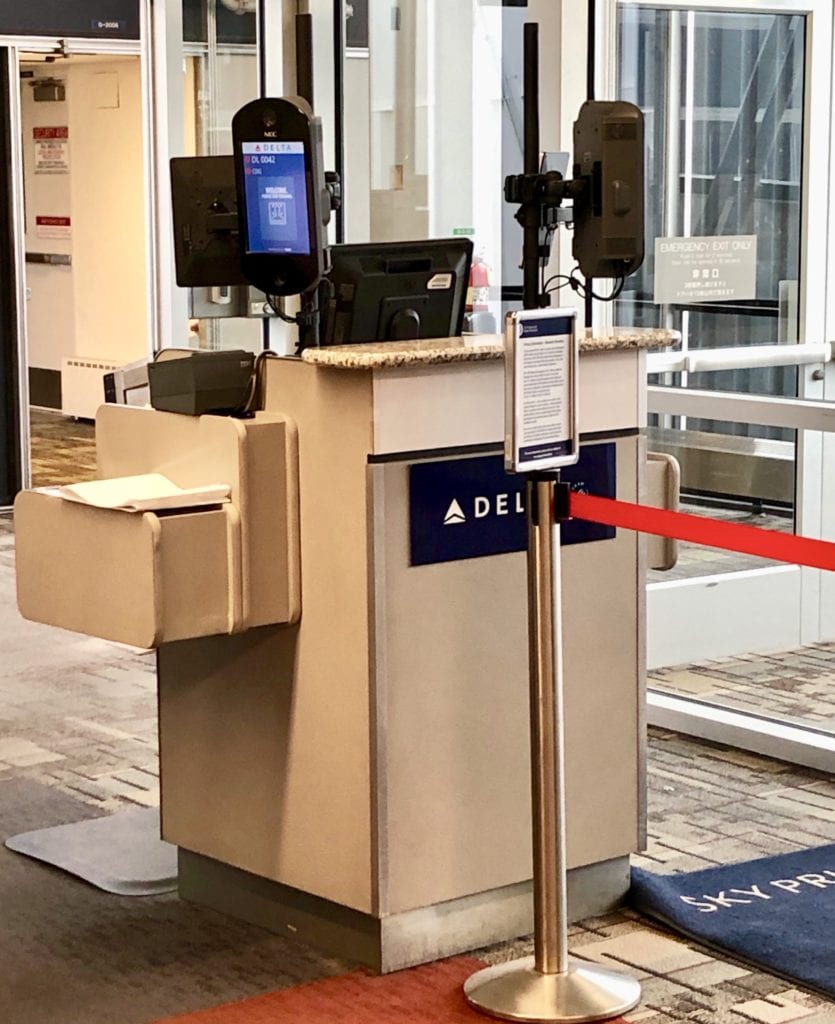 While you won't need your boarding pass, you do still need to show your passport. You will need your passport to clear immigration at your destination and when you return home, so Delta agents still confirm that you have it with you.
This system was nearly brand new at Minneapolis-St. Paul (MSP), so there were a few hiccups getting the technology up and running while boarding our flight to Paris-Charles de Gaulle (CDG). But after a brief delay, it was a quick and seamless process.
Don't want your photo in Delta's system? The airline allows any traveler to opt-out of this facial recognition system due to privacy concerns. Just notify the gate agent you'd like to board the traditional way and have your boarding pass ready.
Bottom Line
There may be some speed bumps with getting agents trained to use the new software. But the boarding process itself is simple and fast – it does seem like the use of facial recognition will make things go faster and smoother.
There are some concerns about privacy, so it's good to remember that you can opt-out. But other airlines are flirting with facial recognition, so only time will tell if this becomes the new norm.