After months of speculation, Etihad Airways announced today that they will officially bring back their Airbus A380 planes to the sky in 2023. But don't count on finding these mammoth planes equipped with the excellent Etihad Apartments flying to and from the U.S. – at least not initially.
Etihad grounded all 10 of its signature double-decker jets more than two years ago at the start of the COVID-19 pandemic, with its CEO regularly signaling they were unlikely to ever fly again. But the rapid bounce-back in travel has forced several airlines to pull their biggest planes out of the desert, including Etihad.
The airline confirmed Friday it will resume flying four of its Airbus A380s starting in the summer of 2023, exclusively between its Abu Dhabi (AUH) hub and London-Heathrow (LHR). By October 2023, the airline expects all four daily frequencies between the two cities will fly on the so-called Whale Jet.
Etihad's schedules show the A380 is currently set to make its return on July 15, 2023.
That's a long-awaited development for aviation geeks with bucket lists, as these spacious first class seats are widely viewed as among the best in the world. There's even an ultra-exclusive "Residence" available complete with a real double bed and a dedicated butler. Plus, Etihad's A380 is one of just two commercial jets that offer a shower onboard along with Emirates First Class.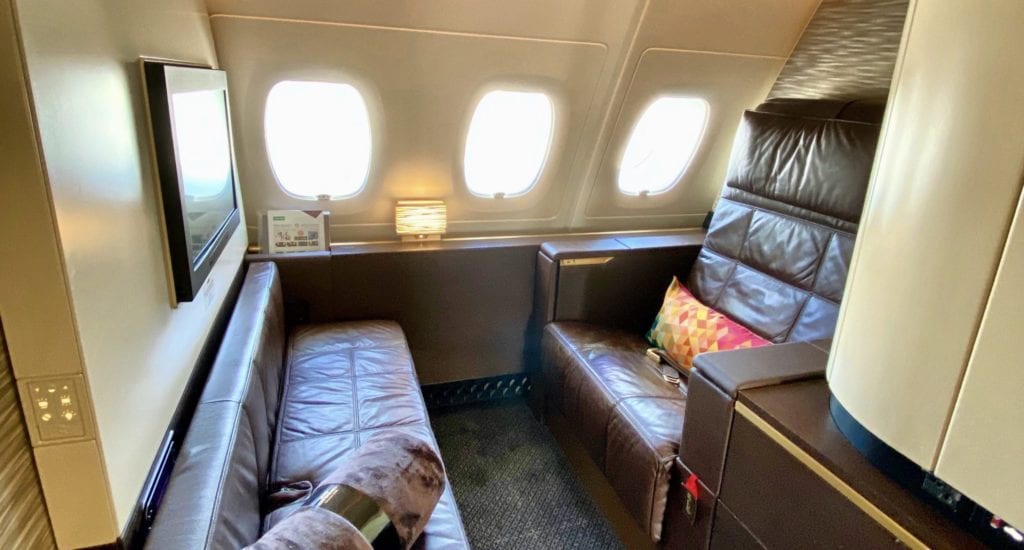 Etihad claims the move follows a surge in demand for air travel across their network and customer feedback for the return of one of the most remarkable commercial flying experiences in the sky.
But with just four A380s coming back into service, there's no indication that these jets will return to other destinations it previously served – including flights to and from New York City (JFK). Etihad also previously flew the A380 to other major cities like Paris-Charles de Gaulle (CDG), Sydney (SYD), and Seoul (ICN).
About Etihad's Airbus A380s
Etihad's double decker A380 jets operate with four classes of service: the Residence, the Etihad First Class Apartments, business class, and economy with a grand total of 485 seats on board.
The Etihad Residence is a private three-room suite at the front of the first class cabin on the upper deck that includes butler service, a bedroom, and its own private shower. It's largely viewed as the most exclusive flying experience in commercial aviation.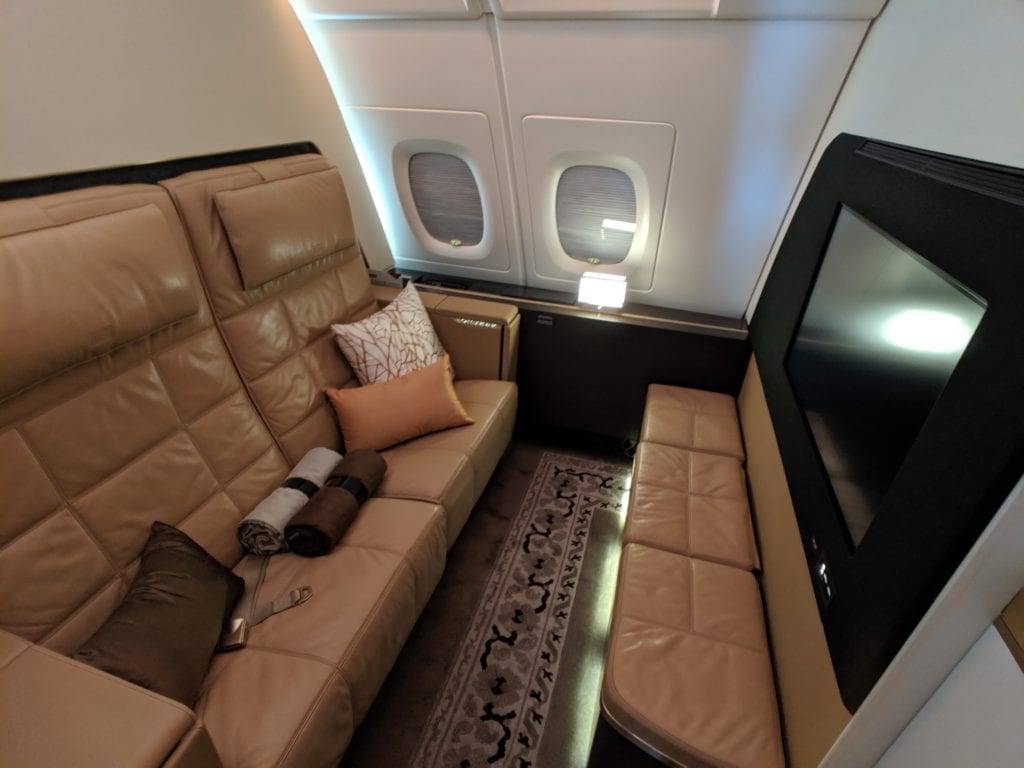 Then there's the Etihad First Class Apartments. The airline configures its A380s with nine of these first class seats. In my opinion, it's one of the best first-class experiences in the sky.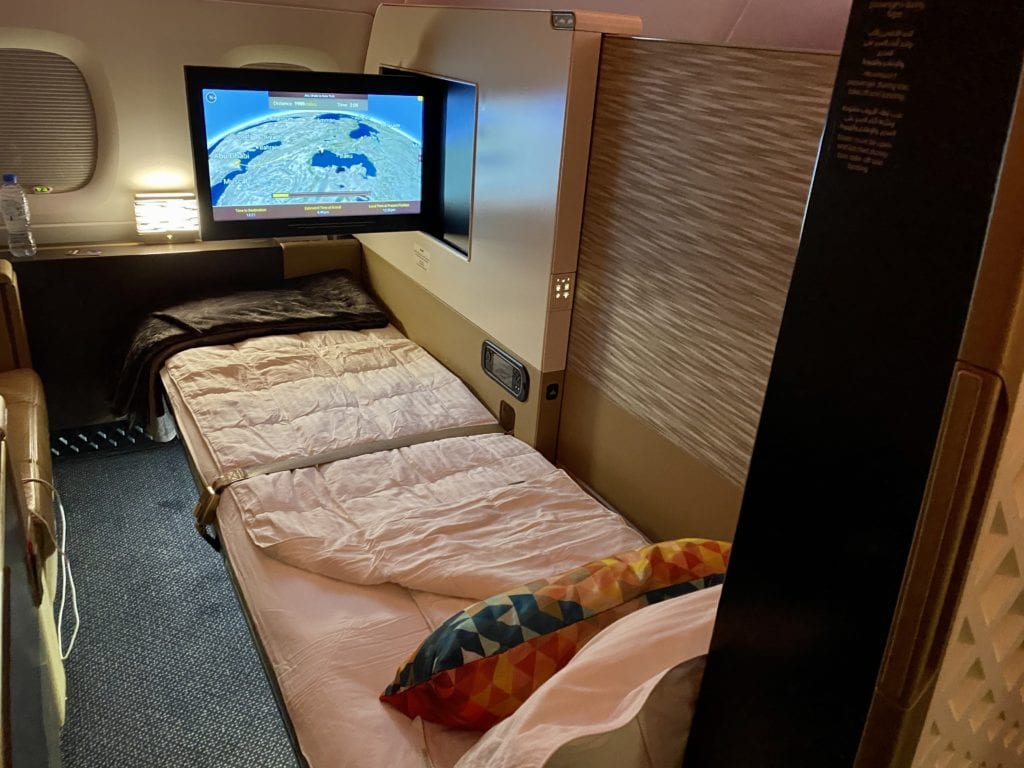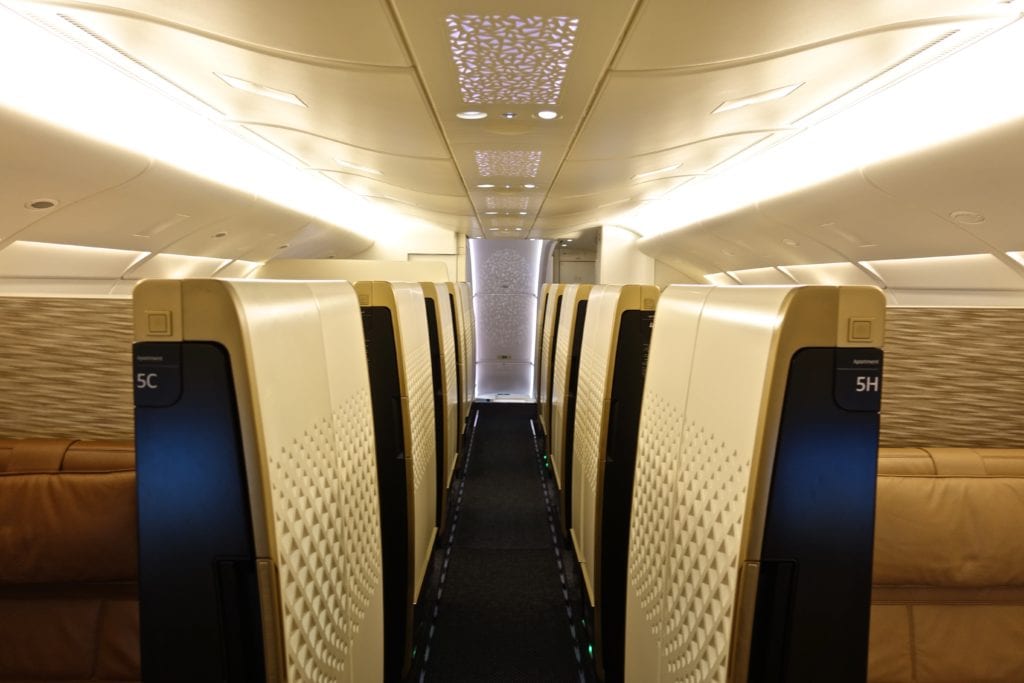 Read our full review of the Etihad First Class Apartment from Abu Dhabi (AUH) to New York (JFK)!
While you won't find it flying from the U.S., you should be able to book an Etihad Apartment flying between London and Abu Dhabi for either 65,000 Air Canada Aeroplan miles or 62,500 American AAdvantage miles each way.
Next, the airline dubs its business class product the Etihad Business Studios, with 70 business class seats onboard the A380. Both business class and first class passengers will get access to the onboard lounge.
Finally, Etihad has 405 economy seats on board which take up the A380s entire lower level. The economy seats are in a spacious 3-4-3 configuration.
Why it Matters
This is exciting news, as Etihad's Airbus A380s are one of the best ways to fly.
Once heralded as a game-changing plane that could ferry more than 400 passengers across the globe, the airline industry quickly fell out of love with the A380, leaving it behind for smaller, more fuel-efficient alternatives like the Airbus A350 and the Boeing 787.
The A380s days were numbered even before the pandemic. Then COVID-19 forced carriers to mothball them for more than a year: Who needed a plane so big when travel was down 50%? But slowly, airlines have put their biggest planes back in service as travel demand outpaces their ability to supply it with their current capacity.
Etihad is just the latest airline to put its biggest jets back into the air. British Airways resumed flying its A380s after a relatively brief pause. A shortage of jets due to slow deliveries and a long-running feud with Airbus forced Qatar Airways to pull its own A380s out of the desert – the airline's only jet equipped with bonafide Qatar First Class seats. After announcing its plans to retire them, Lufthansa will join the pack when it resumes A380 service next summer.
And while Emirates – the king of the Airbus A380 with more than 120 in its fleet – drastically cut back their A380 frequencies during the pandemic, you'll now find it flying again on the majority of the routes it operated pre-pandemic.
Bottom Line
Etihad Airways will officially bring back their Airbus A380 planes to the sky in 2023.
The airline plans to fly an Airbus A380 exclusively between its home base in Abu Dhabi (AUH) and London Heathrow (LHR) with service scheduled to resume in the summer of 2023. But the prospect of the Etihad A380 returning to other routes, including in the U.S., is uncertain.
Lead photo courtesy of Etihad Airways