Late last year, Delta had a pleasant surprise: Rather than simply improving first and business class while cutting from coach, the airline announced it would upgrade meals and service for economy passengers on international long-haul flights.
Delta billed their new international main cabin service as a big step up, including a bellini and a hot towel after takeoff, appetizer choices, better food and better cutlery. It's available on international flights of 6 1/2 hours or longer.
As a frequent Delta flyer, I was excited to put this new service to the test on a recent flight from Minneapolis-St. Paul (MSP) to Amsterdam (AMS). Here's what you should expect on your next long-haul Delta flight.

Pre-Boarding and Boarding
A few days before my flight I received an email from Delta telling me what to expect. It gave an overview of the changes and definitely got me looking forward to the trip.

And while it's not related to the new main cabin service, the new features didn't stop there as I also got to try out Delta's new boarding notification system. I got one push notification when my flight began boarding, and another when my actual boarding zone was being called.


This particular flight was using Delta's biometric boarding process. Sadly, neither the push notifications or biometric boarding seemed to speed up or organize the boarding process too much.

Settling In
Amenity kits in economy? Yep.
Once everyone was seated, flight attendants came through the aisles to hand out amenity kits and earbud headphones. The amenity kit included an eye mask, moist towelette, and earplugs.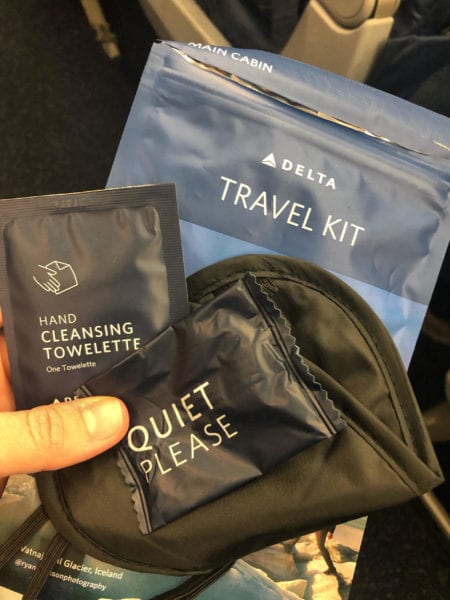 It's a noticeable upgrade: previously, only Delta Comfort Plus passengers received amenity kits. Those Comfort Plus amenity kits have a few extra items, like a small tube of toothpaste and a travel toothbrush.
Delta's email about its welcome cocktail turned out to be a tad misleading. While I expected a bellini soon after before departing, it wasn't served until after takeoff.
And while Delta's promotional email advertised upgraded turndown service and better blankets, they seemed to be identical to what I've experienced for the past few years with Delta.

Let's Go
Shortly after reaching cruising altitude, the flight attendants passed out hot towels and bottles of water. While hot towels aren't earth-shattering, it's a nice touch that puts Delta more on par with major international carriers.
I was also impressed that the bottled water was a full-size bottle – not the smaller bottles you typically see on planes.
After handing out the hot towels and water service, the time for a welcome cocktail had finally come. Though the timing seemed a bit off, I enjoyed the bellini and thought it was a fun upgrade!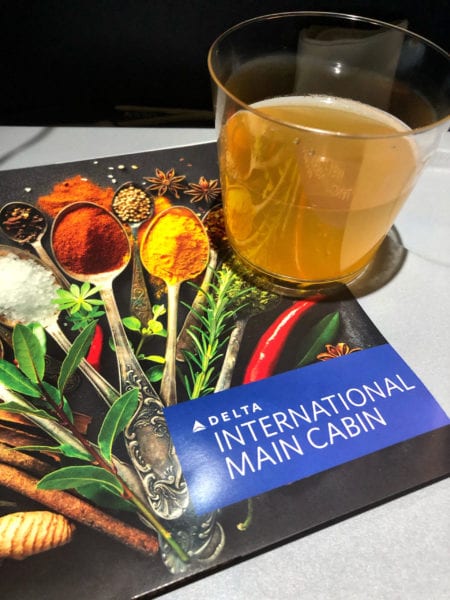 Flight attendants also passed out a menu for dinner. It was a beautifully printed, fold-out menu with food options on one side and the schedule for service on the other. It's nice to see these meal options ahead of time – printed menus like these are a rarity for U.S. carriers in economy.
Oddly, flight attendants also passed out silverware for dinner at this time. It's wrapped in a placemat for protection, but I still had to find somewhere to put it – I ended up placing it in the seatback pocket.
For me, this was the biggest miss of this new service. With all the changes to the service flow on flights, perhaps there's not a better time to distribute silverware. But passing it out well before the meal felt disjointed and a bit odd.
Wine & Dine
Now for the main event.
Delta's enhanced menus allow you to mix and match your appetizer and entrees, a la carte style. Previously, main cabin meals had a few entree choices but the rest of the meal was set in stone. For me, this was easily the most noticeable and exciting change of the experience.

I chose Harissa Shrimp for an appetizer and Salad with Grilled Chicken as an entrée. And even before tucking in, I noticed the typical plastic or tin foil dishware was nowhere to be found. Delta is using noticeably better dinnerware, with a sleek and modern look. Beverages are still served in plastic cups in economy.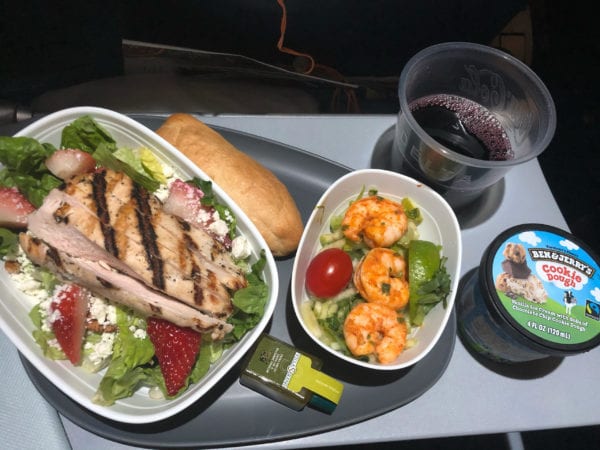 More importantly, I was pleasantly surprised at how good the meal was. Everything tasted fresh with great flavor – it was easily the best meal I've had in economy on an international flight.
The Ben & Jerry's ice cream for dessert was an upgrade as well. The entire meal displayed an emphasis on quality and attention to detail, from appetizer to dessert.
For the remainder of the flight, snacks like Tillamook cheese, Oreos, KIND Bars, and other items were available in the back of the plane. It was nice to be able to grab something to snack on if I was hungry instead of waiting for service. And that approach paid off – I noticed far fewer passengers pressing their attendant call lights.

Almost There
About 90 minutes before landing, we received a second hot towel service. And as we were flying east to Europe, it was breakfast time.
Everyone was given a warm cinnamon roll with their choice of beverage. Unlike the first meal, I didn't find this to be too much of an upgrade … and didn't care for the cinnamon roll.
On a return flight back to the U.S., the second meal was lunch, with a choice between two kinds of pizza twists. While they weren't worthy of photos, they tasted great! My onion and goat cheese twist was good, and a step up from other pre-landing meals I've had with Delta.
Farewell
After cleaning up the cabin, flight attendants came through one last time to offer passengers a small Toblerone chocolate.
They were noticeably intentional about thanking people for their business while doing passing out each candy, saying: "Thank you for flying with us today," "We appreciate your business," and "Thanks for choosing Delta." Again, it was something you rarely see on other carriers.
It left me with a great final impression of the flight. Who doesn't like to feel appreciated?

Bottom Line
A few small misses aside, this new Delta service was great from start to finish.
The upgraded meal choices and quality were obvious, and easily the most meaningful change. In all, it's a big step up as Delta keeps trying to separate itself from its competition.