You've seen the offers from airlines to get bumped off a flight in exchange for a $200 airline voucher – maybe $500 if you're lucky. Or maybe you've seen the wild stories like one traveler who pocketed a $4,500 gift card for delaying a trip to Iceland by one day. This story puts them all to shame.
On Monday, Delta reportedly offered a whopping $10,000 per passenger to get bumped off an oversold early morning flight – not for a pricey long-haul international flight, but for a one-hour jaunt from Grand Rapids (GRR) to Minneapolis-St. Paul (MSP). And Delta wasn't just offering airline vouchers, but cold hard cash in hopes of getting eight volunteers to take one of three later flights that day.
That's not a typo, but let's repeat: Delta offered $10,000 to take a later flight from Grand Rapids to Minneapolis. Jason Aten, a columnist and editor at Inc., shared the eye-popping sum on Twitter and later published a full story about it.
It's unclear whether Delta actually paid out $80,000 or if they found other ways to get the Minneapolis-bound flight down to size and off the ground. Delta did not immediately respond to a request for comment. All we know for sure is that Aten and his family didn't take the money.
"Spoiler alert, we did not take it for reasons I'm not going to get into because my wife is still not pleased about it," Aten wrote.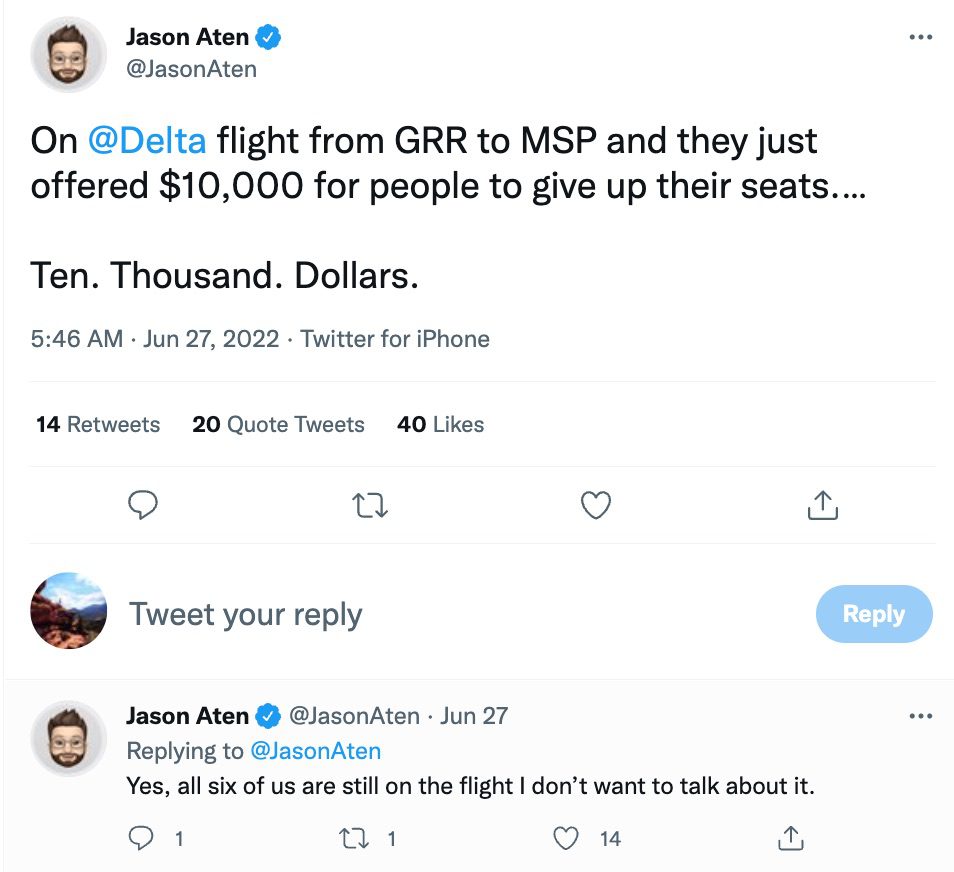 I think I speak for almost everyone when I say that I would probably split my pants sprinting up to the desk to pocket $10,000 in exchange for taking a later flight. In this case, flight records show three other Delta departures on Monday after the oversold 6:45 a.m. flight  – including one departing less than five hours later, though they could have all been sold out, too.
Oversold flights are an unfortunately common part of the airline world. Airlines use formulas to predict how many travelers may miss their flights or cancel last-minute, all in the name of making sure flights go out as full as possible. Sometimes, they screw up the math and have to find a way to lose some passengers.
When airlines can't get enough volunteers, it turns into the sometimes ugly world of "involuntary denied boarding," the subject of a recent federal crackdown and mandatory payments. Airlines learned to be much more generous in soliciting volunteers before it gets to that point after the troubling incident back in 2017, when a United passenger was badly beaten while being forcibly dragged off the plane.
While a $10,000 payout isn't unheard of, it's still shocking to see – especially on such a short flight, and with Delta offering cash equivalents instead of an airline voucher or Delta eCredit.
It's a sign of the times in air travel these days. As travel demand explodes heading into summer, planes are regularly going out completely full within the U.S. Airlines are eager to sell every seat they can this summer, and they're succeeding: Data from Airlines for America shows domestic flights are more than 90% full, on average – on par with before the pandemic.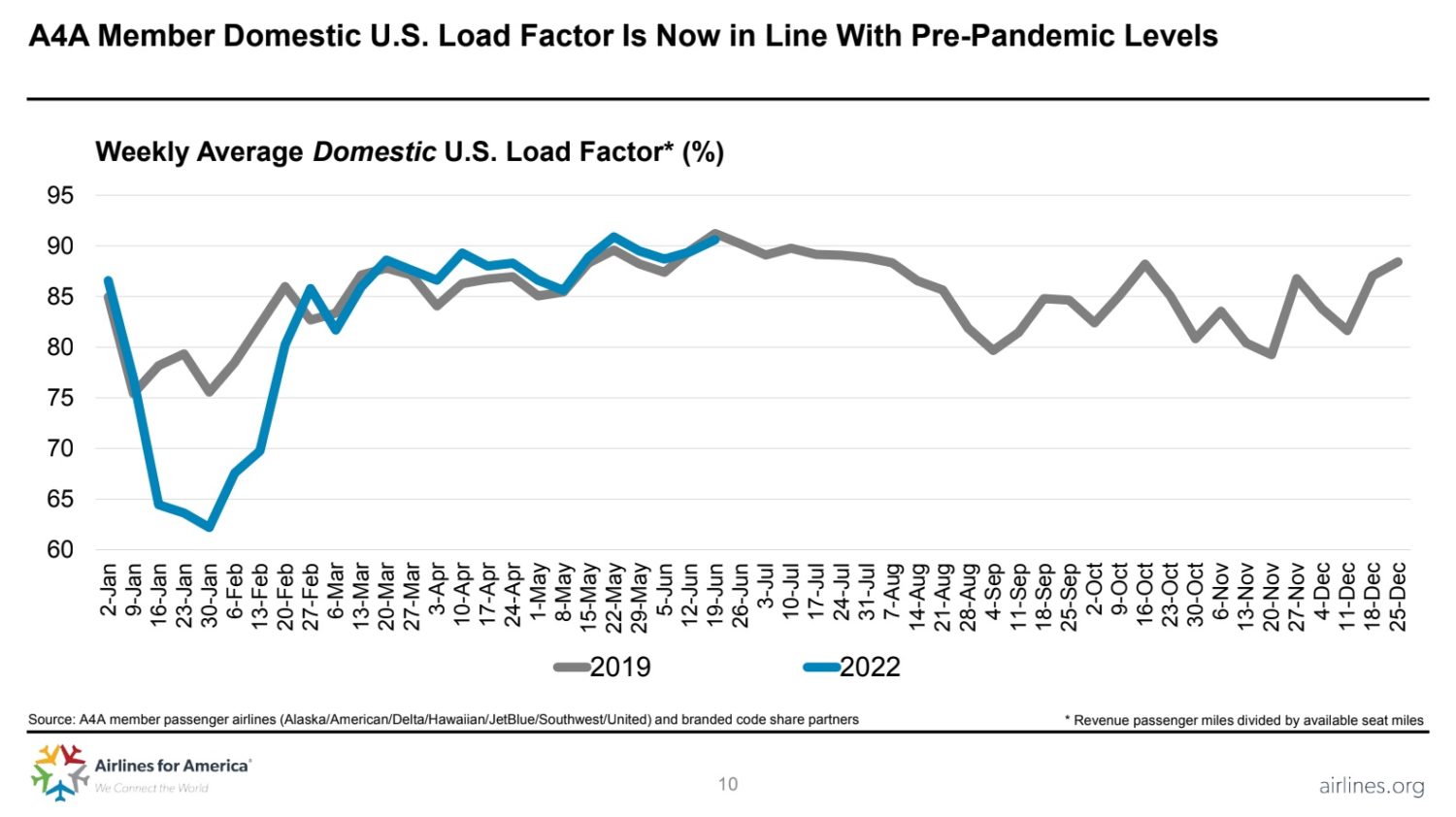 But when they overdo it, it's a scramble to get back down to 100% – and still get the plane off the ground on time, hopefully. In this case, Delta screwed up big time: With the need to find eight volunteers, they apparently sold 78 tickets on a 70-seater Delta Connection jet. It's also possible that some weight restrictions meant the airline needed to offload passengers.
Aten didn't say whether Delta started the bidding lower but didn't get enough volunteers or if they started right at $10,000. But even $60,000 for his family of six wasn't enough to take the later flight.
Don't beat yourself up too much, Jason.
Bottom Line
Repeat after me: $10,000. Ten thousand dollars. For sitting in the airport a few extra hours before a one-hour flight within the Midwest.
That's absolutely bonkers. Of few random stories we've heard or seen about airlines opening their pocketbooks after overselling flights over the years, this one might just be the craziest.