It's not final yet, but Delta announced Monday it wants to start nonstop flights from Minneapolis-St. Paul (MSP) Shanghai-Pudong (PVG) in 2020.
Delta recently filed the paperwork for the proposed route with the U.S. Department of Transportation. If that's approved, Delta could start the nonstop service as soon as June 2020.
In its announcement, Delta said it would fly one of its new Airbus A350s on the route. That's a win for MSP-based flyers, as it would be the first of Delta's latest and greatest aircraft to come to Delta's Midwestern hub.
These planes are equipped with the brand new Delta One suites as well as Delta's Premium Select seats, which we loved in a review from earlier this year.
This isn't a slam dunk just yet. Commercial flights in and out of mainland China can be tricky, as the Chinese government has some strict limits on how many airlines are allowed to operate flights between the U.S. and China.
But Delta appears bullish on the new route getting the go-ahead. It would be the first nonstop flight between MSP and mainland China.
"We are honored to be proposing the first-ever nonstop flight between Minneapolis-St. Paul and China as we continue to expand across the Pacific," Delta CEO Ed Bastian said in a statement. "In addition to our Twin Cities customers, this new route will benefit travelers across the U.S. with more competition and options for service to Shanghai thanks to our connecting hub at Minneapolis-St. Paul International Airport."
There's undoubtedly some business traffic between the two cities, and Shanghai is an exciting city for tourists in its own right. But flyers could also connect onward throughout China and the rest of Asia on China Eastern and Shanghai Airlines.
Both are SkyTeam partner airlines. So you could get to Shanghai on Delta and then onto your final destination on a China Eastern plane – all on one ticket.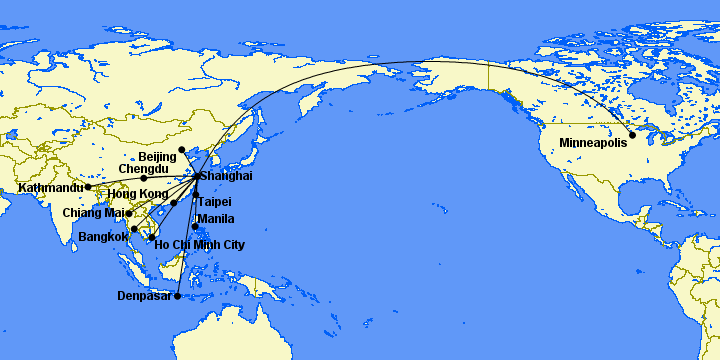 If the route gets approved, it'd be just the latest international expansion out of MSP. Delta will start nonstop service to Seoul-Incheon (ICN) in April. More recently, Aer Lingus announced it will launch a flight from MSP to Dublin (DUB) beginning July 8, 2019.
Bottom Line
Our fingers are crossed that the Chinese government signs off on this exciting new route. We're based out of MSP so we're biased, but we love Delta's emphasis on expanding international traffic out of MSP.
Lead Photo (CC BY 2.0):  Delta News Hub via Flickr