As other carriers have moved to pack planes full, Delta has cemented its reputation as the airline that blocks middle seats, giving passengers more room when flying during the pandemic. But in practice, that doesn't mean you'll always have an empty seat next to you – or that every middle seat will be open on your next Delta flight.
Delta has vowed to continue blocking middle seats through April 2021, and it has made good on that promise for months. On the smaller regional jets that flying on many routes throughout the U.S. today, however, Delta doesn't go quite so far. And that means these flights may look and feel much more full.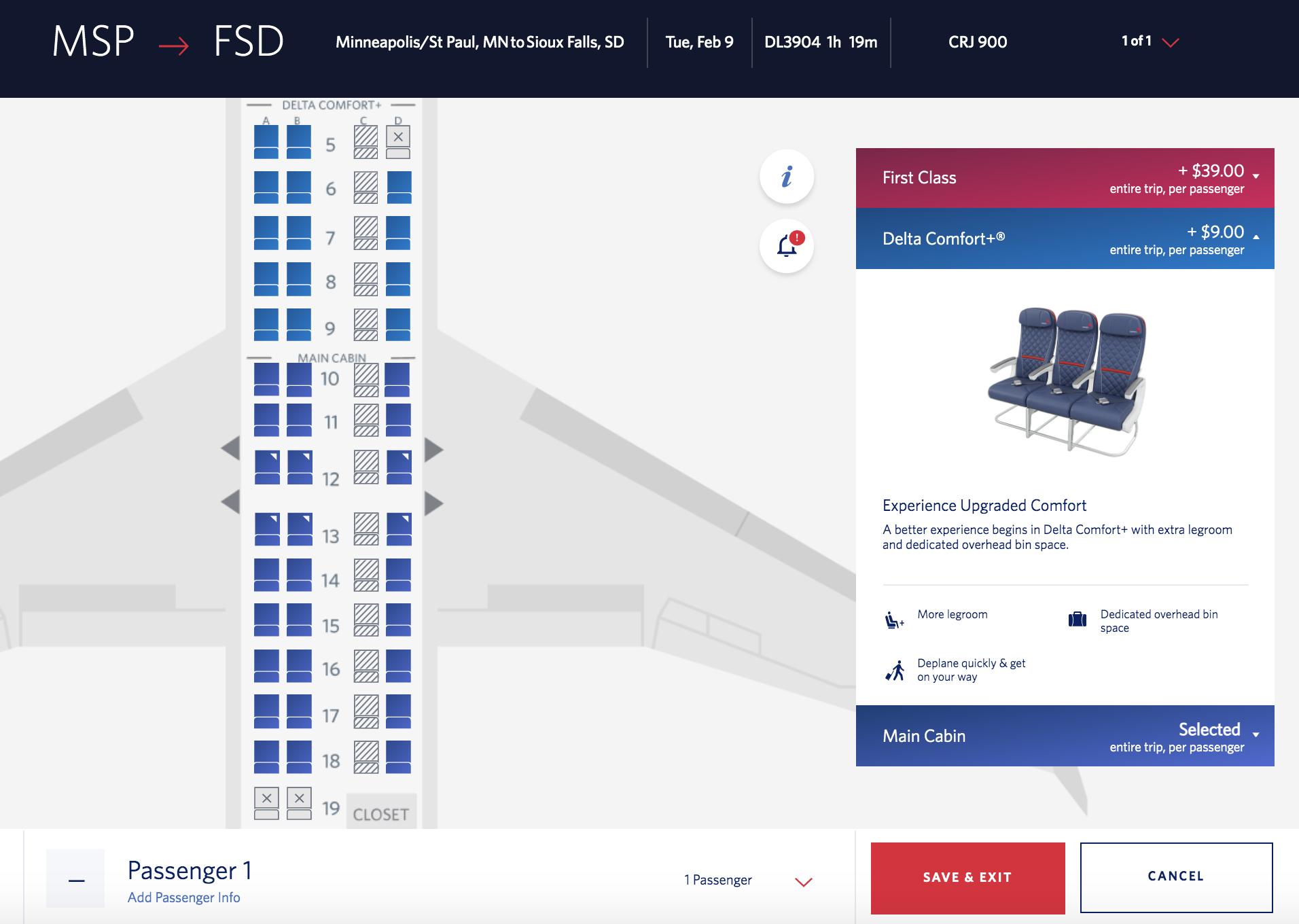 On these smaller jets with just four seats across in each row, Delta is blocking just one aisle of seats down the plane. That drastically increases your odds of sitting next to a stranger – especially on flights to and from smaller U.S. cities where these jets are prevalent.
Delta has been clear about the limitations of its seat-blocking policy: Its website specifically says it will only "block one aisle of seats on aircraft without middle seats." While these flights may be on planes emblazoned with Delta's logo, they're actually operated on Delta's behalf by regional partner airlines like SkyWest, Endeavor Air, and others – under the banner of Delta Connection.
But for some travelers flying for the first time in months, the nuances of regional jets and the fine print of Delta's policy have been overshadowed by the allure of flying Delta for the extra space. Some heading for the airport expecting plenty of open seats on their flight have been shocked to board a small plane that feels quite full.
In a statement, Delta confirmed that it previously blocked two aisles of seats on these smaller jets through the spring and summer. It reduced that to just one aisle of blocked seats starting Oct. 1, 2020.
"While we block one aisle of seats, we also still limit the total number of people on board overall," a spokesman said.
On both Delta.com and searching via Google Flights, there's a disclosure when your Delta flight is actually operated by one of these regional carriers.

Delta also confirmed to Thrifty Traveler it blocks just one aisle of seats onboard its new Airbus A220 aircraft, which are flown by Delta pilots. These jets have five seats in each row: One section with two seats, and another section across the aisle with three seats. Only the middle seats in the three-seater section are blocked.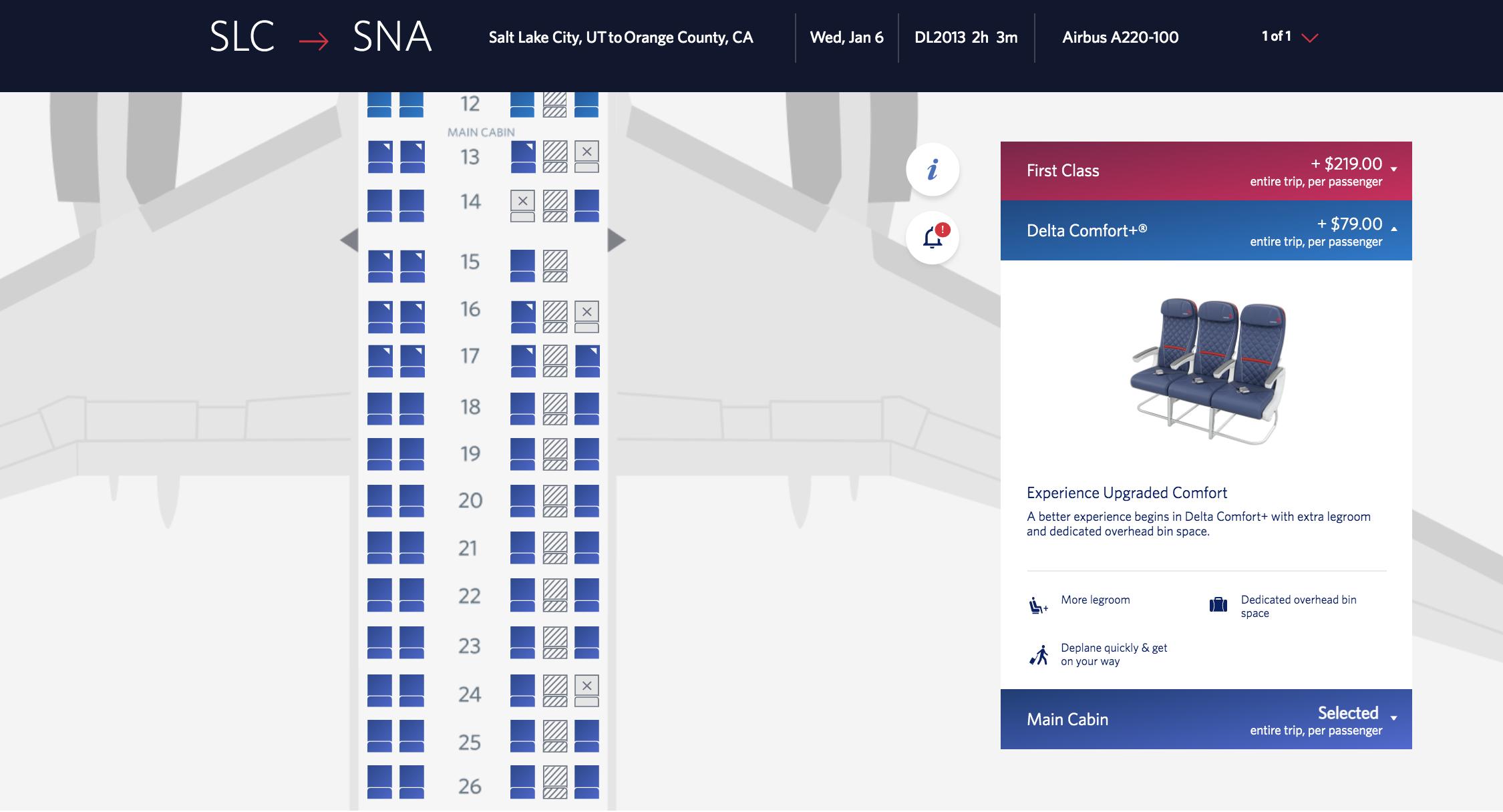 Limitations, Changes to the Delta Middle Seat Policy
Since the coronavirus pandemic first upended travel, Delta has tried to position itself as the airline that cares most about safety. It has made safety the cornerstone of its COVID-19 playbook – and blocking middle seats is the central focus.
Read more: Which U.S. airlines are still blocking middle seats?
Delta will continue blocking middle seats through at least March 30, 2021 – long after competitors like American, United, and even Southwest have begun selling planes to capacity.
Still, the Atlanta-based airline has tweaked its policies throughout the pandemic, resulting in planes filling up a bit more this winter.
After using outright blocking middle seats through the summer, Delta now allows groups of three or more to select middle seats on its own flights – while smaller groups cannot. This allows more people on each flight and can fill up many middle seats onboard, while still honoring the commitment that travelers won't be seated next to a stranger in a middle seat.
Half of first class seats on most domestic flights are still blocked, while just one aisle of first class seats on domestic flights with just three seats in each row are blocked.
Delta One cabins – including new Delta One suites – on widebody planes are being sold at 100% capacity.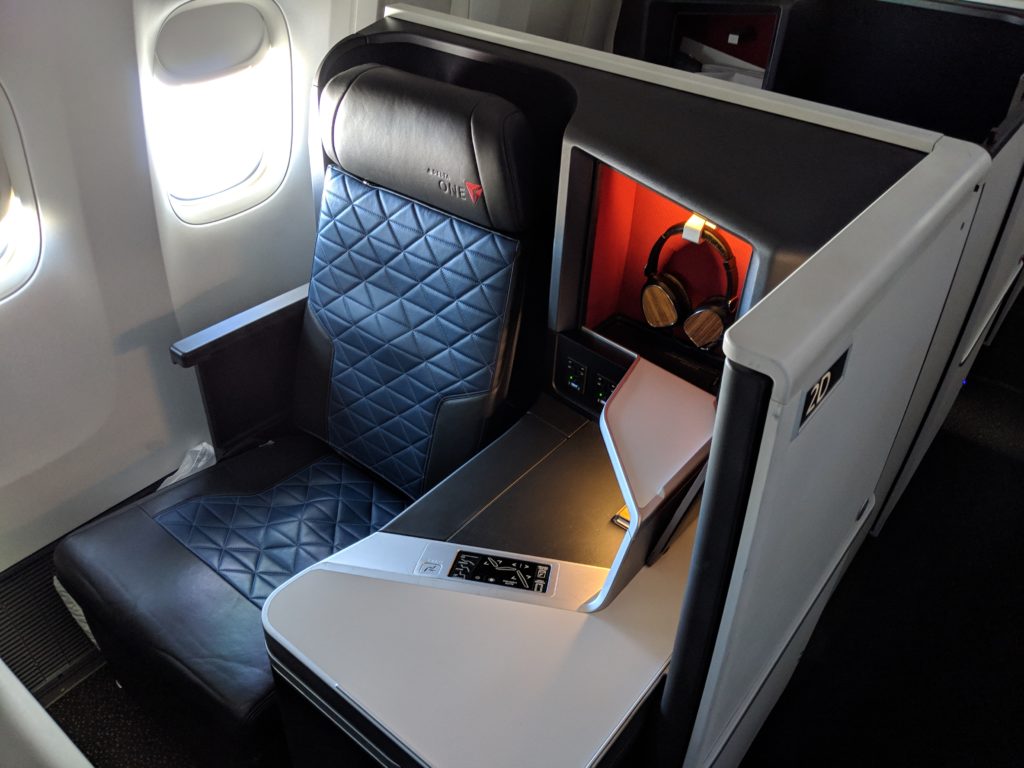 Bottom Line
Delta has gone farther than any airline in blocking seats until at least late March 2021. And while the airline has been clear about when and how it will block seats on each flight for the next few months, some travelers may still board a flight that looks much more full than what they were expecting.
Lead photo courtesy of Tomás del Coro via Flickr