Getting your caffeine fix flying Delta just got much cooler: The Atlanta-based airline is now serving cold brew coffee onboard its flights.
Delta unveiled its new Explorer Cold Brew Company coffee on Tuesday, part of a larger snack-and-drink overhaul that also included new sparkling wine, a great new beer, and several new snacks for sale – including in economy. The Ethiopian cold brew brand is currently available just on transcontinental flights as well as select long-haul flights to Honolulu (HNL). It's unclear if this option will expand to more routes nationwide.
It's doled out in 2-ounce bottles that, when combined with a few ounces of water, easily makes a cold brew coffee for travelers to enjoy. It's free for flyers in first class, Delta One, Delta Premium Select, or Delta Comfort Plus … and available for purchase back in economy for $5.

So far as we know, Delta's the first major U.S. airline to offer iced coffee onboard. But that's not the only new food or drink option available onboard Delta flights…
New Food (Even in Economy)
Since the early days of the pandemic, the most economy flyers could get was a snack bar or bag of almonds or pretzels. Bigger snacks boxes or sandwiches available for purchase disappeared.
The option to buy something more substantial to eat onboard is finally making a comeback. "Flight Fuel" plates are once again available for purchase, though only on flights of 1,500 miles or more. That includes a fruit and cheese plate, a chicken salad croissant, and several revamped snack boxes: One with hummus and pita chips, dried fruit, and pitted green olives and another, decidedly less-healthy option offering including potato chips, gummy bears, and cookies.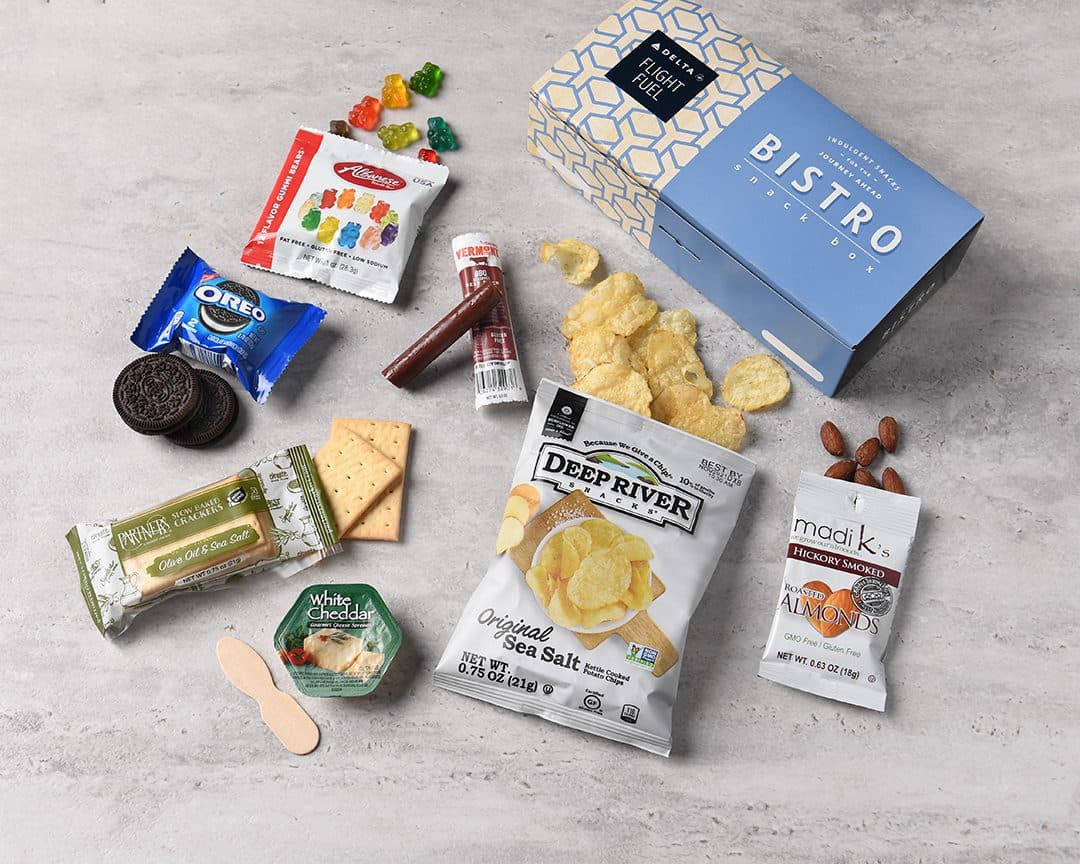 Plus, Delta is adding two new snacks to the rotation of what's available free onboard:
Snackers will recognize Sunchips as an ever-popular chip brand. Mini bags of Sunchips' Harvest Cheddar flavor are now served on all Delta flights.
Kate's Real Food Lemon Coconut Bars are a great lighter option. The organic dark chocolate cherry and almond bar is now available on all Delta flights, too.
Ice cream, anyone?
Delta has also partnered with High Road Craft to serve ice cream onboard long-haul international flights. Customers in Delta One can already enjoy the Vanilla Fleur De Sel ice cream sundae, but a new Delta Sundae will debut for all cabins later this summer, which will include malt ice cream, speculoos cookies, jammy cherries, and fudge caramel.
New Drinks on Delta, Too
Whether you want a spot of tea mid-flight or something harder, Delta has some new options onboard beyond the new cold brew.
Thrive Farmers Tea will be offered on Delta flights, with the English Breakfast Tea available to all passengers. Meanwhile, Guizhou Green, floral Egyptian Chamomile, calming Pacific Peppermint, and malty Early Grey will be available to Delta One flyers.
For travelers looking for a little bubbly, Une Femme Sparkling Wine canned beverages are another new option with a Delta-exclusive wine called "The Betty." Crafted specifically for Delta, this new canned sparking wine is expected to be available on domestic Delta flights come mid-July for $10 a can.

Kona Brewing Company's Big Wave Golden Ale will also be an option on domestic Delta flights this year. The Hawaiian beer is the brewery's most popular product, and it'll cost $9 onboard.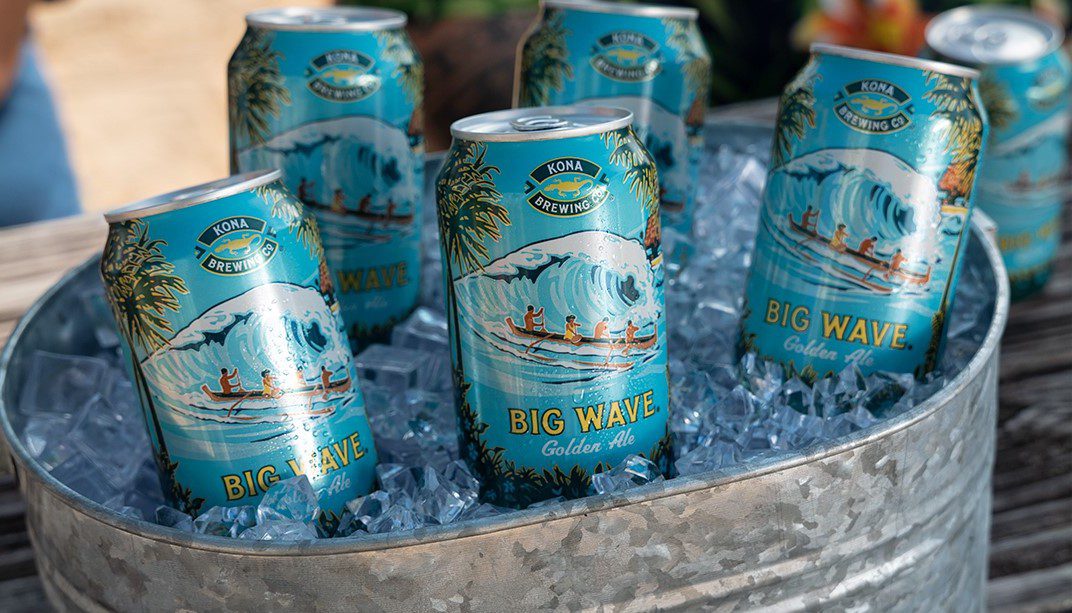 These new drinks just add to the list of options Delta has added over the last year and change. Tip Top Proper Cocktails have been a hit, with pre-prepared Old Fashioneds and Margaritas available for purchase in back or free up front. Tip Top's Negroni cocktail was first made available to Delta flyers last fall, too. Delta also made a splash by adding Minneapolis-based Du Nord Vodka to its onboard menu last fall.

Pre-Departure Beverages & Other Domestic First Class Touches
Slowly but surely, Delta is returning to its pre-pandemic ways at the front of the plane.
Delta announced it will resume serving pre-departure drinks in first class on all flights. Those were paused throughout much of the pandemic.
And the food options up front are changing, too. On flights longer than 900 miles, Delta first class flyers can select from a list of seasonal meals like Impossible burgers, shrimp poké bowls, smoked beef brisket, a burrata salad with summer tomatoes and other options. And in July, Delta will once again allow travelers in first class to select their meals before a flight.
Bottom Line
As flyers return to the skies, Delta is updating is food and drink options in all of its cabins, including a cold brew option, a new sparkling wine option, and some snack and treat options.
Plus, pre-departure welcome drinks will return for domestic first class flyers on longer flights.

All photos courtesy of Delta