U.S. airlines have thrown everything including the kitchen sink at trying to make the boarding process more efficient and orderly to no avail, from multiple color-coded boarding zones to bringing in more gate agents to supervise to Southwest's mad dash to get on the plane. Now, Delta Air Lines is training its focus on something different to speed up boarding: Carry-on bags.
The Atlanta-based airline confirmed to Thrifty Traveler it just began a pilot project designed to encourage more Delta flyers to check their carry-on bags rather than bring them down the jet bridge. For the next month, Delta is sending texts to passengers departing from its Boston (BOS) hub the day of their flight, urging them to check their carry-on bag … for free. 
"Just as we've tested other airport experience modifications over the years, we are conducting a month-long test on select flights from Boston starting the week of Jan. 31, 2022," a Delta spokesman said. "Select customers who have shared contact information with Delta will receive a text message before arriving at the airport with a proactive offer to check their carry-on bags. Customers will not be required to pay any additional bag fees associated with checking the carry-on bag."
Want more travel news? Sign up for our free daily newsletter!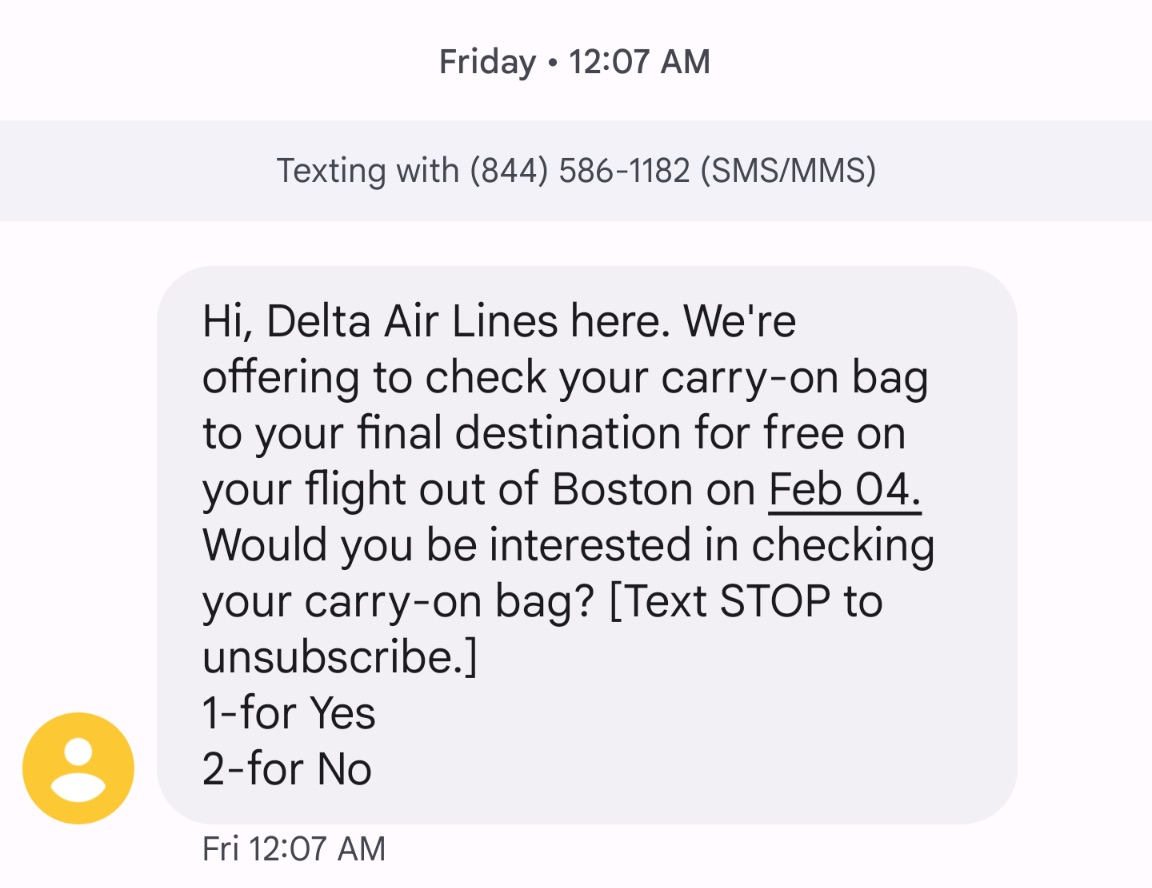 That pilot project is just in Boston for now. Delta didn't provide much insight into how these tests may expand or what their timeline is for making any long-term changes to boarding processes.
It's also unclear who will get these offers via text. Is it all Delta flyers who haven't already added a checked bag to their reservation? Or is only those travelers who have a co-branded Delta credit card in their wallet like the Delta SkyMiles® Gold American Express Card – meaning they'd get free baggage anyway?
"This test is designed to help Delta teams better understand how fewer carry-on bags can positively impact the customer experience – from arriving at the airport through boarding the aircraft," Delta's spokesman continued.

Still, it's hard to see Delta encouraging travelers to check their bags for free on an ongoing basis … because collecting bag fees is big business for the airlines. By charging $30 or more each way, Delta alone made more than $1 billion in bag fees in 2019, according to the Bureau of Transportation Statistics. That's a lot of revenue Delta would be giving up just to speed up boarding.
On the flipside, there's no question that carry-on bags slow down the boarding process as passengers struggle to get their bags in a bin or the overhead fills up early. Slower boarding times mean slower turnarounds between flights and more delays, which means fewer flights a day and less revenue. That's part of the reason why many budget airlines like Spirit and Frontier charge more for a carry-on bag than they do to check a bag.
This is just the latest in Delta's long string of efforts to tweak and improve the boarding process.
Back in 2019, the airline rolled out a brand new, color-coordinated boarding process with zones that match each traveler's ticket type: Starting with Delta One and first class and ending with Delta Basic Economy. Amid the pandemic, Delta stuck with a back-to-front boarding order longer than any other U.S. carrier in order to limit how many travelers were passing each other.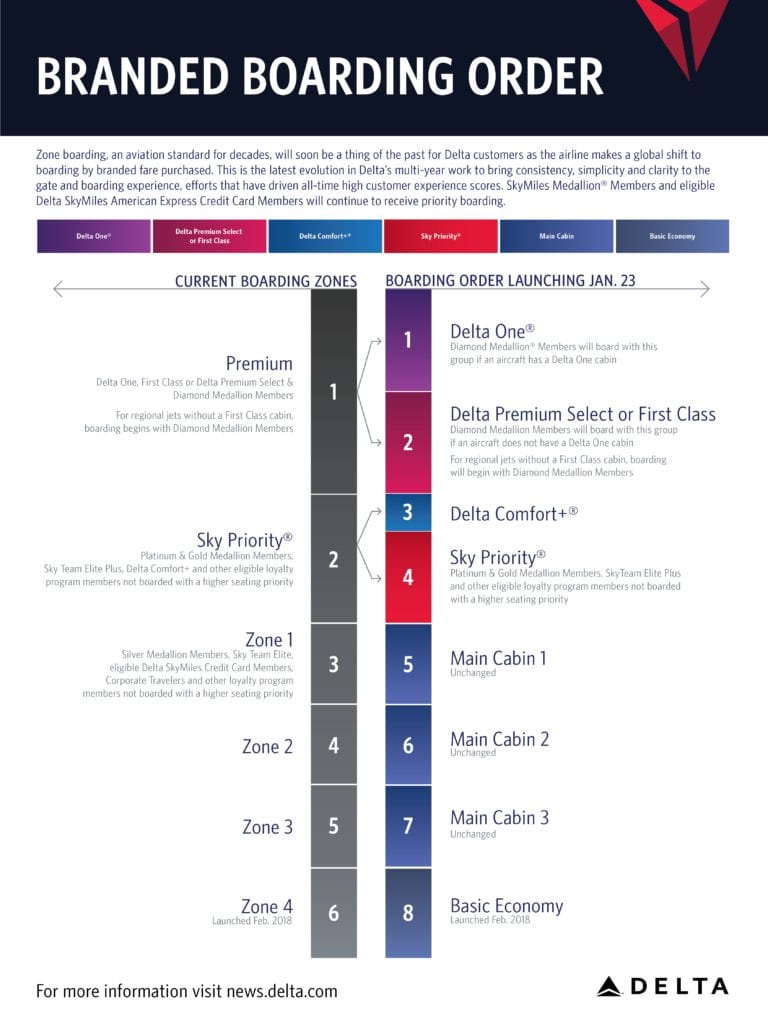 \
And Delta has recently re-launched an in-app system meant to reduce congestion at the gate that tracks the boarding process from zone to zone. It even sends a notification when it's each traveler's time to board.

Bottom Line
Delta really, really, really wants you to check a bag to help speed up boarding.
Starting in Boston this month, Delta is testing out a new system that offers select travelers the option to check a bag for free rather than bring it onboard as a carry on. We'll have to see how this plays out – and whether this pilot expands to other markets in the months ahead if it proves effective in speeding up the boarding process.