Earlier this year, Delta started allowing all first class passengers – domestic and international – to choose their onboard meal in advance. But at the time, that was only possible via email – and just a few days before departure.
That changed on Wednesday when Delta rolled out the latest version 5.1 of their Fly Delta mobile app.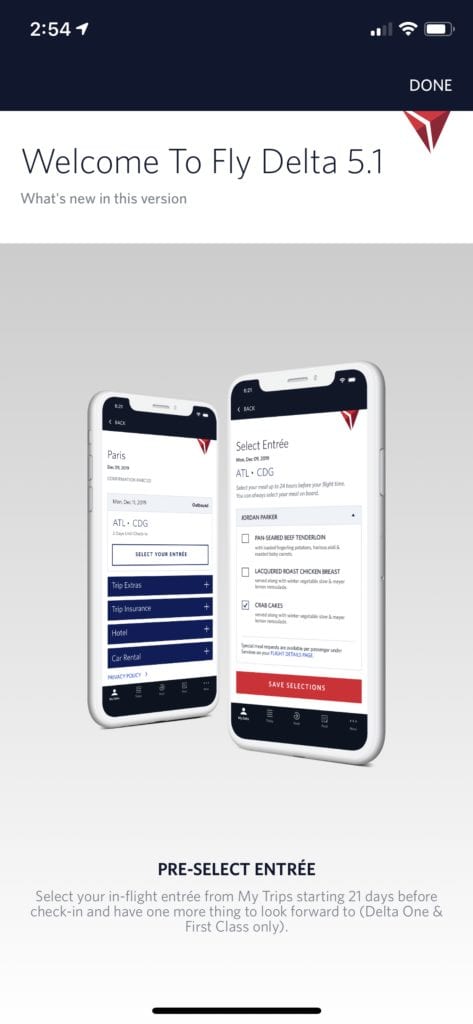 Now, all Delta flyers in first class will get the option to pick their meals through the app. And that window opens 21 days before check-in. Meal selection will not be available on regional partner flights like Delta Connection.
The ability to pre-select meals has helped streamline the service onboard domestic and international flights, and more importantly, it helps ensure Delta's most valuable flyers get their preferred meal choice.
Our Analysis
This is a smart move by Delta.
While Delta often leads other airlines, this is a feature where Delta has lagged many of its competitors. And whether you paid for a first-class seat or lucked out with a free upgrade with Delta Medallion status, getting your first meal choice is always a win.
I have an upcoming trip from Minneapolis – St. Paul (MSP) to Atlanta (ATL). After updating the app to version 5.1, I was able to click into my itinerary and select my meal. And while doing this via email a few days before departure (the previous process) wasn't difficult, doing it through the app much earlier is certainly more convenient.
Delta has said it uses this passenger selection to inform its meal service overall. So perhaps Delta could eventually give passengers a much broader list of meal choices beyond what's typically available onboard.
Bottom Line
This is a no-brainer for Delta. And it's probably a safe bet that this isn't the end of Delta playing around with how and when passengers can choose their meals. That includes a broader range of options.