Travel bloggers and so-called experts love to bash Delta SkyMiles as worthless. Clearly, that's not stopping travelers from signing up for the program.
Delta added a record 8.5 million new SkyMiles accounts in 2022, executives said during the airline's quarterly earnings call Friday. That's up 42% from 2019, the peak year of travel before the pandemic ground everything to a halt.
Sure, SkyMiles can be hard to use and you might need a boatload of them to book a long-haul business class ticket to Europe or Asia – though there are still plenty of ways to get the most out of your SkyMiles. But for the airline, it's less about rewarding loyal travelers and more about getting flyers in their system, encouraging them to keep flying Delta and maybe even sign up for a co-branded SkyMiles American Express card.
"The more engaged a customer is with Delta, the higher their satisfaction is. That's really part of that ecosystem that we're really trying to grow," Delta President Glen Hauenstein said.
And Delta is expecting to keep adding new SkyMiles members in droves this year with one new perk: free inflight Wi-Fi. Earlier this month, the Atlanta-based airline announced it will start offering free inflight Wi-Fi beginning Feb. 1. You'll need a SkyMiles account to get online, but travelers can sign up on the plane and get connected within a matter of minutes.
And that's the entire purpose.
"SkyMiles is an entry point – of course, as everybody knows, it's free. And now they have an incentive to do that because there's an immediate benefit to join: because you get the free Wi-Fi," Hauenstein said.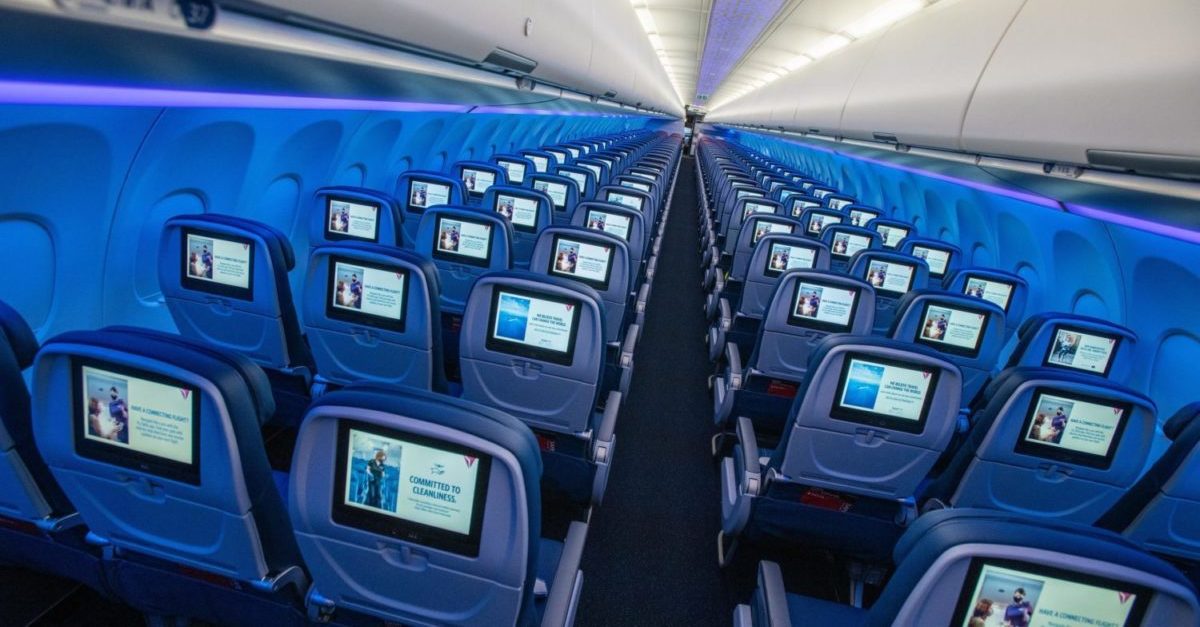 Delta's main tool to encourage loyalty isn't its loyalty program: It's the airline itself, with free Wi-Fi on the way, screens at every seat, and a reputation for flying on time. Earning some SkyMiles to use later on is just a bonus.
From there, Delta can lure travelers back or upsell them to other, more lucrative products. Hauenstein confirmed that roughly one in every eight SkyMiles members will eventually pick up a co-branded SkyMiles American Express card. And that's huge business for Delta: Their relationship with Amex resulted in a $5.5 billion windfall in 2022 alone – and 1.2 million new cardholders, yet another record.
Change Fees Were Boon For Bottom Line
Before the pandemic, Delta was making bank by charging customers a hefty fee to change flights. Hauenstein said change fees brought in nearly $1 billion a year.
But then the pandemic came along and forced airlines to ditch change fees as a way to boost travelers' confidence when booking flights. Despite that major revenue loss, Delta has said they won't bring back change fees.
"We're very happy with where we are today, giving customers choice in how they want to fly," Hauenstein reiterated Friday, adding that they're making about half of that money back from flyers paying more for fully refundable fares.
International Flights Are Returning
Delta is already looking ahead to what's expected to be a busy summer travel season – and one with hopefully fewer disruptions than in 2022.
The big focus is on Europe, where Delta has already unveiled a slew of new routes for summer 2023: new stops in Germany and Switzerland, reviving nonstop flights from Los Angeles (LAX) to Europe, and adding even more flights in and out of its critical New York City (JFK) gateway. In all, Delta said it will fly 8% more seats across the Atlantic than it did in 2019.
But more news is on the way.
"We haven't loaded our entire summer schedule yet. That will be announced over the next eight to 10 days, there are a few more things we need to put back in," Hauenstein said.
Where else will Delta fly this year? Will the airline make a rumored Minneapolis-St. Paul (MSP) to Dublin (DUB) route official? We'll have to wait and see.
Across the board, Delta is especially focused on restoring its international slate to pre-pandemic capacity or beyond, while hoping to avoid some of the pitfalls of last summer when the airline was forced to scrap thousands of flights as it struggled to keep up with surging travel demand.
Hauenstein also said they're set for a banner year flying across the Pacific Ocean to Australia and South Korea. Flights back to Tokyo-Haneda (HND) could get back to 100% by the end of the year. The only missing piece is China, and although the country recently moved to reopen for international travel, Delta said they're waiting to see what travel demand there looks like before bringing back more flights.
"Other than China, we are fully restored internationally," Hauenstein said.
Bottom Line
Delta put up big numbers in 2022 when it came to adding new SkyMiles members and Amex cardholders. And the airline doesn't anticipate that growth slowing down anytime soon, especially with new incentives like free inflight Wi-Fi available only for its members.