No, this isn't an April Fool's joke. It's April 4. And on April 4, the German leisure airline Condor unveiled one of the most … well, let's just call it surprising liveries (aka paint jobs) in the airline industry.
We give you: The flying beach towels.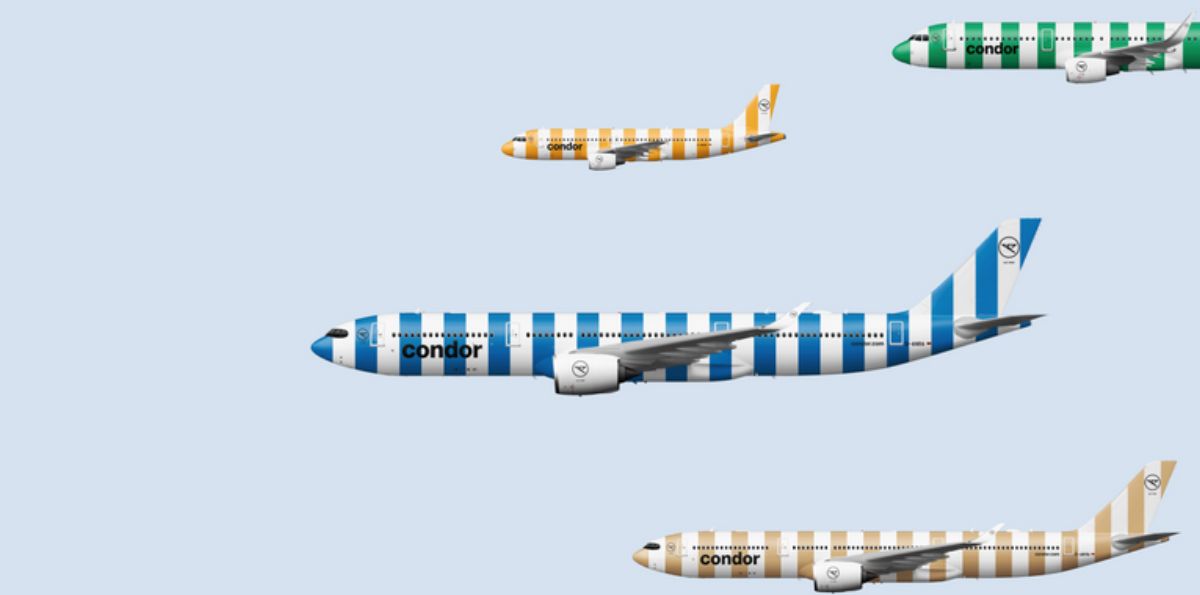 "Condor is vacation. And vacation is stripes. Germany's most popular leisure airline is unveiling its new brand identity today," the airline said in a statement unveiling its new livery. "Inspired by parasols, bath towels and beach chairs, Condor is evolving into a distinctive and unique vacation airline."
Condor is a German airline that focuses almost exclusively on leisure travelers, with lots of summer seasonal routes between U.S. and its hub in Frankfurt (FRA). After putting many of those routes on pause throughout the pandemic, it's gearing up for a big summer – complete with some brand new Airbus A330-900neos and a whole new look.
The airline said it will use five different colors in all: Green, yellow, blue, red, and beige. Good thing they skipped black … though I suppose you can't spell Condor without "Con."
This isn't just an internet mockup, either. These brand new planes have already begun rolling out of the paint shop and onto the tarmac, including Condor's very-first Airbus A330-900neo which emerged on Monday. The first plane with this new look will hit the skies in commercial service as early as tomorrow: An Airbus A321 in yellow.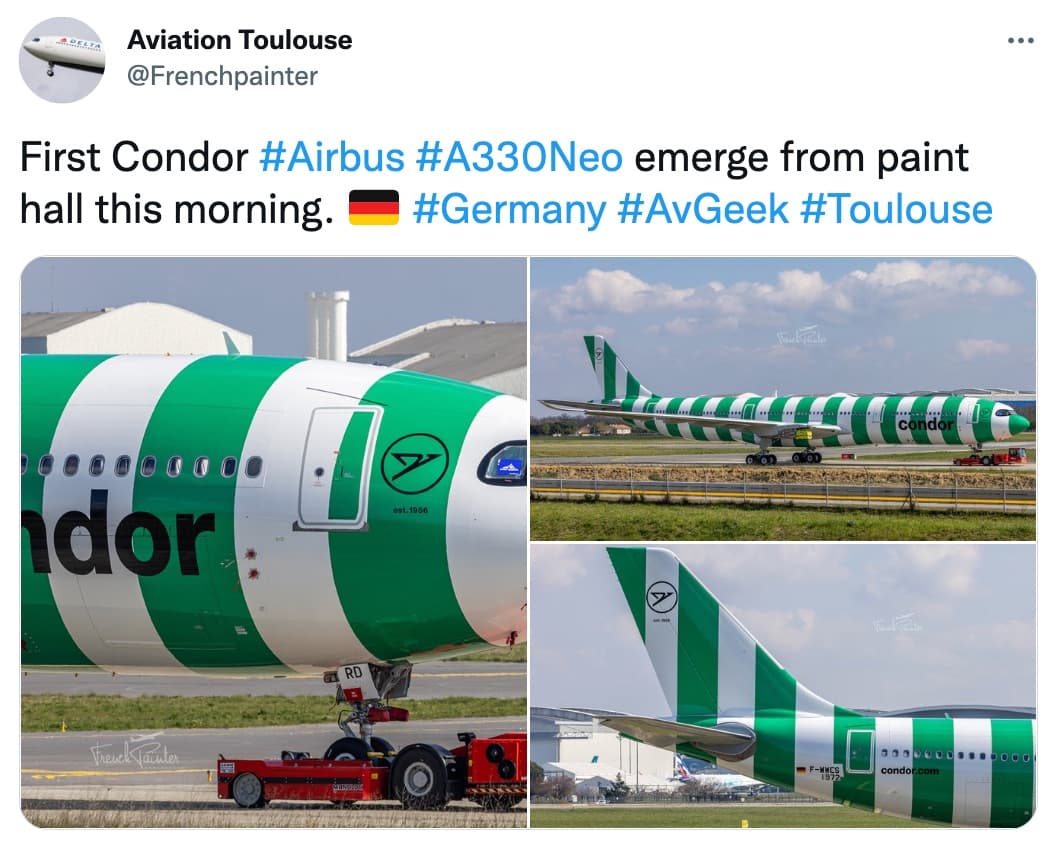 Is it good? Is it awful? We have no idea. But it's nothing if not bold. And you have to give Condor some credit for breaking the mold of the typical "boring white with a stripe and airline logo" that almost every airline under the sun has defaulted to.
For reference, here's Condor's current livery.

"Condor is vacation and Condor is unmistakable – like our new design, with which we are now launching into the future," Ralf Teckentrup, Condor's CEO, said in a statement. "Our new trademark are stripes, our figurative mark stands for our origin and the colors for diversity.
These aren't just a few one-off special planes you see airlines occasionally roll out – this will become the standard for Condor. The airline said it will repainting existing jets as they come up for scheduled painting, eventually outfitting 80% of its fleet with this new livery by 2024.
And Condor won't just stop on the exterior of the plane. The airline said this new look will make its way to flight attendant uniforms and accessories, into airport signage, and even onto cups, blankets, and boarding passes.
That's a lot of stripes.
Bottom Line
The more we look at this new Condor livery, we can't tell if we love it more … or hate it more.
One thing's for sure: Condor flights are about to get a lot more recognizable. And that's probably the point.
What do you think?
Lead photo courtesy of Condor Airlines