By holding any travel rewards credit card, you are eligible for Frontier Airline's latest promotion that can quickly and cheaply get you elite status with the airline this year.
Frontier's newest promotion is allowing all travel credit cardholders to purchase Frontier Elite 20K Status for the rest of 2023 for just $499. But you can also earn the same status through Sep. 30 for just $80, too.
All you need to do to take advantage of this promotion is have a Frontier account and prove you hold a United States-issued travel rewards credit card – that's it! So if you took advantage of the big recent sign-up bonuses on the Chase Sapphire Preferred® Card, The Platinum Card® from American Express, or the American Express® Gold Card to name a few, you're eligible.
If you don't want to pay up the $499 for the rest of the year, you can also earn your way to 2023 Elite 20K Status with this promotion.
To do this, you pay an $80 application fee, which gives you 20K Elite Status through Sep. 30. Then, if you earn 5,000 Frontier miles or spend $5,000 on your Frontier Airlines World Mastercard (or a combination of both) by Sep. 30, you get 20 Elite status for the rest of the year.
Typically, you must earn 20,000 Frontier Miles, spend $20,000 on your Frontier card, or a combination of both to earn 20K Elite Status, making this promotion a good accelerator towards status for much less.
You can use Frontier's website to determine your eligibility, but according to the terms and conditions, any credit card issued in the U.S. that earns travel rewards, points, or miles counts.
So, what exactly does 20K Elite Status get you on Frontier?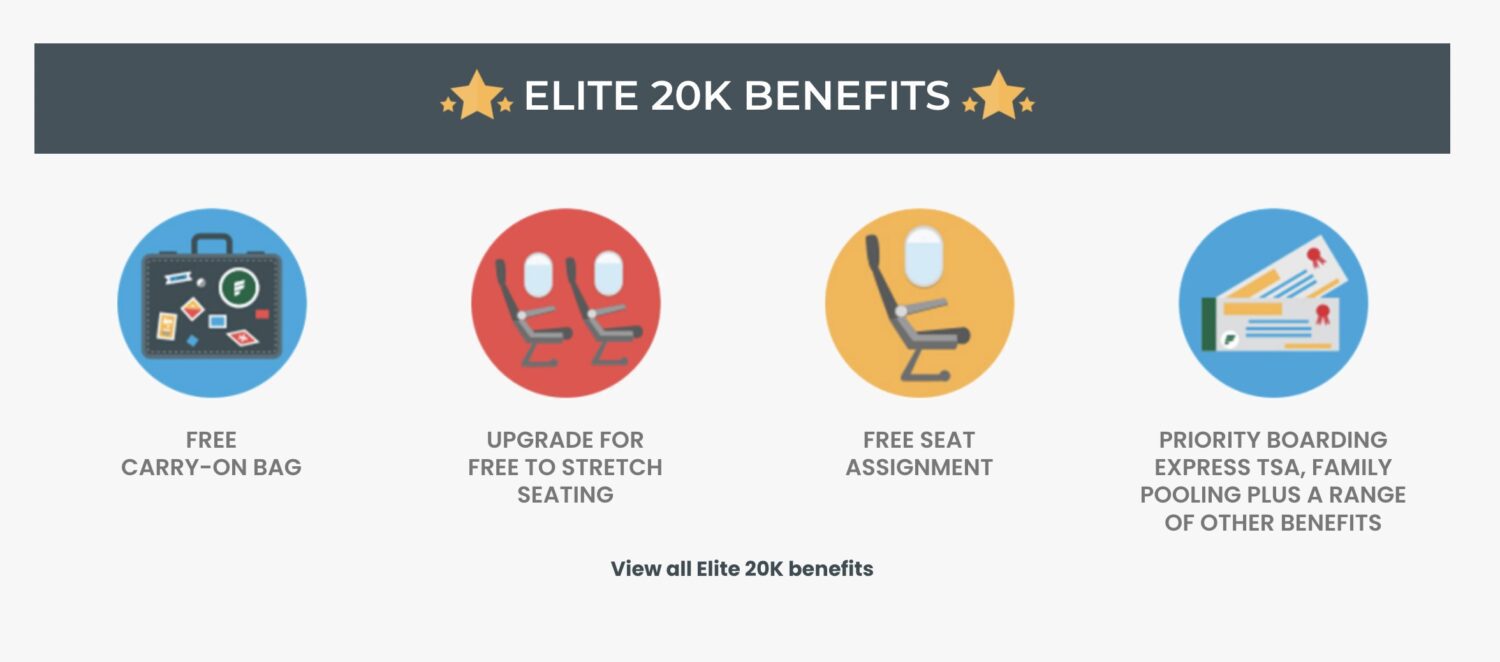 A free carry-on bag on all Frontier flights
The ability to upgrade to "Stretch Seating" onboard for free
Free seat assignment
Priority boarding
Family pooling (the ability to share your Frontier miles with eight people into a single "pool")
Is Chasing Frontier Elite 20K Status Worth It?
If you plan to fly Frontier Airlines a few times in 2023, it might be worth taking advantage of this promotion to buy status with the airline.
Like most ultra-low-cost carriers, Frontier has some exceptionally low fares but charges additional fees for pretty much everything else, from a carry-on bag to seat selection and more. If you have one or more Frontier flights coming up between now and Sep. 30, it might be worth it to pay the $80 for 20K Elite Status on those flights and get perks like a free carry-on bag and the ability to choose your seat for free.
But at a price tag of $499 for elite status for only the next seven months, you have to do some math to make sure you'll fly Frontier enough and to see how often you'll be able to take advantage of the perks, too.
Ultimately, buying the status instantly with the $80 fee is probably the best way to utilize this promotion. Then, if you earn 5,000 points in that time, you can extend your status through the end of the year.
If you have a bunch of Frontier flights stacked up through the end of the year, the full $499 might be worth it. Just do the math on what it would cost you to upgrade to those perks on your flight, versus just paying the $499 to get them instead.
Bottom Line
Frontier Airlines is offering immediate Elite 20K Status to any travel rewards cardholders for the rest of 2023 if they purchase it for $499 or for the next four months for $80. If you choose the latter, you can earn status for three more months with 5,000 Frontier points (or by spending $5,000 on a Frontier credit card).
If you're a frequent Frontier flyer who wants perks like a free carry-on, free seat upgrades, free seat assignment, and the ability to pool your points with eight other people, this offer is worth your attention.