Call them budget airlines, low-cost carriers, or even low-cost carriers. No matter what you call them, the cheapest airlines flying in the U.S. do things a bit differently than the likes of Delta or United. And that's especially true during the coronavirus pandemic.
While some major U.S. airlines are blocking middle seats to give passengers more space onboard, you won't find that on these budget carriers notorious for low fares, smaller seats, and penny-pinching. Yet one budget airline has gone farther than any other carrier, big or small, when it comes to safety onboard.
But just as with the bigger airlines, exactly what you'll find onboard depends heavily on what airline you're flying. Here's a look at the COVID-19 policies in place at Allegiant, Frontier, Spirit, and Sun Country.
Allegiant
Changing or Canceling Fares: Every Allegiant fare is eligible for a free, one-time change or cancellation. You can change to any other Allegiant flight without paying a change fee, or cancel it for an Allegiant voucher that expires two years after it was initially purchased.
Blocked Seats: Allegiant isn't blocking seats from sale. Instead, the airline encourages travelers not to select a middle seat unless if they're part of a group traveling together. Flight attendants will work with passengers to spread out across the cabin if extra seats are available. And Allegiant also says travelers "can request to be notified" if a flight is more than 65% full
Face Masks: Allegiant was the last of the major U.S. airlines to require all passengers and crew to wear face masks. Today, all travelers that are 2 years old and up must wear a face covering – and Allegiant provides a single-use mask as part of a pre-flight kit. Anyone claiming a medical exemption from wearing a mask has to provide a doctor's note at the gate.

Cleaning: Allegiant isn't cleaning planes between every flight, but customers can request a disinfectant cleaning wipe on board.
Check-In: During online or mobile check-in, Allegiant requires all travelers to certify they don't have a fever; that no one in their household has shown symptoms of COVID-19; that they'll wash their hands before the flight; and that they will wear a mask during the flight.
Boarding: Allegiant still boards the plane as normal, but says it will ensure passengers are properly social distancing while getting on the aircraft.
Service: Unlike many airlines, Allegiant hasn't suspended the usual in-flight service. Prepackaged drinks and food are available for purchase.
Frontier
Changing or Canceling Fares: Anyone with a Frontier flight scheduled through Sept. 8, 2020 can get a free, one-time change. Change to a more expensive fare, and you'll have to pay the difference. Change to a cheaper fare, and you'll forfeit the fare difference. You can also cancel the flight for a voucher, but you'll have to book a new flight within 90 days of canceling.
Frontier always allows free change and cancellation so long as you do so at least 60 days before departure.
Blocked Seats: Frontier is blocking some middle seats, but only in the more expensive "stretch seating" section at the front of the plane.
Face Masks: All travelers 2 years and up are required to wear a face covering throughout the flight – with no exceptions for any reason.
Cleaning: Each plane is cleaned before every flight, with a focus on wiping down traffic-heavy areas like seats, lavatories, and overhead storage bins. Frontier planes go through a more strenuous cleaning nightly.

Check-In: Every passenger must complete an online checklist certifying they'll wear a face mask throughout the flight; that neither they nor their family members have tested positive for or experienced COVID-19 symptoms or come into close contact with anyone who has.
Boarding: To date, Frontier is the only major U.S. airline scanning passengers' temperatures before every flight at the gate. Anyone with a temperature of 100.4 degrees Fahrenheit or higher won't be allowed to board. If you fail a first temperature check, you can wait and try again. Otherwise, Frontier will rebook you at a later date.
Frontier is also boarding planes from back-to-front to limit passenger contact.
Service: Frontier is currently only selling bottled water onboard.
Spirit
Changing or Canceling Fares: All Spirit flights booked by Aug. 31 (for future travel) can be changed or canceled once for free. Canceling a flight means you'll get a Spirit voucher.
Blocked Seats: Spirit is not blocking seats from sale on any flights, but you may be prevented from selecting a middle seat until a flight fills up.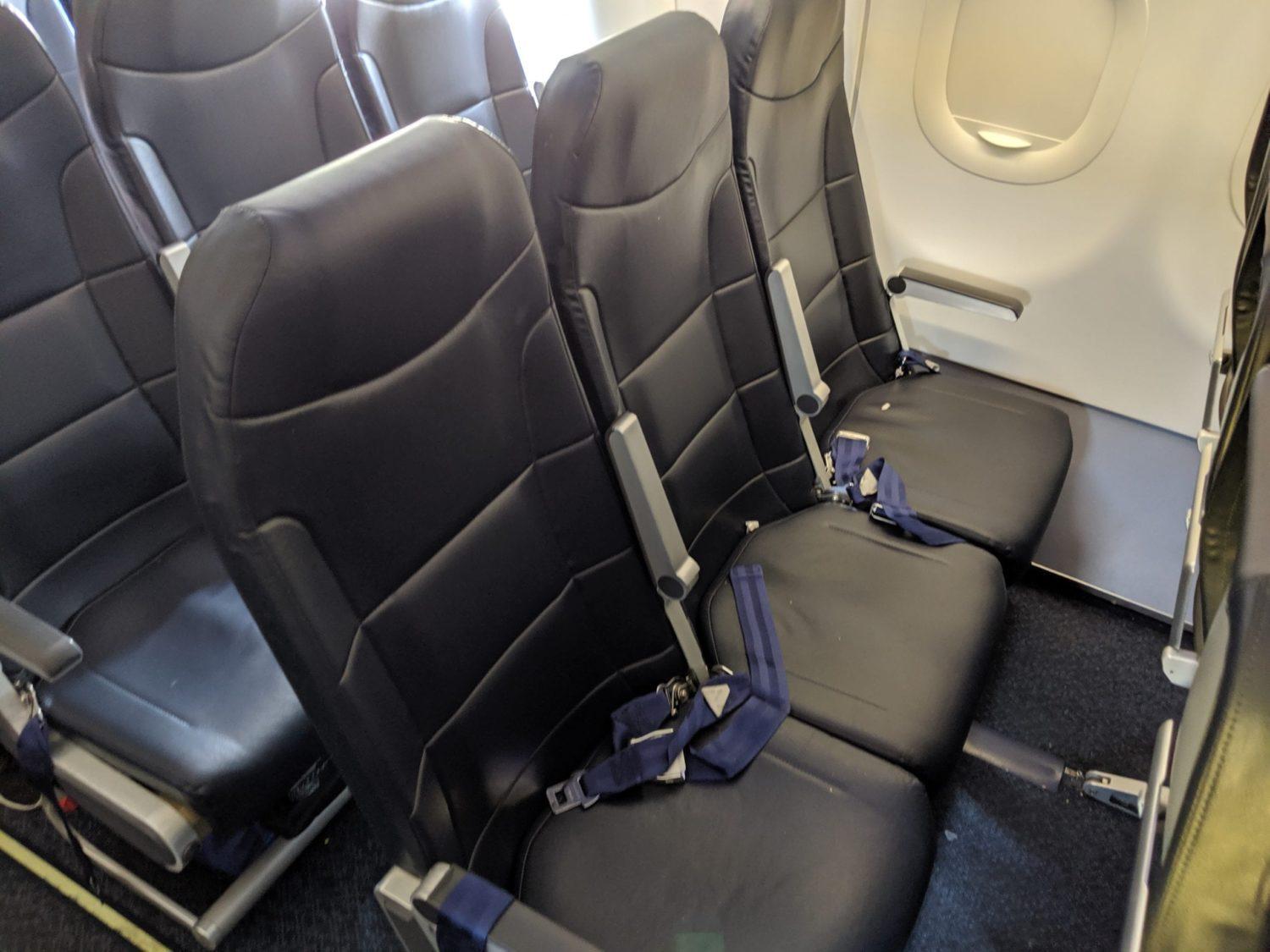 Face Masks: Every traveler 2 years and older is required to wear a face mask throughout the flight. No medical exceptions are allowed.
Cleaning: Spirit says it cleans planes between every flight with new, stronger disinfectants.
Check-In: Spirit now requires travelers to certify they will wear a mask and have not experienced any COVID-19 symptoms.
Boarding: Little has changed with Spirit's boarding process, though the airline says it will encourage social distancing as passengers get on the plane.
Service: In-flight menus have disappeared but food and drink are still available for purchase on Spirit.
Sun Country
Changing or Canceling Fares: Sun Country does not currently have a special cancellation policy in place, but the airline always allows fares to be changed or canceled for free at least 60 days before departure (with fees applying for flights closer to departure).
Blocked Seats: Sun Country is not blocking seats from sale, but CEO Jude Bricker has said flight attendants will work with passengers onboard to spread out when extra seats are available.
Face Masks: All passengers and crew are required to wear a face covering. Sun Country lists no exceptions to this policy.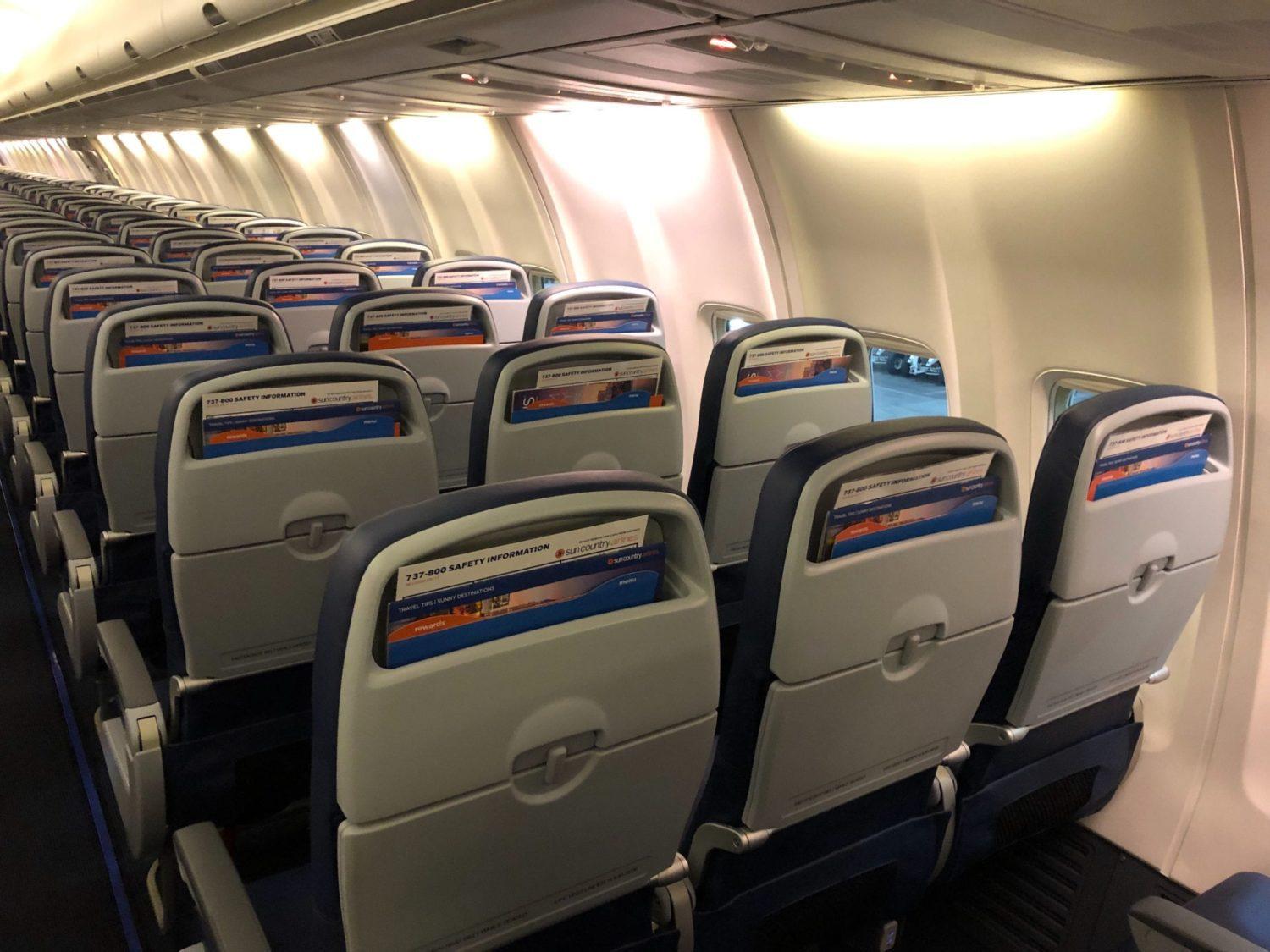 Cleaning: While Sun Country isn't cleaning its planes between each and every flight, the airline says it has boosted its cleaning procedures to any plane that's on the ground for two or more hours – as well as overnight.
Check-In: Like other airlines, Sun Country has a check-in certification process requiring travelers to confirm they have not had COVID-19 symptoms; have not tested positive for COVID-19 or been exposed to anyone who has; and will wear a mask throughout the flight. Sun Country's certification also instructs passengers to check their own temperature and confirm it is below 100.4 degrees Fahrenheit.
Boarding: Sun Country's boarding process has not changed.
Service: Sun Country has suspended all in-flight service, including free drinks and buy-on-board beverages and food.

Bottom Line
Just like the bigger, full-service airlines, budget carriers Allegiant, Frontier, Spirit, and Sun Country have switched things up during COVID-19. While you typically can't count on an empty seat next to you, some of these low-cost airlines have gone further than their more expensive competitors with new health-focused measures.