It's starting to feel like the U.S. skies will be filled with Qatar suites. And that's fine with us.
Qatar Airways announced this week it would put a plane with its outstanding Qsuites business class cabin on flights between Doha (DOH) and Boston (BOS). That change takes place starting March 31, 2019. 
This comes just a month after the airline announced it would begin Qsuites service to and from Los Angeles (LAX). That service begins Feb. 2, 2019. That means you'll soon be able to hitch a ride in a Qsuite from six U.S. gateways – the product is already flying from Houston-Intercontinental (IAH), Chicago-O'Hare (ORD), New York City-JFK (JFK) and Washington-Dulles (IAD).
Why are we so excited about this? Well, Qsuites is undoubtedly one of the best business class cabins in the world – if not the best. Mr. TT and Nick recently hopped on a Qsuites flight from Doha (DOH) to Washington-Dulles (IAD) and were blown away. The closed-door suites are spacious, well-designed, stylish and insanely private. Mr. TT declared it his favorite business class product – it's that good. Read our full review of that flight. 
Not only are these private suites great for solo travelers, but they're unbeatable for couples and families. Grab the two adjoining so-called "honeymoon seats" pictured above, and you can essentially make a double bed to share. Four adjacent suites in the center aisle can be opened up into a shared pod. It's ingenious, really.
On the flipside, economy flyers between Boston and DOH will soon feel a tighter squeeze. This new plane will have 10 seats across in almost every row of economy, which makes for some narrow seating. 
How to Book Qsuites
Perhaps the best part of all about Qsuites is how easy they are to book. You don't need a stash of Qatar Airways miles.
The best way to book these seats is with American Airways AAdvantage miles, which are easy to earn and very valuable. Thanks to their partnership through the Oneworld alliance, it's one of our favorite uses of AA miles.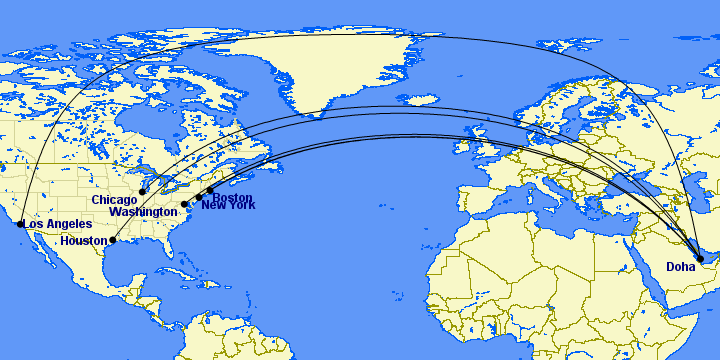 And it just got much easier, as you can now book these flights directly online through AA.com. For years, flyers looking to snag a spot on a Qatar plane would have to call into American Airlines. Not anymore!
Expect to pay 70,000 AAdvantage miles for a one-way flight in Qsuites, no matter if you're flying from BOS, LAX, IAD, or ORD. And as has been the case with all these new Qsuite routes, award availability to fly Qsuites out of BOS is wide open. 
Our Analysis
Keep it coming, Qatar Airways. Keep it coming. 

Qsuites are the most innovative business class seats out there. From the layout to the finishing touches and the catering, the airline seemingly thought of everything. It's already pretty easy to snag a Qsuite for the flight of a lifetime, but the addition of BOS makes it even easier. 
Bottom Line
Boston isn't the first city to get Qsuites service in recent months. And something tells us it won't be the last, either.