In the world of points and miles, change is rarely good. Airlines are notorious for making their mileage programs less valuable overnight, and pivoting to dynamic award pricing is all the rage.
And then there's Air Canada, which this week outlined some massive changes coming to its Aeroplan mileage program starting Nov. 8, 2020. Aeroplan has long been a favorite among frequent flyers, especially for booking business class awards on partner airlines like Turkish, United, Lufthansa, EVA Air, Etihad, and countless others. So the prospect of major changes was frightening.
Come November, Aeroplan is drastically shaking up how it prices out award flights using miles while making some truly outstanding changes, including eliminating many of the egregious cash surcharges and allowing members to pool their miles together – a novelty among major airline mileage programs.
It's not all good news, as some of the best sweet spots for using Aeroplan miles will get more expensive. But on the whole, the positives will outweigh the negatives. After this change, Aeroplan miles should be easier to use – and easier to use well.
Keep reading for a breakdown of how Aeroplan will price award tickets, as well as some of the highlights (and lowlights) of all these changes.
Wondering how to get Aeroplan miles? You can transfer them from American Express, Capital One, and Marriott Bonvoy Rewards.
The Basics of the New Aeroplan
Most airlines use a zone-based award chart, which determines how many miles you need based upon what regions you fly between. Some use a distance-based award chart, where the rate is governed by how many miles you actually fly from point A to point B.
Today, Aeroplan uses a simple (and often lucrative) zone-based chart. Starting Nov. 8, they'll be doing a bit of both, a hybrid between the two approaches.
For travelers in North America, there are four distinct award charts for travel within North America, flights across the Atlantic Ocean (Europe and the Middle East), flights across the Pacific (Asia and Oceania), and flights to South America.
From there, it's divvied up into a distance-based chart: the longer your flight from North America to Europe, the more it may cost you in miles. And Aeroplan will also charge different amounts based upon whether you're flying Air Canada or one of its partner airlines. All charges are for one-way flights, so just double it for a round-trip.
Not sure how many miles your flight will be? Use GCmap.com and type in your airports to find the one-way distance.
Here's the new award chart for travel within North America (which includes flights from Canada and the U.S. as far south as Panama):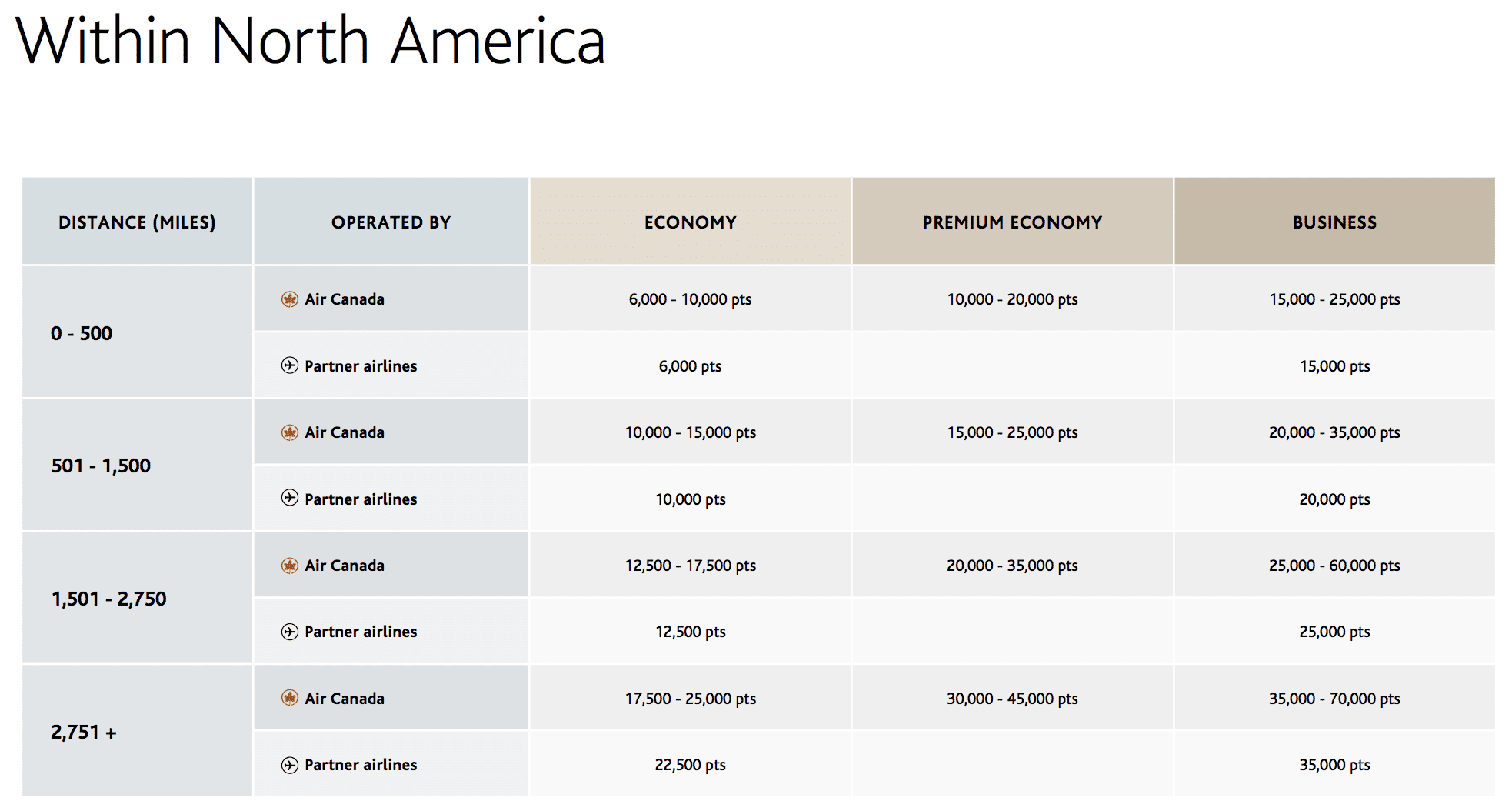 Here's the new award chart for flights between North America and the Atlantic Region:
Here's the new award chart for flights between North America and the Pacific:
And finally, here's the new award chart for flights between North America and South America:

So let's say you're trying to fly from Newark (EWR) to Santiago de Chile (SCL) on United. That's a North America to South America flight, and GCmaps.com tells us it's 5,102 miles each way. Reference the chart above, and you'll see the partner rate for flights longer than 4,500 miles is 40,000 miles in economy and 60,000 miles in business class.
If your itinerary requires a connection, just add up the total distance of the flights. For example, a flight from Minneapolis-St. Paul (MSP) to Chicago-O'Hare (ORD) and onward to Zurich (ZRH) measures in at 4,777 miles. That comes in at 40,000 miles for economy and 70,000 miles for business class.
Looking for flights starting outside North America, like from the Atlantic to South America? Check out the full breakdown of all of Aeroplan's new award charts.
The Good 
It's not just the award charts that are changing. Aeroplan is making a slew of other changes to how you redeem and earn miles. And on paper, it's mostly good news.
No More Egregious Surcharges, Flat Fee for Partner Awards
Using Aeroplan miles today can require you to be picky … or potentially pay a boatload in extra airline surcharges, especially on business and first class flights.
Aeroplan passes on these surcharges from major airlines like Lufthansa, Austrian, Asiana, ANA, and even on Air Canada flights. Take a look at this Lufthansa business class flight, for example. You'll need just 55,000 miles to book it today … plus $735 USD! No thanks.
Come Nov. 8, those exorbitant fuel surcharges will disappear. 
"On any Air Canada flight you purchase with points, we have eliminated additional airline surcharges," Aeroplan said in a statement. "That could save you hundreds of dollars in cash at checkout."
This is a huge windfall, as it eliminates one of the biggest downsides of booking with Aeroplan miles. While some awards will cost you more miles with Aeroplan's new award chart (more on that later), eliminating these huge cash fees takes much of the sting out of that.
Instead, Aeroplan will begin charging a flat $39 CAD (about $29 USD) on all partner award bookings. That's more than reasonable. Unfortunately, it means you'll wind up paying a bit more in fees than you do today for awards on airlines like United, EVA, and a handful of others.
Add a Stopover for 5,000 Miles
Now this is a fun one.
A handful of airlines allow you to add a free stopover to your award ticket, turning your trip into a two-for-one. Say you want to fly from Chicago-O'Hare (ORD) to Munich (MUC) but make a pitstop in Zurich (ZRH) for a few days on your way there?
Aeroplan will allow you to book these stopover awards by simply adding a 5,000-mile charge on top of the normal price. And they're even available on one-way awards – a rarity among airline programs. It's a great way to squeeze more out of your miles without needing to book a completely separate flight.
This replaces Aeroplan's current convoluted setup, which allows you to add in a free stopover – but only on round-trip bookings.
Pool Your Points with Family
Trying to combine your points with a spouse or family member to book a trip together? Most major airlines will charge you to transfer those miles – and charge you a lot, at that.
Starting Nov. 8, Aeroplan will allow you to combine miles for free with up to seven other family members through Aeroplan Family Sharing. 
It works like this: A total of up to eight family members can create a shared pool, which members can collectively use to redeem for award flights. Aeroplan isn't explicitly defining who qualifies as a family member, so this may be a target for abuse and future changes. Stick with family members, and you should be set.
But it bears repeating: This really stands out among major airlines. It's a great new feature.
The Bad News
Not everything is sunshine and rainbows. There are some definite downsides to the changes Aeroplan is making here.
Some Award Rates Will Increase
Many of the increases are mild, but Aeroplan's new hybrid award pricing model means some rates will increase come Nov. 8.
That's perhaps most pronounced when it comes to business class flights to Europe. Today, you can book any business class flight from the U.S. to Europe for just 55,000 miles each way.
Flying United from Newark (EWR) to Frankfurt (FRA)? Just 55,000 miles. A much longer SWISS flight from San Francisco (SFO) to Zurich (ZRH)? Still just 55,000 miles. 
But with distance measurements in the mix, that will change. That same Newark to Frankfurt flight will run you 60,000 miles in business class if you book after Nov. 8. Because the flight from San Francisco to Zurich measures in at 5,840 miles, it will soon cost 70,000 Aeroplan miles.
That's a notable increase. Exactly how much award rates may increase (or decrease) will vary widely based upon what routes you're looking at. Many are staying stable, or increasing by just a small amount.
Needless to say, it will require some research and number crunching. You may come out ahead by waiting to book until Nov. 8 – especially if you want to save on cash fees. But in some cases, you'd be much better off booking now before these new award rates kick in.
Cancellation Fees Going Up (A Bit), Change Fees Going Down (A Bit)
This is a small one, but flexibility is key these days. And depending upon how your plans change, Aeroplan could charge you more.
Aeroplan currently charges $125 CAD (about $95 USD) to cancel an award ticket to get your miles back. Changing an award ticket currently costs $100 CAD ($75 USD). Those charges are slightly more if you change or cancel by phone instead of online.
Starting with tickets booked Nov. 8, a new tiered fee structure will apply.

As you can see, cancellation fees are going up to $150 CAD ($113 USD) almost across the board. Change fees, meanwhile, are going down slightly if you change your flight at least 60 days before departure.
Bottom Line
Whew. Got all that?
There's a lot to digest here, and even more changes are on the horizon with Aeroplan – we've just covered the highlights here. While there are upsides and downsides, the changes coming for Aeroplan are mostly positive. And in an era where airlines are far more likely to screw over customers trying to use miles, that's pretty amazing.