American Airlines started inching toward dynamic award pricing earlier this year with Economy Web Specials. These are discounted award fares with some extra restrictions (no changes or cancellations unless you have top elite status), starting with flights as low as 5,000 miles each way within the U.S.
American is following Delta and United's lead here; these web special fares allow the airline to ignore its award chart and price award fares based on cash cost, demand, and more. While that can result in higher costs, it can also be a huge win – like the 10,000-mile round-trip fares to Australia and New Zealand American sold this fall.
But it's not all good news. This dynamic, unpredictable award pricing approach has started spreading to international first and business class flights booked with AAdvantage miles. And the result is some sky-high award fares, as first reported by The Points Guy.
For example, here's a look at flights from Chicago-O'Hare (ORD) to Rome (FCO) in the spring with one-way flights available as high as 400,000 miles.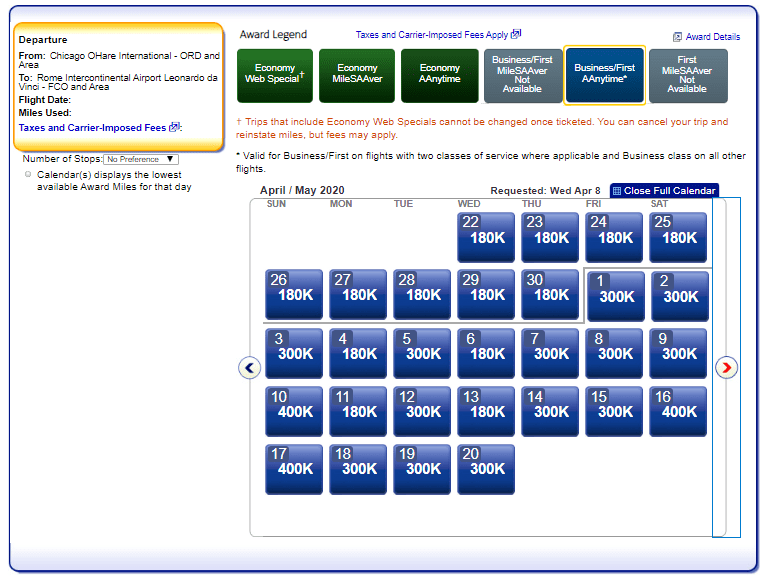 These rates are totally divorced from American's award chart, which lays out the supposed cost for each and every flight you book with AAdvantage miles. According to that chart, a one-way business class flight to Europe should cost 57,500 miles at the cheapest MileSAAver level and 135,000 miles at the most expensive AAnytime rate. That's clearly not the case here.
But it gets worse. Want to fly to Tokyo in time for the 2020 Summer Olympics? It could cost you as much as 450,000 miles for a one-way flight in business class in mid-July 2020. That's astoundingly expensive. And once again, that rate is nowhere to be found on American's award chart. These flights should cost no more than 155,000 miles.
It's worth noting that these aren't Web Specials, that dedicated, cheaper award fare with extra strings attached. American is simply moving toward dynamic award pricing  – while still maintaining its award chart for the time being.
And you can still put that award chart to good use and find flights at cheaper rates – especially on partner carriers. While American may be jacking up award rates on its own flights, booking partner airlines like Qatar Airways, Japan Airlines, Cathay Pacific, and others remain consistent and often much cheaper (at least when you can find award availability).
For example, American wants a whopping 450,000 AAdvantage miles for a nonstop flight from Los Angeles (LAX) to Tokyo-Haneda (HND) in American business class on July 17. But you can book the same route in Japan Airlines' outstanding business class on the exact same day for just 60,000 miles. 
This unpredictable and often exorbitant pricing only applies to booking flights on American itself. So for now, booking partner awards still makes AAdvantage miles insanely valuable.
Bottom Line
It was only a matter of time before American followed Delta's lead and started selling first and business class flights for an exorbitant amount of miles.
As with all things in the world of points and miles, you have to take the bad with the good. And while there can be some tremendous upside to dynamic award pricing, this sky-high pricing is clearly the downside.