While Delta may have walked back some of the worst changes to its Medallion status program, many of the airline's ultra-frequent flyers are still rethinking their loyalty to the airline. Now, one of Delta's biggest competitors is going after those customers with a new status match offer.
For a limited time, American Airlines is offering travelers with the top two tiers of Delta Medallion Status (or United Premier status) a chance to match into the equivalent tier of AAdvantage status. You'll get at least four months of American status, with a path to extend it by meeting certain thresholds. Loyalty Lobby first flagged this latest status match offer.
Other carriers like Alaska and JetBlue have also targeted Delta customers with status matches, but American is the biggest to try to win over disaffected Delta flyers … by far. By offering at least four months of equivalent status, the Dallas-based airline is clearly hoping to convince once-loyal Delta flyers to give them a shot.
But only Delta Platinum or Diamond Medallion status holders are eligible for this status match offer with American – lower Silver and Gold Medallion status won't cut it. Travelers with United Premium Platinum or Premier 1K status are also eligible. You can apply online to match your status with AA.

While it's more generous than the usual status challenge offers American typically runs, it'll still take a lot of flying (and spending) to keep any amount of status with the airline, not just what you matched into. For example, you'll need to earn at least 13,000 AAdvantage Loyalty Points in the first four months just to keep low-level AAdvantage Gold status – even if you matched into top Executive Platinum status. Keeping that top-tier AAdvantage status will require earning 67,000 Loyalty Points.
But even for four months, the benefits you'll get flying with American (or its partner carriers) could easily be worth it. American hasn't said when this offer will end, so you might want to get your status match started sooner rather than later.
Read next: Is Delta Status Even Worth it Anymore?
How the American Status Match Works
Travelers who currently have Delta SkyMiles Platinum or Diamond Medallion status (or United MileagePlus Premium Platinum or Premier 1K status) can apply online to match into the equivalent tier of American AAdvantage status.
You'll need to first be an AAdvantage member (which is free to join) and prove your Delta or United status with the required screenshots. It could take up to four weeks for a response, American says.

To extend your American status beyond the four-month mark, you'll need to earn a certain number of AAdvantage Loyalty Points – not to keep the tier of AAdvantage status you matched into, but to continue with any level of status with American.
Here's the breakdown:
13,000 Loyalty Points to keep AAdvantage Gold status
25,000 Loyalty Points to keep AAdvantage Platinum status
42,000 Loyalty Points to keep AAdvantage Platinum Pro status
67,000 Loyalty Points to keep AAdvantage Executive Platinum status
So if you matched into American Platinum Pro status through this promotion, you'd have to earn 42,000 loyalty points every four months to keep enjoying those benefits. While those thresholds are roughly half (or less) what it usually takes to earn AAdvantage status, it's still a lot. After that, you'll have to meet other, unspecified requirements to move onto the next "phase" in order to eventually keep your status through the rest of the year.
Loyalty Points are American's relatively new way of building status, and it's quite simple: Every AAdvantage mile you earn is worth 1 loyalty point. Plus, there are plenty of other ways to keep piling them up:
At least 5 points per $1 spent on flights on American Airlines or its Oneworld airline alliance partners (9x with Platinum Pro and 11x for Executive Platinum)
1 loyalty point per mile flown on American and partners.
1 point per $1 spent on AAdvantage credit card purchases.
Use AAdvantage partners like AAdvantage eShopping, AAdvantage Dining, Simply Miles, or donations to Stand Up to Cancer and more
What Will American Status Get You
Like Delta, American has four tiers of elite status: Gold, Platinum, Platinum Pro, and Executive Platinum.
At each level of American status, you'll get perks like priority boarding, complimentary upgrades on both American and Alaska flights, free checked bags, and more. Check out American's full breakdown of the benefits of AAdvantage status.

But with this promotion, you'll match into American's Platinum Pro status or higher. That's huge: It also unlocks Oneworld Emerald status with the entire airline alliance, getting you business or even first class lounge access when traveling internationally among many other perks with Oneworld airlines. That includes American Flagship lounges here in the States as well as countless lounges abroad – even the Qantas First Class Lounge in Sydney (SYD).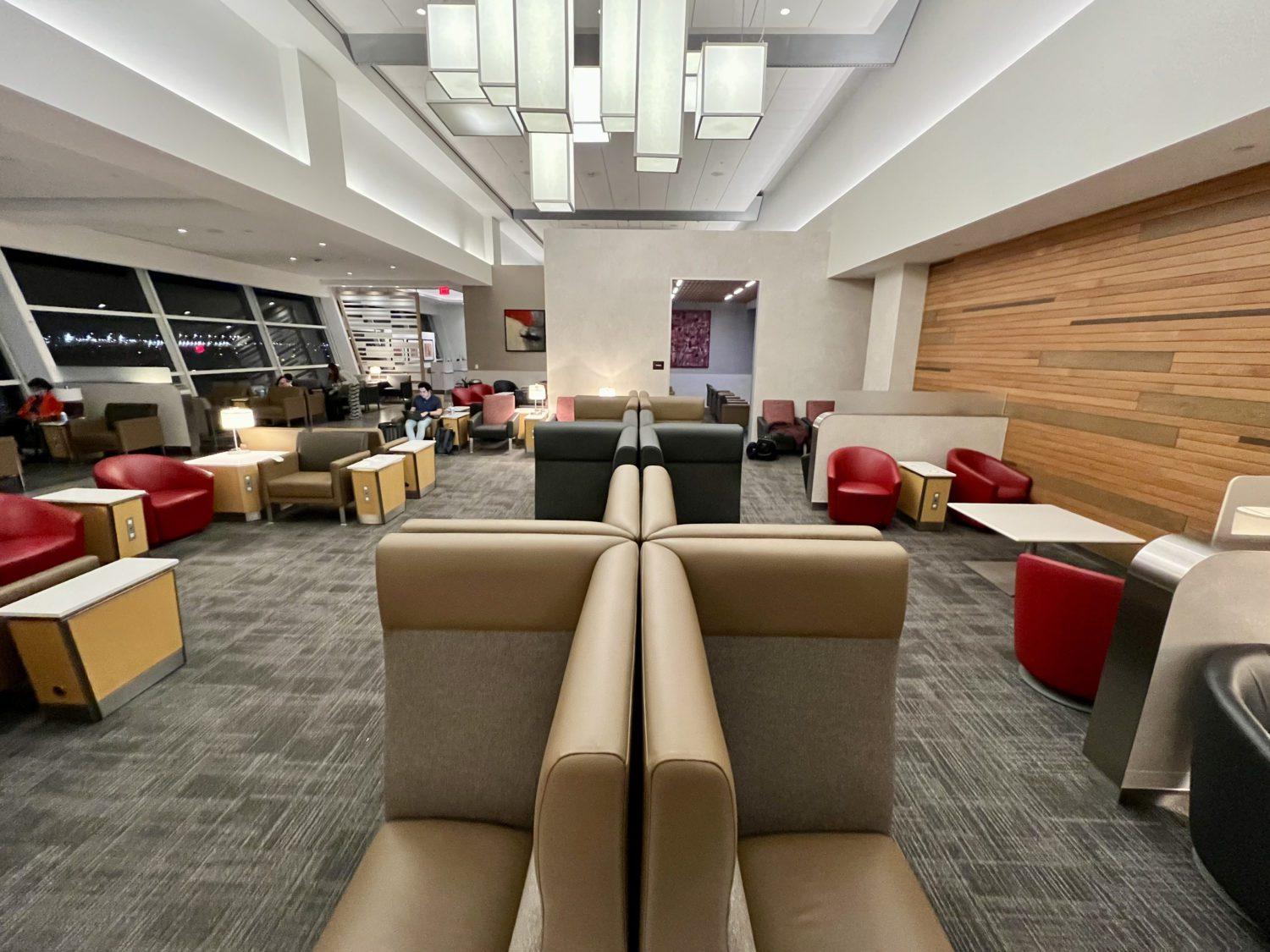 Read our full review of the American Flagship Lounge in Dallas-Fort Worth (DFW)!
Bottom Line
American is going after Delta's (and United's) most loyal flyers with its latest status match promotion, allowing top Delta Platinum and Diamond Medallion members to match into the equivalent tier of American AAdvantage status.
This status match offer isn't the best we've seen for Delta flyers looking to jump ship to another airline, as you're only guaranteed four months of status with American. But it's the first time another legacy U.S. carrier has gone after Delta's top customers. If you're one of them, you can score some excellent benefits if you're flying American – or its partner airlines – while giving American a test drive in the near future.