Among the long, long list of reasons basic economy hurts travelers, the inability to pick your own seat is at the top. Airlines use the prospect of getting stuck in a middle seat between two strangers to convince flyers to pay up for a more-inclusive fare.
But in reality, most of the major airlines allow travelers to pay a fee to pick their own seat. And American Airlines' policy just got a lot better.
American now allows travelers buying a basic economy fare to pay for a seat assignment at any time from check-out to check-in. Previously, you could only pay for a seat within seven days of departure. J.T. Genter first reported the change.
Small change to @americanair Basic Economy policies: BE passengers can now purchase a seat anytime after purchase rather than having to wait until 7 days to departure. pic.twitter.com/b52EQ0lX6H

— JT Genter (@JTGenter) March 28, 2020

Read our guide to American Airlines' basic economy fares – and how to beat them.
Basic economy is still a drag. But this is a great change that gives flyers more time to snag the seat they want rather than waiting until the cabin fills up – or getting assigned a seat at the gate.
This puts American in line with United, which also allows basic economy fares to purchase a seat assignment right away. Delta only allows you to pay for a seat within seven days of departure – but also gives flyers a window to pick a seat for free.
And in American's case, these seat assignment fees are pretty reasonable, starting at $10 or $11 for a standard aisle or window seat. Here's a look at the seat map for an upcoming flight between Minneapolis-St. Paul (MSP) and Miami (MIA).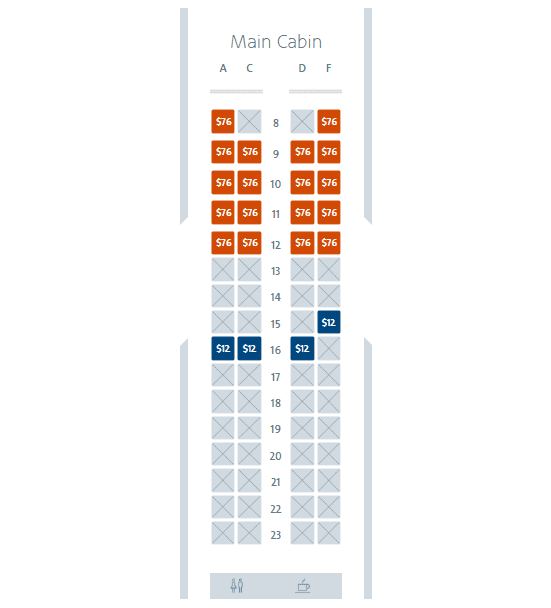 If getting a seat next to your travel companion is your top priority, it likely makes more sense to buy a basic economy fare and pay extra for seat selection than paying the $70 additional airlines charge for a round-trip main cabin fare.
Thrifty Tip: Want an even better seat without paying for it? Read up on a strategy to get a Main Cabin Extra seat for free even when flying AA basic economy.
Bottom Line
This is a small but important change for basic economy fares on American. You can now pay for a seat assignment from check-out until check-in. And with reasonable fees to pick a seat, that's good news.