Among the many reasons basic economy fares are a drag, the inability to pick your seat is at the top of the list. At least that's how it seems.
In practice, all three major U.S. airlines give basic economy flyers a chance to pick a seat – for a fee. With American Airlines' basic economy fares, you can pay to pick your seat on domestic flights starting seven days before departure. But now, American is testing whether to give flyers that option immediately when booking a ticket. 
According to the very plugged-in Twitter user @xJonNYC, American is trying this more liberal seat selection policy through mid-December. And indeed, we're seeing this option on a small handful of routes.
testing; Basic Econ passengers on short-haul can now buy seats at time of booking in some markets if booking via AA website. Through mid-December.

— JonNYC (@xJonNYC) November 20, 2019
An American spokeswoman confirmed Thursday that the airline is trying out this new approach "on a select number of short-haul flights." For example, this option popped up for a one-way flight from Chicago-O'Hare (ORD) to Washington, D.C.-Reagan (DCA).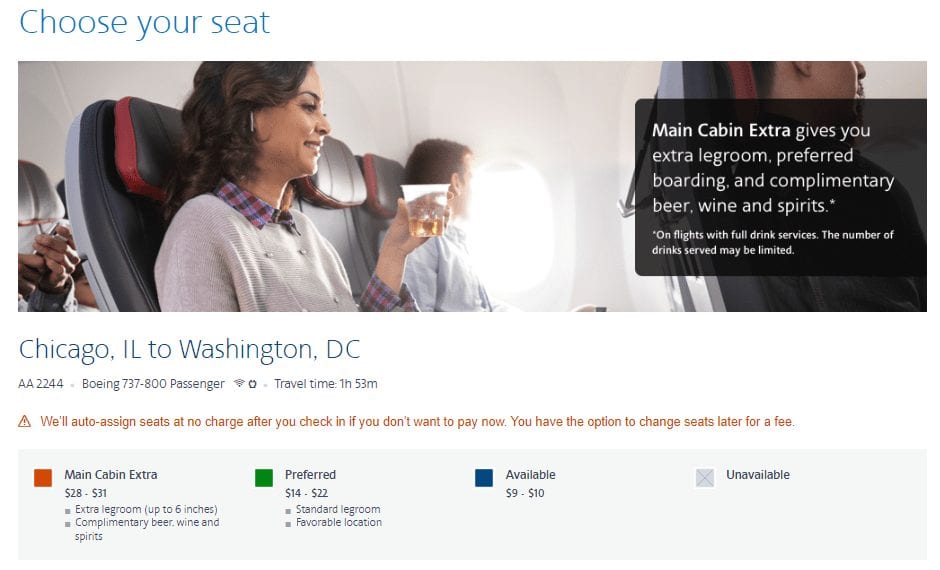 The prices for buying a seat selection can vary widely by flight. But these rates appear to be quite reasonable – $9 or $10 for a normal economy seat – and similar to American's standard seat selection fees for basic economy fares.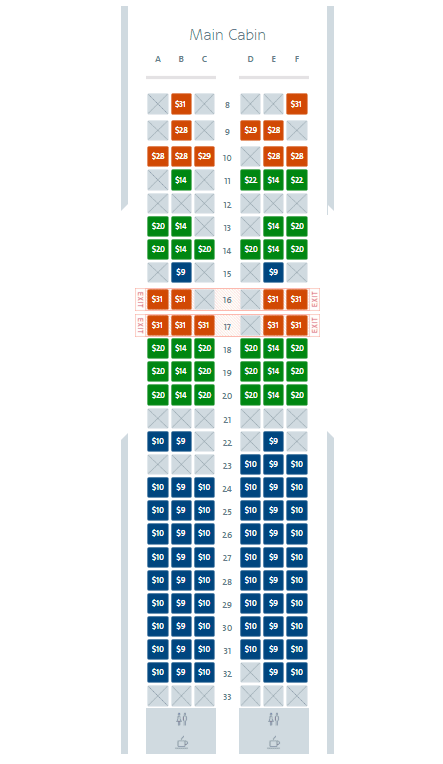 This option will disappear if you don't pick a seat at checkout until the normal, seven-day window opens. So you either need to pick your seat when you buy your ticket (if it's an option) or wait until a week before your flight departs. 
It's unclear exactly how widespread this test is. American Airlines would not provide more details on the routes where it's available.
Our Analysis
This more generous seat selection policy for basic economy would put American Airlines in line with United.
United has the most restrictive basic economy fares in the business: they don't allow carry-on bags, and require passengers to check in at the airport. That's why United was the clear loser of our Battle of Basic Economy.
Yet United allows every basic economy flyer to pay for seat selection seat at any time, from the moment of purchase until check-in. These policies make it much easier for travelers with a basic economy fare to pick a better seat rather than getting stuck in the middle.
And that's a good thing. But what's behind it?
American – and every other airline – don't actually want you to buy basic economy fares. Rather, they hope the heavy restrictions on these fares convince you to upgrade for a main cabin fare –paying increasingly more for what you once got for free.
By giving passengers more time to pay for a seat, American could make far more money on seat assignment fees. Travelers are far more likely to pay up for a seat assignment when they buy their tickets rather than head back to AA.com at the arbitrary, seven-day window.
In short, American is trying to delicately thread a needle. They want to pull in more revenue from seat assignment fees without making basic economy fares too palatable that travelers stop skipping the upgrade to main cabin.
Bottom Line
Only time will tell, but it's a smart bet that this will become a standard option for American's basic economy fares. And while it's a good thing for travelers, American's motivations here should be clear.