Flying American Airlines comes with a few hallmarks. These days, it's somewhat rare you'll have seatback entertainment. You may arrive late (though American is improving on this front after a rough summer). And the flight attendants will try to get you to sign up for one of their credit cards.
Credit cards have become a multibillion-dollar business for major U.S. airlines, and they're always trying to find new cardholders. But American Airlines is notorious for its heavy-handed in-flight pitches to sign up for the AAdvantage Aviator Red World Elite Mastercard from Barclays. Multiple sales pitches per flight, walking through the aisle with applications … you name it.
American Airlines' management is finally changing its tactics. According to an internal memo obtained by the Chicago Business Journal, the airline is directing flight attendants to tone down the notorious in-flight pitches, including:
Credit card presentations should last "no more than one minute," and involve no more than one trip up and down the aisle with applications
Pitches won't happen before 8 a.m. or after 9 p.m., when passengers may be trying to sleep. And they'll be suspended during significant flight delays or turbulence
Flight attendants should be more "considerate," and not bother "disinterested passengers" or pressure flyers to take an application
Flight attendants will read a script word-for-word
Of course, flight attendants were previously just following company orders, too. It's American management's fault that the credit card hawking was so over-the-top – not flight attendants.
American is unique in the fact that it offers credit cards from two different banks. Delta has American Express, United has Chase, but American has co-branded credits from both Citi and Barclays. It's a holdover from American's merger with U.S. Airways – rather than choosing one bank to offer a card for the combined airline, they kept both. And only the Barclays card was hawked during flights.
To be clear, it can be a great card – and a great way to earn AAdvantage miles. While many credit cards require $3,000 or more in spending to get a big miles bonus, you can earn a sign-up bonus on the Aviator Red card after just one purchase and paying the card's $99 annual fee. And right now, you can earn a 60,000-mile welcome bonus.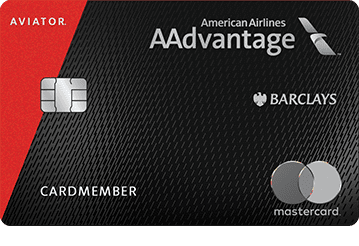 But maybe a full-throated pitch inside a metal tube full of potentially cranky flyers is not the best place to make this case.
Bottom Line
It's about time. Flying today means you'll have plenty of chances to apply for that airline's credit card. But the sales pitch when flying American was often over the top, risking turning off more flyers than recruiting additional cardholders.