On Tuesday morning, American Airlines announced nine new seasonal nonstop routes from the United States to Europe. The new routes will be bookable starting August 27th, 2018 and the details can be found below.
Charlotte: Daily year-round service to Munich Airport (MUC)
Dallas: Daily summer seasonal service to Dublin Airport (DUB) and to Munich Airport (MUC)
Chicago: Daily summer seasonal service to Athens International Airport (ATH) in Greece
Philadelphia: Daily summer seasonal service to Edinburgh Airport (EDI) in Scotland; new summer seasonal service to Berlin-Tegel Airport (TXL), Bologna Guglielmo Marconi Airport (BLQ) in Italy and Dubrovnik Airport (DBV) in Croatia
Phoenix: Daily seasonal service to London Heathrow Airport (LHR)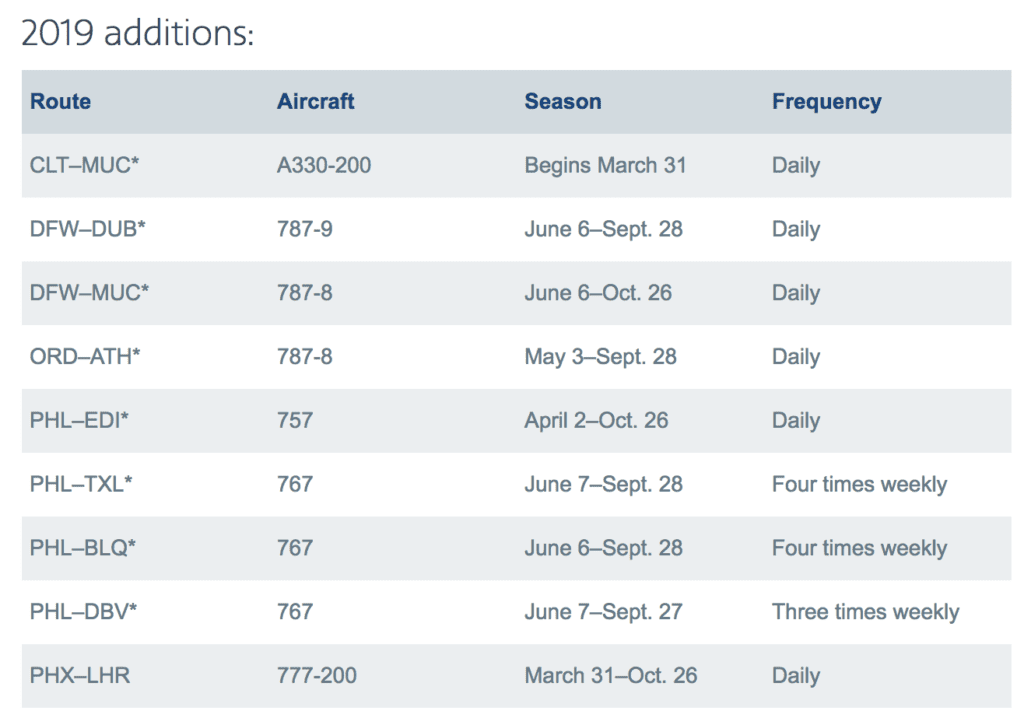 The new nonstop routes into both Bologna (BLQ) and Dubrovnik (DBV) will be the only nonstop service into both cities from North America.
"By providing the only nonstop service from North America to Bologna and Dubrovnik and adding Berlin to our international footprint, American is making it easier to see the world," said Vasu Raja, Vice President of Network and Schedule Planning. "Through our Atlantic Joint Business, we have seen increased interest to these markets from the U.S., and adjusting our network to introduce these destinations will provide more choices for customers on both sides of the Atlantic."
Our Analysis
More nonstop routes to Europe out of the US is always a good thing for travelers. More competition provides more options and will ultimately drive prices down on these routes. While many of these routes are listed as seasonal for the time being, it is highly likely they are testing them to see if permanent service is feasible.
These new routes will be available for booking with cash or points on August 27th. I imagine these will be popular routes if you are looking for award space, so I would suggest booking right away if you are interested.
If you are booking with American Airlines AAdvantage miles, economy saver space can be found for 30k miles oneway, and business class saver space can be found for 57.5k miles one way. Historically, American has made saver space hard to come by on transatlantic routes though it is possible.
The AAnytime award prices are higher, but so is the likelihood of finding award space. Economy one-way fares can be booked for 65k miles and business class awards can be booked for 110k miles one way.
Bottom Line
It is great to see American add a handful of exciting new routes. Especially those into both Bologna (BLQ) and Dubrovnik (DBV) as they will be the only nonstop routes into both cities from North America. These will all be bookable come August 27th, 2018 so don't wait if you want to take advantage.
Lead photo courtesy of American Airlines.