American Airlines is in the giving mood this holiday season, giving each and every one of its AAdvantage members a free gift starting today, Wednesday, Dec. 2, from free miles to seat upgrades and more.
Just log into your AAdvantage account at AA.com starting today and navigate to the "Promotions" tab to collect your free gift. Don't have an American account yet? Don't worry, so long as you create a free account and collect your gift by Dec. 16, you're still eligible. American says you may get:
Free AAdvantage miles
A free Main Cabin Extra seat with extra legroom
A free one-day pass to an American Admirals Club.
And more. This promotion is now live, and you can go register to claim your gift at any time before Dec. 16.
But don't get too excited. Unless if you're a high-flying elite that racks up tons of miles with American each year, odds are you won't get anything massive.
For example, several members of the Thrifty Traveler team got a whopping 100 bonus miles – plus the ability to earn double miles on American flights from January through February, but only after first taking two American flights.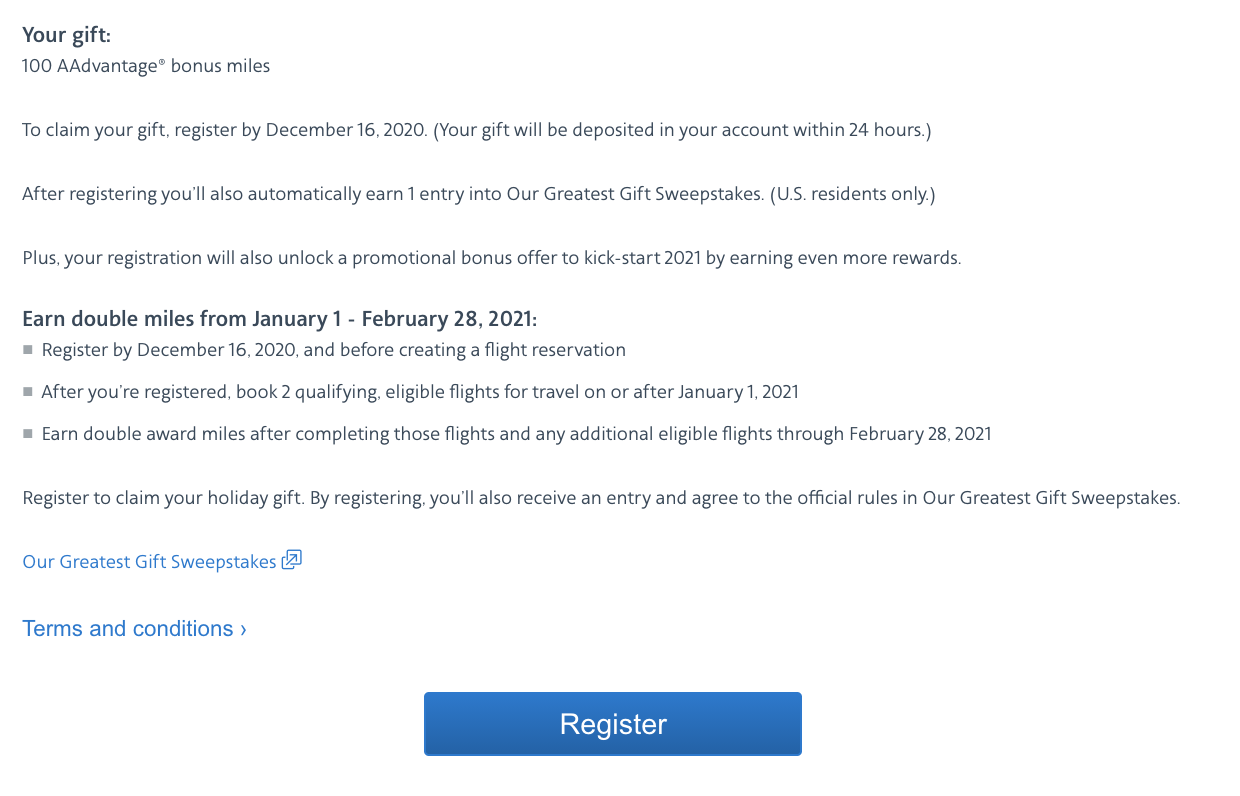 But by simply claiming your free gift, you'll also register in a much bigger contest American is dubbing "Our Greatest Gift Sweepstakes." And these prizes are massive.
American will choose six lucky winners:
Five winners will get 500,000 AAdvantage miles plus a four-night stay for two at a Hyatt Ziva or Zilara Resort, some of our favorite all-inclusive resorts in Mexico and the Caribbean
One winner will receive 500,000 AAdvantage miles and a trip for up to four to Universal Orlando Resort
Much better than 100 miles, right? But to enter the sweepstakes, you'll need to first claim your gift.
How to Get Your Free AA Gift
Don't have an American account yet? No matter – you can sign up today and still be eligible for your free gift. Just head to AA.com to sign up or follow the link to enroll in a free AAdvantage account.
American has been sending emails to AAdvantage members with a link to their free gift, so check your inbox. Otherwise, just log into your account, navigate to your profile, and click the Promotions tab.

In your promotions, you'll quickly see this brand new gift waiting for you.

Simply click the promo to "unwrap" your gift and see what American gave you. Be sure to scroll down and click "Register," as that's the key to accepting your gift and entering into the sweepstakes for 500,000 AAdvantage miles and a free vacation.
Bottom Line
This is a fun way to kick off the holidays for American. For your sakes, we hope you get more than the 100-mile gift we received.