American Airlines is already one of the best ways to get from the U.S. to the Caribbean, with plenty of flights from its hubs to beachy destinations. And that network is getting even stronger.
American is launching eight new flights from hubs like Dallas-Fort Worth (DFW), Phoenix (PHX), and Chicag0-O'Hare (ORD) to new locales in the Caribbean and Mexico. These flights will go on sale Monday, May 13. 
Check out the full list of new routes below.
Many of these flights will only fly once a week – so they're clearly geared toward winter vacationers. Case in point: Routes like ORD-St. Lucia (UVF) and ORD-St. Thomas, U.S. Virgin Islands (STT) will only run in the winter, and just on Saturdays.
American is also expanding its reach into Mexico with nonstop flights from DFW to both Acapulco (ACA) and Huatulco (HUX), as well as PHX to Chihuahua (CUU).
And though they're not as exciting as a trip to Mexico or a beach in the Caribbean, the airline is also launching some new domestic routes from its hubs to smaller, hard-to-reach cities. One standout is the new winter flight from Philadelphia (PHL) to Vail, Colorado (EGE).
Booking with AAdvantage Miles
Much like paying with cash, you won't be able to book any of these new flights with AAdvantage miles until Monday, May 13.
But speaking generally, there's no better way to get to the Caribbean with miles than American. So long as you can find the award space, you can get to a Caribbean island and back for as low as 30,000 AAdvantage miles – and sometimes less.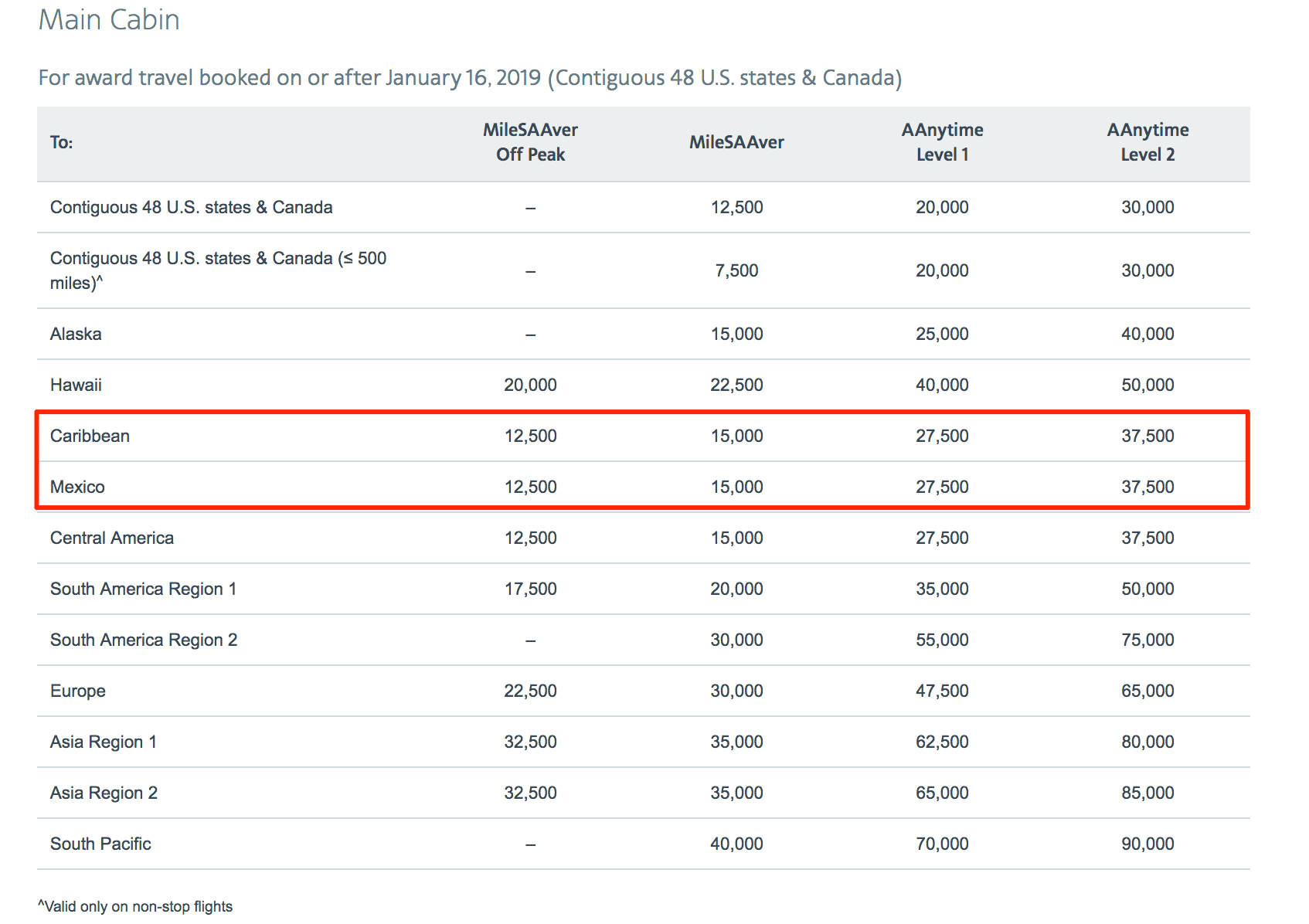 I say sometimes less because you can see American's award chart – the cheat sheet that sets prices for flights when using miles – carves out even lower pricing for off-peak season travel. American Airlines defines off-peak dates for travel to the Caribbean, Mexico, and Central American as September 7th to November 14th and April 27th to May 20th.
During those off-peak times, you can fly for just 25,000 AAdvantage miles round-trip. Just as with booking at the lowest MileSAAver rates, the trick is finding that low-level pricing.
It may require some trial and error at AA.com or an extra connection. But when you're on your way to tropical paradise for just 25,000 AAdvantage miles, it's worth the extra effort.
So how can you earn AAdvantage miles? It's easy.
You could start with the Citi AAdvantage Platinum Select World Elite Mastercard. For a limited time, you can earn 50,000 American Airlines AAdvantage miles after spending $2,500 in the first three months of card membership.
But there's another option. You can earn another 60,000 AAdvantage miles after just one purchase – and paying the $99 annual fee – on the AAdvantage Aviator Red World Elite Mastercard. Few cards make it easier to earn miles fast. And together with the Citi AAdvantage card, you could earn 110,000 miles fast.
Bottom Line
More flights are always exciting – especially when they can take you to a tropical getaway.
Lead photo courtesy of Steve Lynes via Flickr