Alaska Airlines is rolling out new smartphone-compatible electronic bag tags: permanent accessories that travelers can handle themselves, which the airline hopes will save time in lines and at baggage kiosks.
The airline announced the news Tuesday, saying it will be the first U.S. carrier to launch such a bag tag program.
Here's how they work: The bag tags will allow customers to enter their checked bag information into the Alaska Airlines app from home. Just like using Apple Pay, you then hold your phone close to your electronic bag tag, transferring the data from your device. The bag tag will then display a barcode just like you'd see on a printed bag tag. Upon arrival at the airport, travelers can simply drop their bags off at a designated check-in area and be on their way.
Related reading: Alaska Airlines Baggage Fees
Alaska is slowly rolling out this new program, starting at the San Jose (SJC) Airport with 2,500 Alaska Mileage Plan members based in the area. The rest of the airline's frequent flyers will be able to purchase their own tags for $70 each after the full launch, which is expected early next year.
Alaska Senior Vice President of Merchandising and Innovation Charu Jain said the program will move "the entire check-in process almost all off-airport." The airline estimates the bag tags could reduce the time it takes to check and drop off a bag by nearly 40%.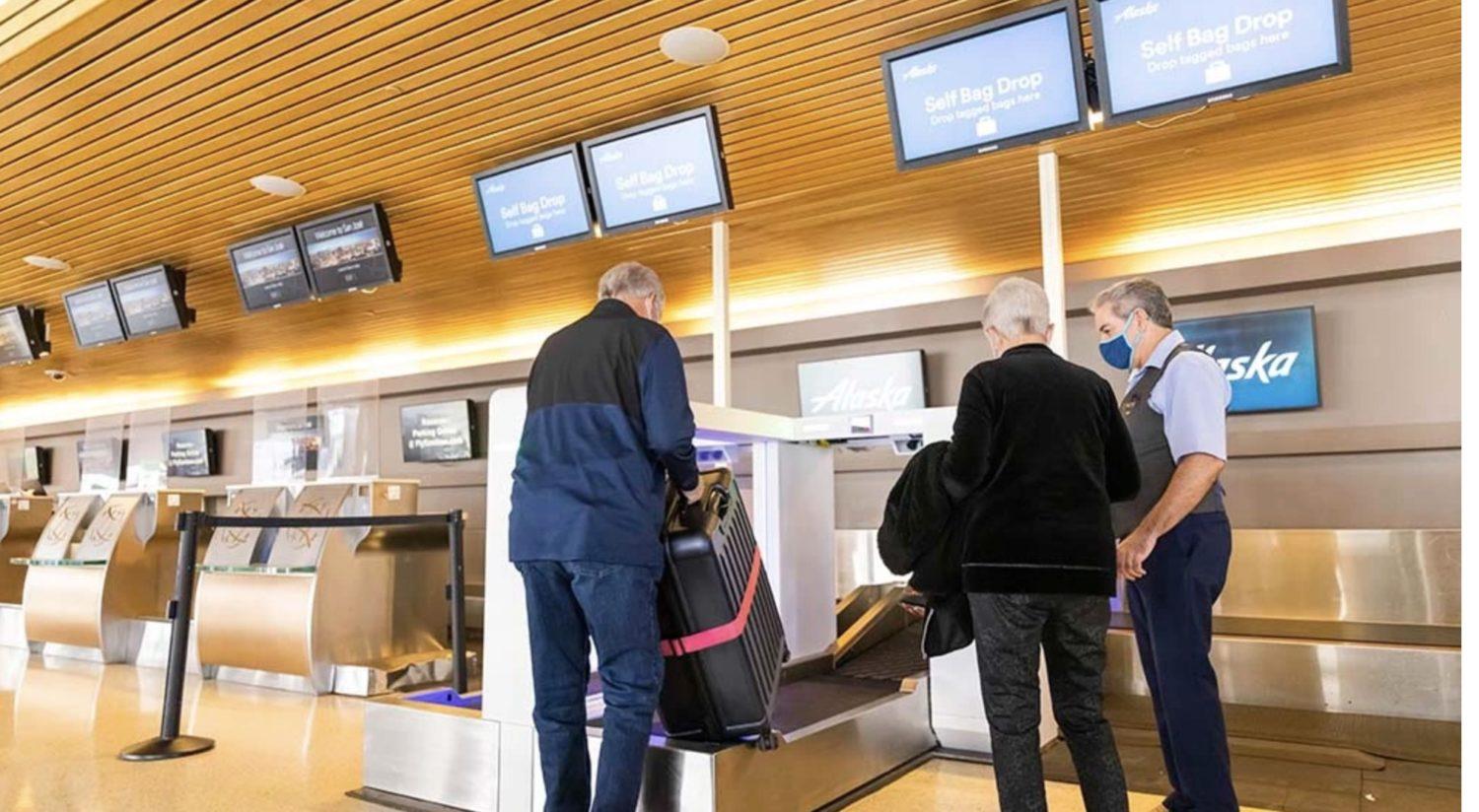 On top of the time it is expected to save flyers, the new program is expected to free up airport employees to spend time with guests who need one-on-one assistance, which should "reduce lines at our lobbies," Jain said.
The timing for Alaska's novel pilot program couldn't be better. It coincides with plenty of miserable headlines about airlines and airports fumbling the checked bags in record numbers, leading to mountains of stranded baggage at London-Heathrow (LHR) and pushing Delta to fly an empty plane full of 1,000 lost bags from London back to Detroit (DTW) earlier this month.
Plus, one of the worst pinch points for long lines at U.S. airports this summer has been the baggage check line. A self-check baggage system like this, if widely used, could help flyers avoid those lines while also shortening the queues for standard bag tag and drop points.
The bag tags, made by the Dutch company BAGTAG, do not require any batteries to operate, making them easy to use and reliable for travelers.

Alaska says the tags are durable enough to withstand being run over by a luggage cart, and therefore aren't susceptible to damage during the travel process. The tags are affixed to luggage with an "industrial strength plastic zip tie," according to Alaska.
Currently, Bagtags can be used with Lufthansa, Swiss, Austrian, Air Dolomiti, China Southern, and KLM. Bagtag's website teases two more "coming soon" airlines, one of which we can now safely assume is Alaska Airlines.
Bottom Line
Alaska Airlines is rolling out a new electronic bag tag system in hopes it can save travelers' and airport staff time during the bag check-in process at the airport.
To start, 2,500 Alaska Mileage Plan members will pilot the new technology out of the airline's outpost in San Jose, California (SJC) this year. Come early next year, the tags will go on sale for $70.