It should be no surprise that people just aren't booking plane tickets right now. But airlines are trying their darndest to change that.
From airlines in the U.S. to carriers abroad, many are employing creative new policies and tactics to persuade travelers to continue buying flights. While we've put travel on hold for the time being, it's ironically a great time to book now for future travel. And these potentially lucrative measures from airlines make it even sweeter.
Here's a look at some of the ways airlines are trying to drum up ticket sales – and how you can use them to your advantage.
The Good: Free Change, Cancellation
Nearly across the board, major airlines have given travelers unprecedented flexibility to change or cancel trips without paying the usual $200-plus fee. And that's not only true for upcoming flights you previously booked – in many cases, you'll also get free change and cancellation on flights you book now for travel as far out as April 2021.
That makes perfect sense. With all the uncertainty surrounding coronavirus, it's the only way airlines can get flyers to book plane tickets without gambling on whether or not that trip will actually happen.
Here's a look at how some major U.S. airlines are currently handling it:
Alaska Airlines: Any ticket purchased by May 31 can be changed or canceled (for a voucher) for free
American Airlines: Any ticket purchased by May 31 can be changed or canceled (for a voucher) for free
Delta Air Lines: Any ticket purchased by May 31 can be changed or canceled (for a voucher) for free
JetBlue: Any ticket for travel through Jan. 4, 2021 booked by May 31 can be changed or canceled (for a voucher) for free
Southwest: Southwest always allows free change and cancellation to tickets
United Airlines: Any ticket purchased by May 31 can. be changed or canceled (for a voucher) for free
Airlines keep extending those deadlines: First, it was only for tickets booked in March, then April, then April 15. Odds are, they'll all push it out again as the end of May approaches.
And with no sign of coronavirus clearing up soon, we expect airlines to continue offering that flexibility for the foreseeable future.
Thrifty Tip: Using Delta SkyMiles is one of the best ways to book travel right now, as you can easily cancel any trip booked by May 31 and get your miles (and taxes and fees) back for free – no need to deal with vouchers!
Want the best deals for future flights? Sign up for Thrifty Traveler Premium – we're sending out international flight deals as far out as April 2021.
The Better: Bonus Miles
Some airlines are taking it even farther by giving bonus miles to travelers who book upcoming travel.
With few exceptions (love you, Alaska Airlines) most airlines determine how many miles you earn based upon the price you pay for your flight. Both Southwest and American Airlines are upping the ante with new promotions for bonus miles.
Southwest is offering double miles for any flight you book and take through Aug. 31. Thrifty Traveler has decided to put off travel until the start of August (and asked our readers to do the same), but this is a nice sweetener if you've got summer plans or need to take a flight earlier.
Southwest's cheapest "Wanna Get Away" fares typically earn 6x points per dollar, so you'll now earn 12x points per dollar after registering for this promotion – and up to 24x points per dollar on the top-priced Business Select fares.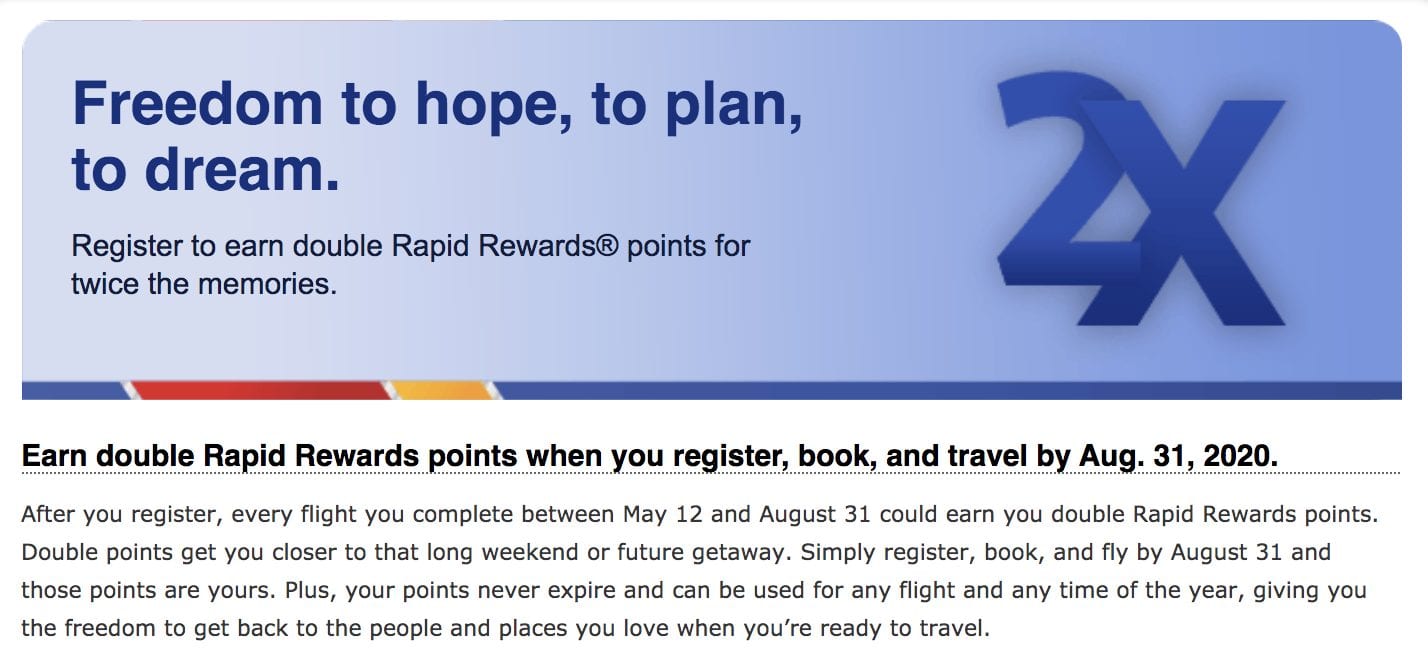 JetBlue is also running a double points promotion. On all flights booked by June 15 for travel through Jan. 4, 2021, you'll earn double the TrueBlue points: 2x points per dollar on the airline's new BlueBasic fares and 6x miles per dollar on all other fares. Add in the bonuses you get just by booking online or through the JetBlue app, and that's 9x points per dollar on a standard economy fare – and even more if you've got a JetBlue credit card.
American's promotion is a bit different. If you register for their promotion and book flights by next Monday, May 18, you'll earn 500 bonus AAdvantage miles for every flight you take between July 1 and Dec. 31, 2020. You can earn up to 5,000 bonus miles total.
Read more: Why you should be earning American AAdvantage miles
Are those unbelievable sums of points that should force you to whip out your wallet and book like crazy? No. But it's a nice bonus if you've already got a future trip in mind.
The Best: Craziness from Qatar Airways
You have to give Qatar Airways credit: The world's No. 1 airline is constantly pushing the envelope. They've got flights all over the globe with the world's best business class.
And now, they might just have the world's best, most flexible, and most lucrative change and cancellation policy. It seems almost too good to be true – but our friends at God Save the Points have confirmed it all.
Qatar spells it all out on its own travel page, but here's how it works. Book any Qatar Airways ticket by Sept. 30 for travel through Dec. 31, 2020 and you can:
Keep the value of your ticket for up to two years from the date you book
Cancel it for a future travel credit (good for up to two years) with a 10% bonus
Exchange your ticket value for Qatar Qmiles, where every $1 = 100 QMiles
Get a full refund if your flight gets canceled
Fourteen or more days after booking, make unlimited date or destination changes within 5,000 miles of your original destination so long as you still travel by Dec. 31, 2020.
That last one is a potential goldmine – but not without potential complications. Do it right, and it essentially allows you to book a cheap flight on Qatar Airways and change it in for a trip to a far-more expensive destination for free. And that 5,000-radius gives you plenty of freedom to do so.
Here's an example. You can book a fairly cheap flight from Philadelphia (PHL) to Bali (DPS) for $592 in December. Draw a 5,000-mile circle around Bali, and you'll see you can switch your flight to almost anywhere within Asia, Australia, and the Middle East – even if those flights were initially more expensive.
Or do it in business class by first booking the (relatively) cheap flight into Kyiv (KBP) for roughly $1,600. With this change policy, you could swap for business class flights to almost anywhere in Europe, Asia, or Africa that typically cost twice as much.
Qatar's own policies confirm this work, and One Mile at a Time has tracked some early success stories with employing this method. It may take some patience and trial and error, so it may not be for everyone. And then there's the fact that you still have to travel by Dec. 31 – and who knows which international destinations will be open by then?
Still, it's a creative and generous method to drive ticket sales that you may be able to work to your advantage.
Bottom Line
The world is standing still, and it's forcing airlines to get creative to drive ticket sales. As this continues to unfold, it's safe to assume we'll see even more promotions, bonuses, workarounds, and loopholes.
It's up to you to use that to your advantage.