If you choose to cancel your flight, the best you can get is a voucher. But if your airline cancels your flight (or changes its schedule significantly) they owe you a refund. That's the law in the U.S. – no questions asked.
And airlines are canceling and changing more flights than ever as coronavirus wreaks havoc, upending travel plans for hundreds of thousands of Americans. That's why we urge travelers to wait to cancel their upcoming flights to increase the odds of getting their money back.
But airlines aren't being forthcoming about when a refund is available. In many cases, airlines are only offering a voucher when notifying a traveler about a cancellation or significant schedule change – we've gathered more than a dozen examples where airlines big and small make no mention of a refund when they legally owe passengers that option.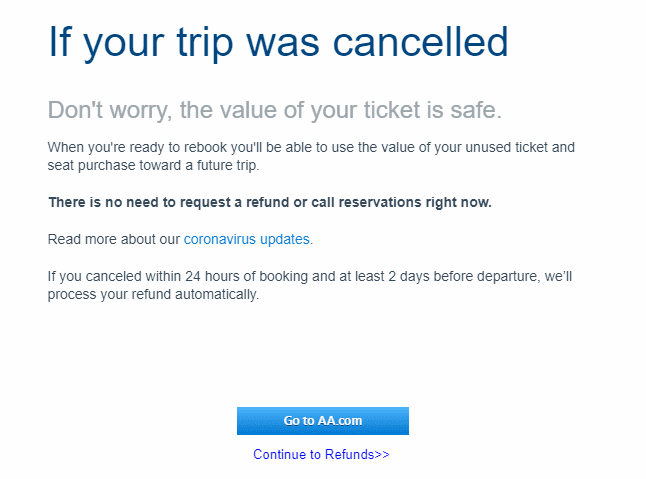 That tactic essentially leaves it up to travelers to know their rights – and airlines know that few do – creating an extra step for passengers to contact the airline to get their money back. It's a sly way of guiding more passengers toward vouchers or future travel credits, thereby keeping their money with the airline, as carriers try to limit their financial losses.
This comes just a few weeks after the U.S. Department of Transportation warned airlines that there's no excuse to withhold refunds due to cancellations. The aviation industry regulator specifically chided airlines who told travelers booked on canceled flights that "they would receive vouchers or credits for future travel."
It's unclear if by withholding the availability of a refund, airlines risk upsetting the federal government even more. But a group of U.S. senators is already pushing airlines to be more generous with refunding customers, insisting they should give money back to passengers who choose to cancel flights due to coronavirus, too.
These deceptive practices only make that case stronger.
How Airlines Are Deceiving Customers
We've heard from many readers who were notified that their upcoming flights were canceled or significantly changed by the airline. And in many cases, the airline only mentioned a travel voucher or credit as compensation – not a refund.
Those refund requirements apply to any flight that touches U.S. soil. It doesn't matter if it's operated by a foreign or domestic airline. 
Follow our flowchart to decide the best course for canceling your upcoming travel plans and learn more about when you're due a refund.
Several travelers were notified by Iceclandair that their upcoming flights to Europe were canceled. In each case, that notification only mentioned a "travel credit voucher that covers 100% of the ticket cost for unflown flights."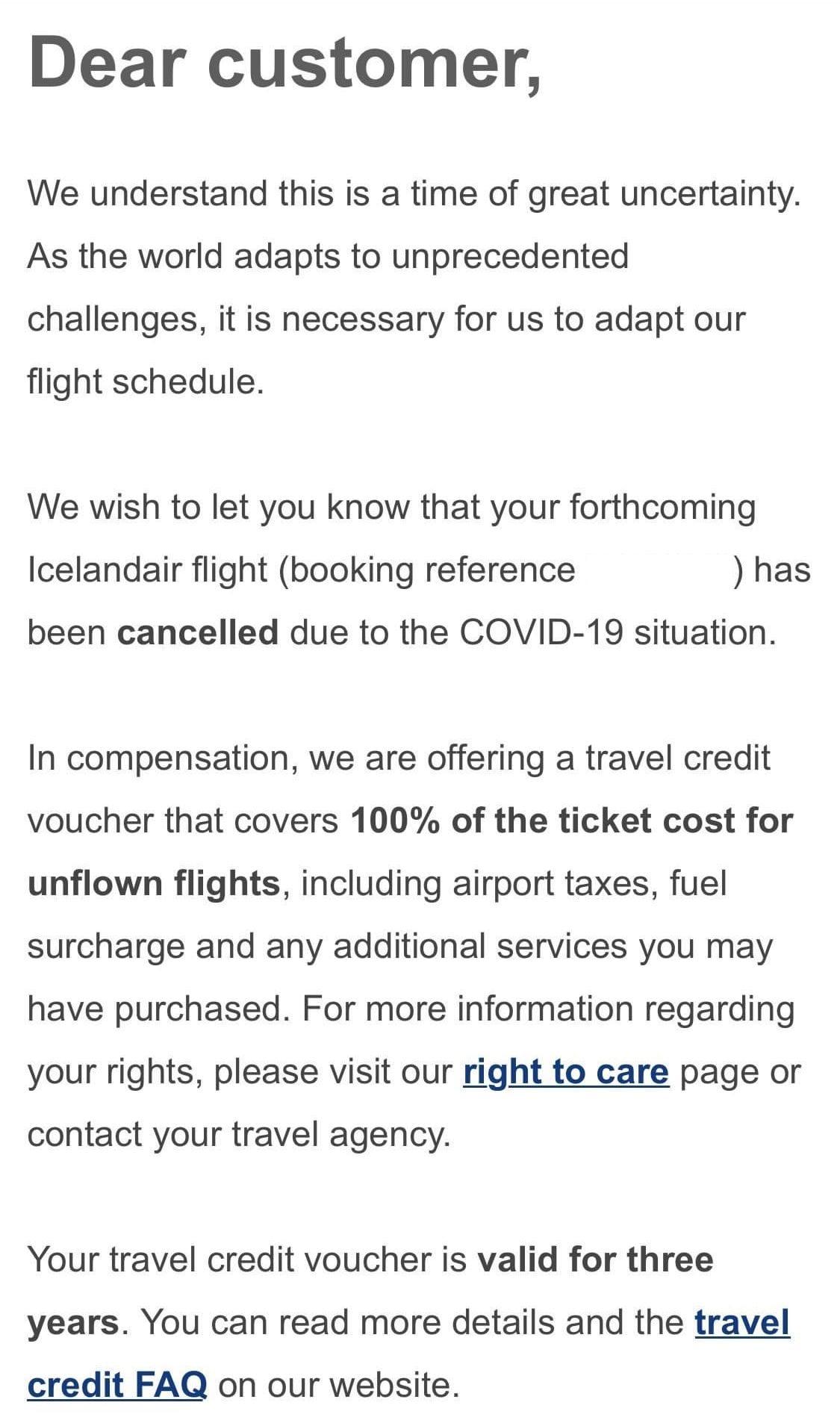 Readers who knew they were eligible for a full refund could reach out directly – an extra step not laid out by the airline. But in one case, a traveler accepted a voucher via this email before realizing a refund was available – and Icelandair denied subsequent requests for a refund instead.
The Department of Transportation has said airlines who wrongly offered vouchers for canceled flights should reach out to passengers with the option for a refund.
Southwest, too, never mentions the possibility of a refund in some of its cancellation notices.

One traveler was notified by Sun Country via email about her canceled flight, and was automatically given a flight credit that looked at first glance to be a cash refund. Here's how that looked:
Amount paid with Visa: $142.10
Amount refunded to Sun Country Electronic Credit: -$142.10
Even schedule changes to your itinerary may trigger a refund – but that's a bit murkier. Every airline has its own threshold: A two-hour change with Delta will get you a refund, while that's four hours with American and six hours with United. Some budget airlines won't issue refund unless your flight moves by a full day. In general, adding a stop to your itinerary will qualify for a refund.
Still, airlines aren't clear about what's available when plans change. Even Delta – which has generally been outstanding during this coronavirus crisis – is up to some tricks. The airline only mentioned the availability of an eCredit when changing a flight schedule by more than nine hours.

The same was true when Delta turned a nonstop, round-trip flight into a one-stop journey each way.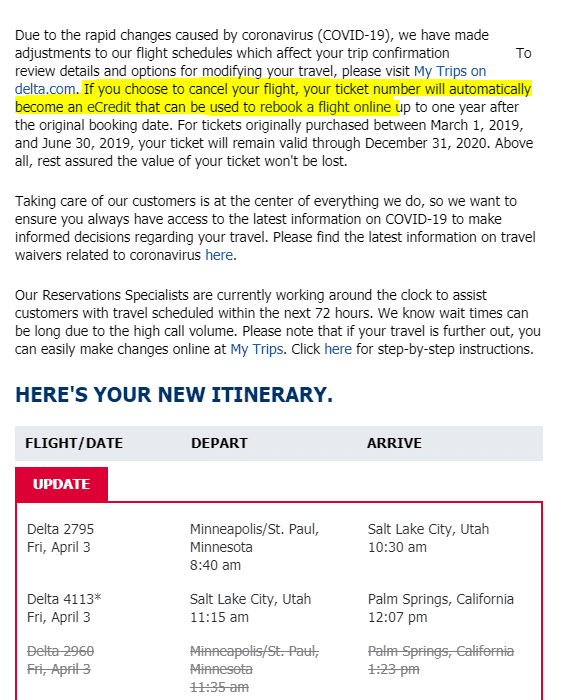 In both cases, a refund was available. You just had to know that and proactively ask for it.
Bottom Line
Airlines are hoping that travelers don't realize they may be due a refund in a desperate bid to save as much money as possible.
And yes, airlines are hurting financially – but so are many Americans. Unemployment has skyrocketed in the U.S. as the economy teeters, and people need their money back more than ever. Airlines need to be more forthcoming and less deceptive with consumers.
Until then, know your rights and insist that airlines do what's legally required.