Air Italy is abruptly closing down after its shareholders voted Tuesday to liquidate the company, stopping flights immediately.
The airline announced Tuesday that it was folding, a rapid death for the company that was only recently rumored to be considering liquidation. Passengers with Air Italy flights from Tuesday, Feb. 11 through Feb. 25 will "be offered a travel option on the first available flight of another carrier." For reservations Feb. 26 and on, passengers will be refunded.
Air Italy is a relatively new airline with a long and fraught history. Its roots go back to Meridiana, a little-known Italian airline focused on leisure travelers. Qatar Airways and other major investors gave the airline new life in 2018, trying to transform it into a major Italian airline with a hub in Milan (MXP). Air Italy got lots of new planes and started new routes – including to several U.S. cities like New York City (JFK), Miami (MIA), and Atlanta (ATL).
But the plan backfired as the new airline lost gobs of money. After rebranding as Air Italy just in March 2018, it will close before turning 2 years old.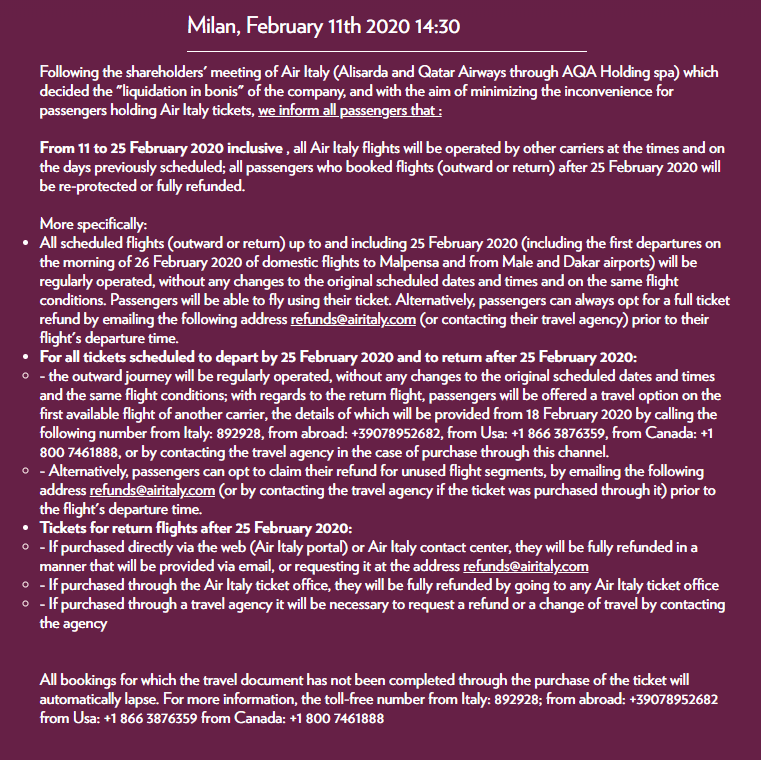 What To Do if You're Booked with Air Italy
Depending on when your flights are scheduled, you have some options.
If your flight is scheduled between today and Feb. 25, Air Italy says it will offer to rebook travelers on another airline – the airline is only operating domestic Italian flights to Milan (MXP) and from Male (MLE) in the Maldives and Dakar (DSS) in Senegal.
U.S.-based travelers can call 1 (866) 387-6359 for more information about alternatives during this period. Otherwise, you can cancel and receive a refund by emailing [email protected] – or contacting the travel agency you booked with.
For all flights scheduled from Feb. 26 and onward, any unflown segments will be fully refunded. You can request a refund by emailing [email protected], visiting an Air Italy office, or through your travel agency.
Bottom Line
RIP Air Italy. Combined with Alitalia's ongoing struggles, it's clearly tough to run an Italian airline these days.
Make sure to follow the directions laid out above if you have travel booked with Air Italy in the coming weeks and months.

Lead photo courtesy of Air Italy