If you're already thinking about your fall getaway, so is JetBlue! The airline just launched a new fall sale with one-way fares bookable from just $39 from early September all the way into mid-November.
"The Big Fall Sale" includes many of JetBlue's routes all over the country at discounted rates for travel between Sept. 6 and Nov. 15. You'll generally find the best sale availability flying on Mondays, Tuesdays, Wednesdays, and Saturdays during that span – only flights on Fridays and Sundays are ineligible.
The cheapest fares in this JetBlue flash sale are often JetBlue basic economy fares or "Blue Basic," which do not include a carry-on bag, seat assignment, or free changes. But paying for a standard economy Blue fare isn't too much more on many of these routes – and in some cases, that's what you'll get even at the sale rate.

But if you want to capitalize on these cheap fares, don't wait! The sale ends this Thursday, Aug. 24 at 11:59 p.m. local time. Just head to JetBlue's dedicated sale page and start searching from your home airport.
No matter where you live, there are some excellent fall flights to be had with this sale like sub-$200 roundtrip fares to destinations up and down the East Coast.
Never flown JetBlue? Check out our review!
How to Search & Book
Search and book online at jetBlue.com
Book by Thursday, Aug. 24 at 11:59 p.m. local time
Travel between Sept. 6 and Nov. 15, 2023.
Lowest available fare (Blue Basic for most routes) on sale. Upgrade to Blue fares to include a carry-on and seat selection starting at about $20 more each way.
Available for select flights. Friday and Sunday flights are ineligible.
See full terms and conditions on the jetBlue website
It depends where you're flying from and where you're going, but availability at these lowest rates seems fairly wide open throughout the fall. Here's an example search for flights from New York City (JFK) to Charleston (CHS). It's not too hard to find one-way fares for $39.

You can even fly all the way across the country for less, like these one-way fares from San Diego (SAN) to New York City (JFK) for $79.

What You Get on JetBlue Flights
The lowest fares are mostly JetBlue basic economy fares aka "Blue Basic," its version of basic economy that comes with some major restrictions. These fares do not include a free carry-on (personal item only) and are not eligible for free changes and cancellations for a voucher. Make sure you know what you're getting when you pay and upgrade to more inclusive Blue fares if you want.
In many cases, moving up to a standard Blue fare will cost just an extra $30 or so each way – if not just $15 or $20. That could be well worth it.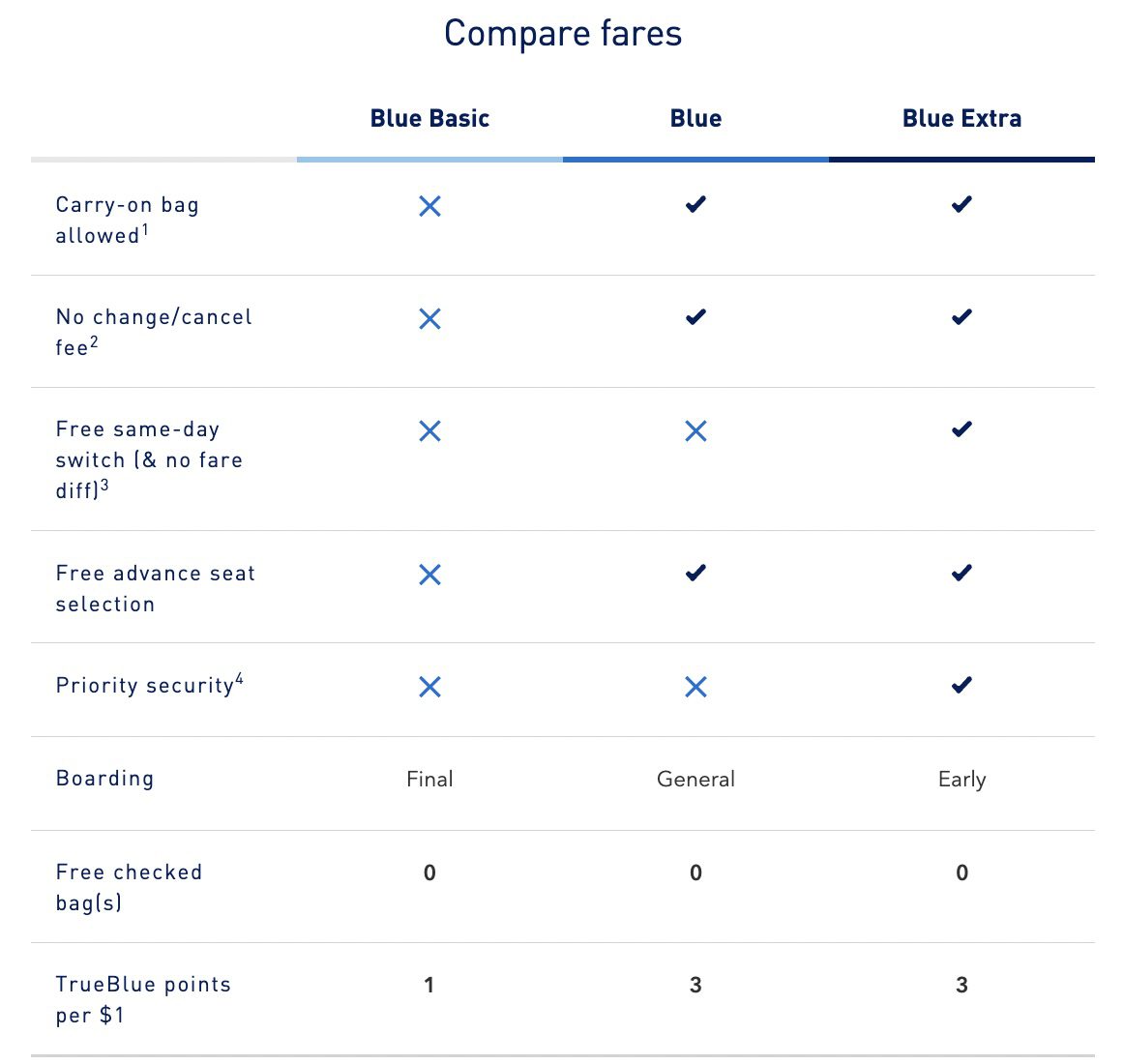 But once you're onboard, all JetBlue flights include:
Free gate-to-gate high-speed Wi-Fi on all of their flights
Each seat offers free in-flight entertainment with DirecTV live satellite television (on their newer or retrofitted aircraft)
The most legroom of any U.S. carrier throughout the entire cabin at 32 to 34 inches (up to 3 inches more than even Delta)
Bottom Line
JetBlue just launched its latest sale and it could help you save big on a trip this fall.
As per usual, the sale only applies to select flights – with the lowest prices largely for JetBlue's restrictive basic economy fares. But the discounted flights are wide-open on many JetBlue flights between Sept. 6 through Nov. 15.
Be sure to book by Thursday, Aug. 24 at 11:59 p.m. local time when this sale ends.