Sometimes, a standard hotel room just won't cut it. But whether you're booking a staycation, a family road trip, or planning your next big international getaway, larger suites rarely come cheap.
Hyatt has long allowed members to redeem World of Hyatt points for award stays in suites – but it required a phone call, as suites wouldn't show up online. But that has changed, as the hotel chain recently introduced the ability to book standard and even premium suites online.
And the travel blogosphere is ablaze with some amazing options to book suites at Hyatt properties worldwide – in some cases for insane value.
How to Book Hyatt Suites Online
Hyatt is easily one of the best hotel chains out there. And that's due in large part because the amount of points you need to snag a free room is so reasonable.
Hyatt spells out those rates in an award chart, which starts at just 5,000 points per night and goes all the way up to 30,000 points per night (exclusive, non-Hyatt resorts can go for 40,000 per night).
And that same award chart spells out the prices to spring for either a standard suite or an even swankier premium suite. A premium suite (think penthouses and presidential suites) will always be double the points as a standard room, while a standard suite is about 40% more points.
You won't find suites are available at every single Hyatt (or Hyatt-partnered) property. For example, it seems you can't use Hyatt points to book a suite at MGM Resorts properties in Las Vegas like Aria or Mandalay Bay – you'll only see standard rooms. But suites are available at some other top-shelf partner hotel brands like Andaz, Alila, SLH, and others.
When suites are available and eligible to book with Hyatt points, they should show up in your searches online or via the Hyatt app.
You can quickly toggle through standard rooms, standard suites, and premium suites at each property – at least where they're available. And you can easily find some ways to get some fantastic value out of your Hyatt points for a suite…
Big Value on Hyatt Suites
From getting more space at low-budget hotels to going all-out at luxurious Park Hyatt properties, there are a ton of options to maximize your Hyatt points on a suite.
Our friends at Frequent Miler found a great way to upgrade a trip to Albuquerque, New Mexico: Spring for the Presidential Suite at the Hyatt Regency Albuquerque. It's a category 1 property, which means this top suite with up to 1,500 square feet (and separate living and dining rooms) will run you just 10,000 points.
Not bad for a hotel room that typically costs $600-plus per night!
Want to splurge at one of the best properties in the U.S.? You can't beat the Park Hyatt New York. Spring for the 1,000-square-foot City View Suite – massive by New York standards – for 60,000 points per night.
Dreaming bigger? We saved the best for last in Tanzania, where you can book your own "Royal Residence" with three bedrooms, a full kitchen and its own private elevator for just 30,000 points per night. This villa retails for nearly $2,900 per night, which means you'd be getting nearly 10 cents per Hyatt point!
How to Earn World of Hyatt Points
You've got a few options to rack up some Hyatt points.
The first is obvious: the World of Hyatt Credit Card. Just for opening the card and spending $3,000 in the first three months of card membership, you will receive 30,000 World of Hyatt points. You'll earn 2x points on all spending up to $15,000 in the first 6 months of card membership – that's 60,000 points total.
The card has a $95 annual fee which is not waived for the first year of card membership. However, starting in year two, it offers an annual free night certificate to be used at any Hyatt category 1-4 property.

Click Here to learn more about the World of Hyatt Credit Card.
But another great way to get some World of Hyatt points is by transferring points from Chase Ultimate Rewards. Because Hyatt is one of the 13 airline and hotel transfer partners of Chase's Ultimate Rewards program, you can transfer Ultimate Rewards points into your World of Hyatt account at a 1:1 ratio – 1,000 Chase points nets you 1,000 World of Hyatt points. And Hyatt is easily one of the best Chase transfer partners.
Notably, the Chase Sapphire Preferred Card is currently offering a welcome offer bonus of 60,000 points after spending $4,000 in the first three months of card membership.
Read more: Why the Chase Sapphire Preferred is the Best Card in These Times
This card also has an annual fee of $95 which is not waived in the first year of card membership. However, the welcome offer bonus alone is worth at least $750, and oftentimes much more – especially if you transfer them to Hyatt and book a few nights at a spendy suite.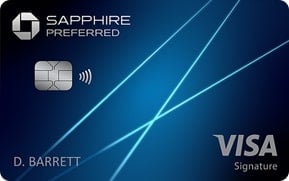 Click Here to learn more about the Chase Sapphire Preferred Card. 
Do you have a spouse or a significant other? You can both earn points in your own World of Hyatt accounts and book back-to-back reservations for a longer stay, or just combine your World of Hyatt points.
Read more: The Best Points Programs & Credit Cards for Traveling Families. 
Bottom Line
We've only scratched the surface of the possibilities using your Hyatt points to stay in suites. This new ability to book suites online with points brings up a lot of fun and lucrative options for your next hotel stay.