In the wake of IHG's decision to eliminate tiny plastic bottles in their rooms, another big name is following suit.
Marriott, the world's largest hotel chain, just announced on Wednesday that they will stop using single-use toiletry bottles of shampoo, conditioner, and bath gel in guest room showers by the end of 2020, replacing them with larger, pump-topped refillable bottles.
Behind the Change
The statistics behind this change are staggering.
Marriott says it's "expected to prevent about 500 million tiny bottles annually from going to landfills; that's about 1.7 million pounds of plastic, a 30 percent annual reduction from current amenity plastic usage." That's a lot of tiny bottles.
However, this isn't the first move Marriott has made to get rid of them. They've already eliminated single-use toiletries change in over 1,000 hotel locations in North America, and 20 percent of Marriott's international properties. The expansion of this initiative means you'll be seeing larger pump bottles in Marriott hotel showers in most of their locations around the world by late 2020.
The Courtyard by Marriott, SpringHill Suites, Residence Inn, Fairfield by Marriott and TownePlace Suites will soon be switching to pump bottles with this announcement. International brands like Aloft Hotels, Element by Westin, Four Points and Moxy Hotels have already implemented the pump dispensers, and now AC by Marriott will be joining their ranks.
Pump Perks
There's no doubt this is largely a public relations move on Marriott's part. Like the recent movement to ban plastic straws and bags, more companies are taking environmentally conscious actions. And after IHG's recent announcement to do away with single-use bottles, it was almost certain that other hotel brands would follow suit.
And there's no denying there are likely financial reasons behind the change. Just like refillable toiletries in your own home, it's likely less expensive to fill bulk toiletry bottles than maintain a stash of tiny bottles.
But it's an environmental plus, too. Refillable pump bottles are affixed to a holder and are refilled, so they have a much longer lifespan. This is a drastic difference from the mini plastic bottles, which usually miss the recycling and end up in the trash. In fact, some of the pump bottles aren't plastic at all: check out the ceramic pump bottles at the St. Regis in the Maldives!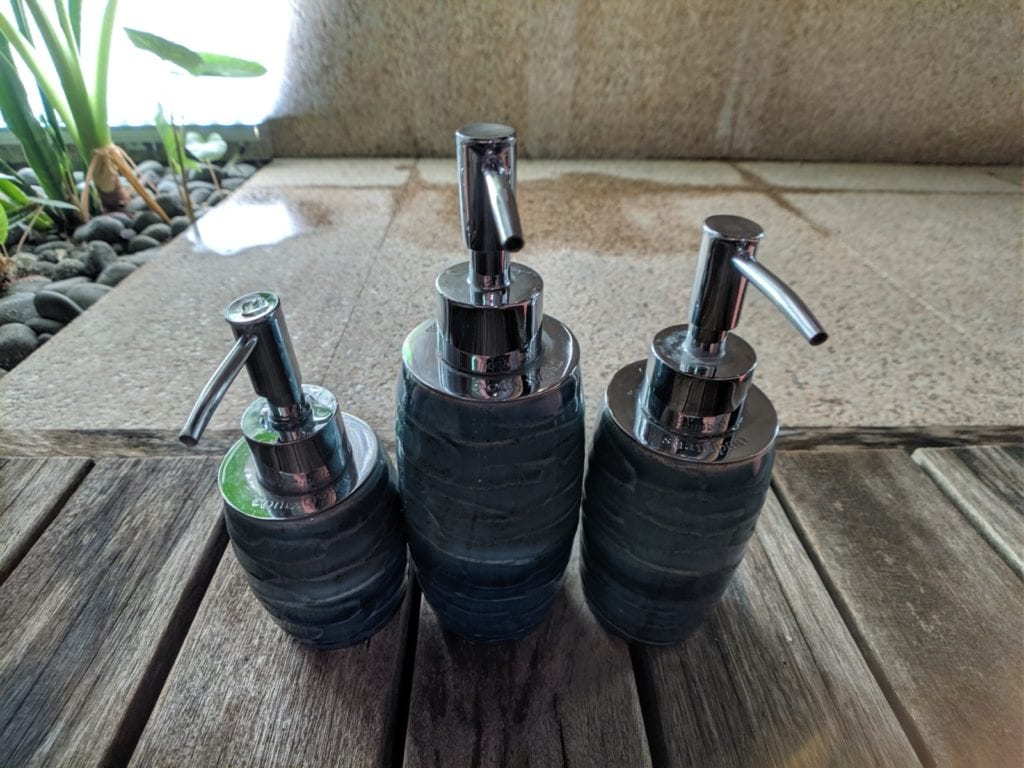 Nonetheless, this is a move in the right direction for environmental impact. This is one of the many initiatives companies in the travel industry (and beyond) are doing to take a stance on environmental matters. Take France's flight eco-tax to cut down on carbon emissions.
What This Means for You
Look at it this way: no more squeezing those tiny bottles from all angles or giving it the "ketchup tap" to get that last half an ounce of conditioner out. Pumps are in! This change shouldn't affect your hotel stay much at all … unless you liked to make those tiny toiletries your souvenirs.
And don't picture the nasty gym locker room dispensers that hold a 3-in-1 hair and body wash substance. In most cases, these products will still be branded – just in a larger bottle. There will certainly be a bit different upkeep with toiletry bottles remaining in the shower, but that's just a change in housekeeping processes for Marriott to handle.
Bottom Line
Large hotel chains are making changes, and it can add up to make a big difference. With the world's biggest hotel chain now fully on board, watch for this trend to continue to snowball.