Big changes are coming to the Marriott Bonvoy program tomorrow. And that's bad news for using your Bonvoy points for free hotel stays.
Among a slew of other changes unveiled late last year, Marriott announced it will get rid of award charts – the cheat sheets that determine how many points you'll need for a free night at properties – moving to dynamic award pricing. While Marriott didn't initially say exactly when this change would take effect, the hotel chain has now announced it kicks in tomorrow, Tuesday, March 29.
That means the predictable rates and outsized value when using Bonvoy points are out the window: Instead, award rates will soon be more closely tied to the cash price – the more expensive a nightly stay is, the more points you'll need to book it. Marriott says redemption rates should stay more or less the same for stays in 2022, aside from a handful of top properties around the world which may cost up to 30,000 points more or less per night. But come 2023, all bets are off.
Marriott isn't the first hotel chain or airline loyalty program to make this move – Hilton and Delta stand out for that. But this is just the latest in a slew of major loyalty program shakeups in recent months as airlines and hotels alike dig out from the pandemic and finally push out long-rumored changes that were put on hold while travel was on pause.
Read on for everything you need to know about these Marriott Bonvoy changes, as there's both good and bad news. And if you have plans to stay at one of the impacted properties mentioned below, you may want to book an award stay by the end of the day!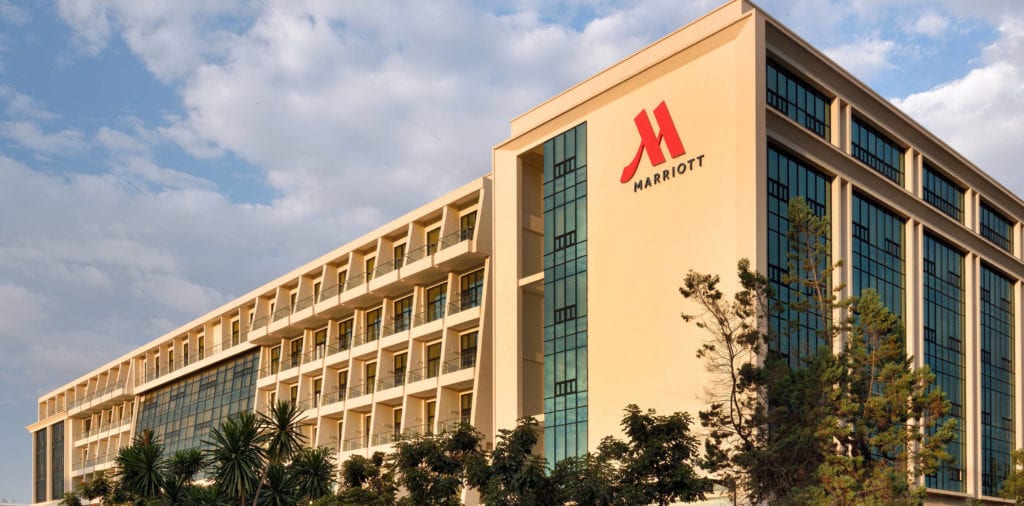 What is Dynamic Award Pricing?
Airlines and hotels don't make it easy to understand how their loyalty programs work. That's done on purpose.
But many airlines and hotels (including Marriott, for now) still use award charts to set how many miles or points you'll need to redeem a flight or hotel stay. Think of it as a cheat sheet.
When you're looking to stay a night at a Marriott hotel with your Bonvoy points, reference the award chart and you'll know how many points the hotel should cost. There are typically tiers or categories depending on where you're going or how nice the hotel is. Some, including Marriott, even carve out higher or lower pricing for peak and off-peak redemptions.
At Marriott today, there are eight categories of hotels and resorts. Marriott also inched toward dynamic pricing a few years back with the introduction of peak and off-peak award pricing – a move that Hyatt recently copied.
Here's a look at Marriott's current award chart, which spells out exactly what you'll need to book a given property.

While cash prices for hotels can jump all over the map from day to day, award charts are generally more stable. But dynamic award pricing blows up all the rules and guidelines that come with an award chart, removing transparency and often resulting in higher award rates.
Soon, the price in cash for that hotel will be the overriding factor. Demand, rooms available, time of year, will likely all be factors, too. All that means the points you need to book a free night will vary wildly – and there's typically no limit.
On its face, this dynamic award pricing model looks and feels more straightforward to the average consumer. There's no need to deal with finding award availability. The flights and hotel rooms are always there … they might just cost an arm and leg.
But without a cheat sheet to refer back to, it's much harder to ensure you're getting a good deal. Because the rates are tied in large part to the cash cost, it limits just how much value you can get out of your points and miles. And it puts all the power over your hard-earned points & miles back into the hands of the airlines and hotels.
What Does Dynamic Pricing Mean for your Marriott Bonvoy Points?
In a statement, Marriott has said that the new dynamic award pricing model "will be more flexible and will more closely align with hotel rates."
There is no way to sugarcoat this: This is bad news.
Starting tomorrow, March 29, 2022, Marriott will remove the published award chart that is referenced above. To start, Marriott says it will generally keep award prices within their current categories. That means a category 4 hotel will still cost between 20,000 and 30,000 Bonvoy points per night for a stay through 2022.
But at 3% of their properties – generally some of the most sought-after hotels and resorts – expect some higher rates right off the bat. Award rates at roughly 200 properties are changing, by as little as 5,000 points to as much as 30,000 points. Plus, at 30 top properties, award rates could increase even more.
Here's the full list of Marriott properties getting hit with a possible devaluation right away. Some properties stand out more than others, including:
Changing by 10,000 points: The Ritz-Carlton Cancun, JW Marriott Los Cabos, W Fort Lauderdale
Changing by 20,000 points: Le Meridien Maldives, The Ritz-Carlton Maldives, The Ritz-Carlton Turks & Caicos, The Gritti Palace Venice, St. Regis Resort Punta Mita, The Ritz-Carlton Bal Harbour, Al Maha Resort in Dubai
Changing by 20,000 points: The Ritz-Carlton Koh Samui, Paris Marriott Champs Elysees, Bodrum EDITION, Westin Maui, Wailea Beach Resort
And by January 2023, that hybrid approach will disappear: All award rates will be fully dynamic. 
Here's an example of what this could possibly look like. Right now, based on Marriott's current award chart, a night in February 2022 at the Ritz-Carlton Maldives, Fari Islands costs 100,000 Marriott Bonvoy points. That's the rate for a peak season stay at a Category 8 hotel.


Paying cash, that same stay would cost $2,009 each night.

Starting tomorrow, March 29, a stay in 2022 could cost as much as 120,000 points per night. And once the change takes full effect for stays in 2023 and beyond, there's almost no way even that 120,000-point redemption will still be available. While Marriott hasn't given its points a specific value, it's probably safe to assume each Marriott Bonvoy point will be worth 1 cent toward the cash price – if not less. That means the same award stay you can currently book for 100,000 points per night could easily cost 200,000 points or more.
Ultimately, this new dynamic pricing model will more than likely have the biggest impact on higher-end hotels with huge cash rates, hotels with large price fluctuations throughout the year, and hotel stays during special events. Think ski resorts, luxury accommodations abroad, or hotels for the World Series or World Cup.
That's exactly where savvy travelers get the most bang for their buck with Marriott points today. While finding the availability to book these properties isn't always a slam dunk, there's a cap on how many points they can charge for an award stay. With dynamic pricing in effect, the sky is the limit.
It's not all bad news. There will certainly be some cases where you can book a hotel next year for fewer points than it costs today. But on the whole, this is bound to be a negative change.
New Free Night Award Top Off Feature
To soften the blow of the dynamic pricing news, Marriott rolled a few positives into this announcement as well.
Sometime in April, Marriott Bonvoy credit cardholders will have the ability to top off a free night award certificate with up to 15,000 Bonvoy points. This will make the certificates much more valuable and immensely more flexible.
For example, if you have the Marriott Bonvoy Boundless® Credit Card, you get a free night certificate to use at any Marriott property that costs up to 35,000 Bonvoy points each year. But if the property you want to book costs 40,000 points per night, there is currently no way to use your free night certificate.
With this new feature, you'll soon be able to use that certificate for an award night that costs up to 50,000 points by using your Bonvoy points to cover the difference. That means you can book a 45,000-point property by applying your free night certificate and using another 10,000 Bonvoy points.

With the Marriott Bonoy Brilliant™ American Express® Card, you get a free night certificate worth up to 50,000 points each year on your account anniversary. That means with the new top-off option, you could book a night costing up to 65,000 points.
This option is only available for Standard and PointSaver redemptions. You will not be able to use it to book upgraded room types. And while this is a good change for the Marriott Free night certificates, it will certainly lose a bit of its luster when the Bonvoy program goes fully dynamic in 2023.
Read more: The Best Ways to Use a Marriott Free Night Certificate
Marriott Will Extend Elite Status and Free Night Award Certificates
Already have Marriott Bonvoy elite status? Marriott has announced that it will be extending Bonvoy member elite status through February of 2023. Marriott had previously extended this through Feb. 2022. Also, if you have any free night award certificates or suite night upgrades to use, those have also been extended through June 30, 2022.
Finally, Marriott points will not expire until at least Dec. 31, 2022.
Bottom Line
Marriott is making a huge change to how they price award nights for stays using your Bonvoy points starting tomorrow, March 29, 2022. And for stays in 2023 and beyond, the Marriott Bonvoy program will fully adopt a dynamic award pricing model.
This means that Marriott will no longer have an award chart that governs the cost of a stay using points. Bye bye, predictability and outsized value using Marriott points.
If you have a stay planned for one of the properties outlined above, you may want to book today. Book tomorrow after this change takes effect, and they may cost more points per night.
Images courtesy of Marriott Hotels